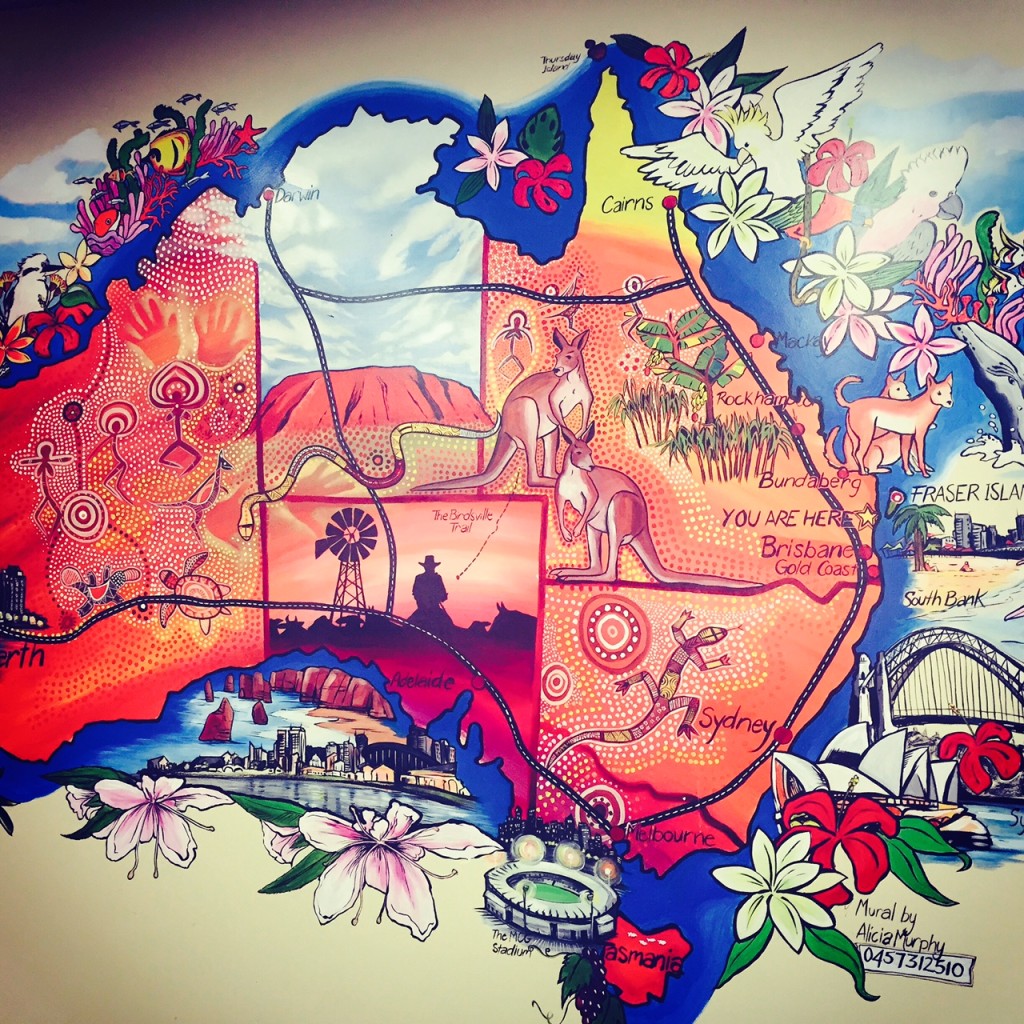 Tip 1
First thing's first, January to March on the East Coast of Australia is their WET season, therefore the best 'summer' months to do the East Coast are October – December.  Lee and I had no idea about this and only discovered it when we struggled to leave the hostel in Surfer's Paradise (aka, the Gold Coast) without getting drenched (and this was the type of rain that when stepping out in it just for a mere second, you would then look like you have just taken a shower, under an extremely powerful shower head at that).
Tip 2
Next up, I would recommend starting in the north and working your way south when doing the East Coast and this is mainly due to the humidity and mosquitos that you'll find the further north you go.  For me, it would be better to experience that first, so that moving down the East Coast gets easier when it comes to the climate and reduction in mosquitos (trust me, no amount of mosquito repellent works when you get to Cairns and go further north).
Tip 3
Be sure to go further north than Cairns to Cape Tribulation and Port Douglas, many travellers leave this out and stop or start at Cairns, but getting to stay in the World's oldest Rainforest is quite an experience.
Tip 4
If you can't manage a backpack, or you could but only if you limited your travelling wardrobe to 3 outfits due to a lack of upper body strength (I personally have the upper body strength of a small child and so this has always been my exact problem when it comes to travelling) do not worry, this does not make you any less a traveller!  The few times I have been away on extended trips, I have opted for what looks like backpacks or holdalls on wheels and any travellers (mainly females) I met who saw me with this type of case really were pretty jealous of my wheels.
Tip 5
Invest in a Lonely Planet East Coast book.  We pretty much found this invaluable reading when we were away, not that you want to stick to the book at all times, but you can absolutely rely that it will confirm the top things to do in each area.  It even has suggested routes to take based on trips with different timescales.
Tip 6
Read as many travelling blogs before you go as you can and be sure to ask anyone you know about their experience of travelling Australia, as this could help you to formulate a plan or gain insight that a book may not provide.
Tip 7
Travel agents for backpackers are everywhere on the East Coast and so it is not essential that you plan your whole trip on our own before you go – control freaks at ease!  Infact, I would wholeheartedly recommend that you are better to book your itinerary when there, as the person from the travel agent will tailor your trip based on what you are looking for (e.g. party, outdoors, luxury etc.)
Further to this, the whole beauty of travelling is to feel free and having a tight schedule to constantly stick to can end up making a trip of a lifetime become a military operation.  So when you are there, make sure you do as the aussies do and chill.
The major travel operators we seen our there were: Travel Bugs (which is said to be the biggest), Happy Travels, Peter Pans Adventure Travel and Wicked Travel and they all compete on price so don't be afraid to shop about.  Free WIFI is also available in the tour operator shops, which is always a plus if you need to re-schedule a bus etc.
Tip 8
The only things Lee and I had booked on landing in Oz was our Sydney hotel, NYE cruise tickets, our hotel for our last 4 nights in Melbourne and our internal flight from Cairns to Melbourne (be sure to check with the flight operator that you book your return flights from your home country with, as to whether they partner with any aussie airlines as this could drastically reduce the cost of any internal flights – we booked with Cathay Pacific and via our tickets with them, were able to book or internal Quantas flight).  And it wasn't until we got to Byron Bay that we booked the rest of the trip with Happy Travels.
Tip 9
Another element which is best to book over there is your method of transport up or down the coast.  The most popular form of transport is the Greyhound bus service, which is both reliable and well priced.  The buses have WIFI and USB power points to charge your phone, which believe me i a luxury in Oz with WIFI, ir free WIFI being quite hard to come by.  A hop on hop off ticket also allows you to do just that, as many times as you want between the two points you book your pass from.  For example Lee and I's tickets took us from Byron Bay up to Cairns.
Another option is to fly, however not all places you will want to visit will have an airport and this is a much more costly method of transport.  We decided to fly from Sydney to Byron Bay to avoid an 11 hour bus journey from Sydney and  also for the reason that we managed to get two ticket for £100 from Virgin Australia.  However it has to be said that bus is definitely the best way to travel the East Coast, based on price, the number of places it stops and the flexibility offered to change your bus times, which often happens when you want to stay longer in a place.
Tip 10
If you do not already have it, download Spotify before you go, I found this to be the best source of music possible without spending a fortune on iTunes and it really does make for an overwhelmingly eclectic music library.  As it was Christmas we invested in the offer of 3 months on the premium membership (which allows you to listen to the music you have saved outwith WIFI) for just £9!  So be sure to look out for deals like this around the major holidays.
Tip 11
A selfie stick is essential (and I never thought I would find myself saying that, not really being a major patriot of the selfie) but having one of these things allows you to capture the amazing scenery behind you, without having to rely on the kindness of other people to take photos of you, or of course worry that someone is going to chore your camera
Tip 12
If you can, invest in a polaroid camera.  We were given a Fujifilm Instax for our wedding and by taking this we have managed to collect a brilliant number of very quirky and vintage looking pics of the honeymoon.  If you can afford to ride the camera wave even further, then a Go Pro could be for you.  These tiny digital cameras are big in the world of adventure sport and can normally be found recording footage from the helmet of a thrill seeker.  They have covers which allow you to take underwater pictures and films, they are extremely compact, have a fantastic wide lens.  A downside for me is the fact that you cannot see the pics you have taken, but you can easily send them via WIFI to your phone.
Tip 13
If like us you decide to use your iPhone for photos, but only have 16gb of data and perhaps don't understand the cloud like you feel you should, then why not take an external hardrive with you to save all pics and videos onto along the way.  This way you're phone will never run out of storage, especially if Sportify downloads music for you to listen to offline.
Tip 14
Take  your ID out with you on nights out.
Tip 15
Pick up a memento from each place you visit, whether that be a magnet, postcard or piece of artwork.  We aimed to take back artwork from each place because we have this romantic idea to adorn our guest room with artwork from around the World, it will also be a great thing to look back on in later life.
Tip 16
If you can avoid it, try not to get a tattoo on your face before setting off for Australia, or on your hands for that matter, a lot of clubs and bars will turn you away and there's bouncers on almost every door!
Next up, what to pack! x