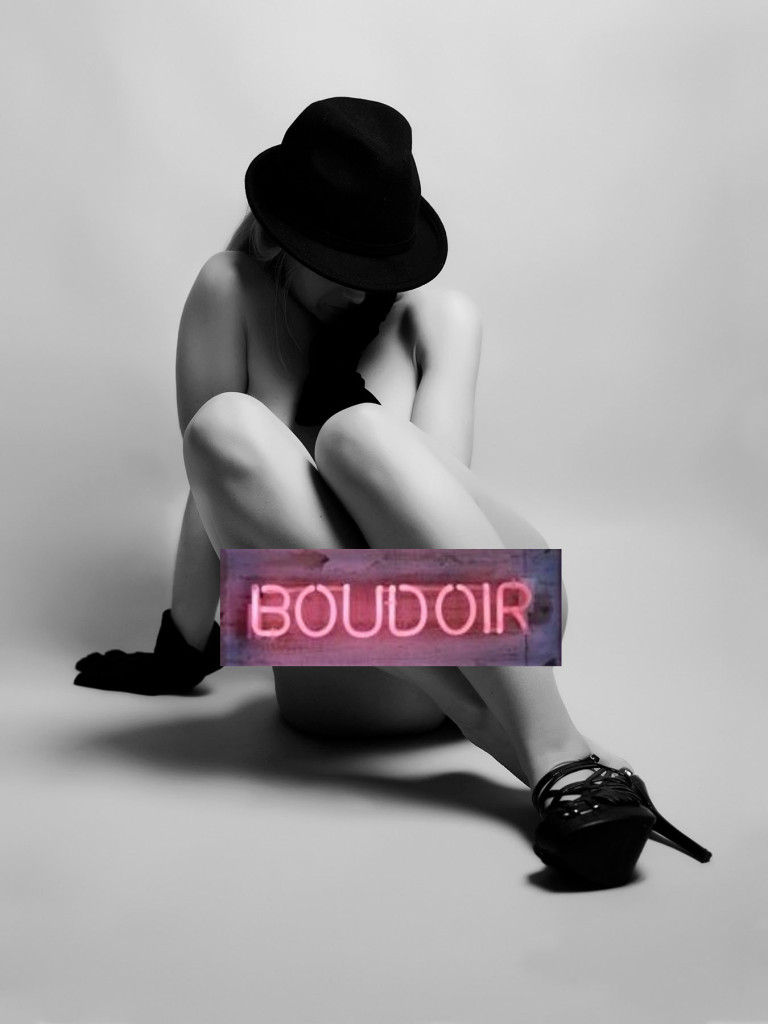 I recently took part in a Boudoir photography shoot and I have to say this is probably one of the most nerve-wracking yet confidence-building things I have ever done.
Being the furthest thing from a femme fatale, my underwear seldom matches and I have always been more focused on the practicallity of pants, as opposed to those where the material magically disappears at the gusset or indeed is replaced by a row of lovely (to look at) pearls – still a bit confused by these to be honest.
That is not to say however that I do not have massive respect for ladies like Dita Von Teese, who is the most celebrated burlesque dancer in the World having been performing since 1992.
What I appreciate about burlesque, is that it is positioned as artful entertainment and a celebration of the female form and its influence.  It can be enjoyed by both the sexes, which is in contrast to the seedier side of the striptease entertainment industry.
Boudoir photography originated in New York, before becoming popular over here in the UK.  With a basis on implied nudity, it is a form of glamour modelling but really that is the only parallel it draws with the likes of Page 3 modelling.  With it trending massively amidst brides-to-be, the allure is in the celebration of your figure (regardless of what that may be) and in the old-school Hollywood pin-up outcome.
Simone Hilliard, of Simone Hillson Photography, was a recommended to me for boudoir, and so I took the plunge and booked a shoot with her.  A truly lovely woman, I was immediately put at ease on speaking with her. She advised that I take three 'outfits' to be pictured in, one of which could be bridal and that she would also have a selection of things that could be worn (e.g. jewellery, petticoat and furs).  So being the spendaholic that I am, I immediately started an assault on the shops seeking underwear sets that I would feel confident to wear.
If you decide to try boudoir, don't do what I did and use it as an excuse to spend a fortune on underwear, collecting unnecessary and countless sets.  What I can advise (especially if like me you are 'supposed' to be on a budget) is to have a look at the corsets and babydoll options on eBay (never somewhere I had thought to look).  In sourcing items from here, you'll save a fortune, but could end up with unexpected discrepancies in your orders, so beware.  For example, it was a complete surprise when the lovely butterfly backed pants I ordered arrived through the door in five colours, all missing the vital crotch area – and let's face it, wearing these to my shoot with Simone is likely to have made things a tad awkward…
On the week leading up to my shoot, my nerves reached new heights.  I had never done anything like this and although nudity in front of friends and female members of the family phases me less as I get older, trying to achieve somewhere close to a 'sexy' look on in front of a stranger who is going to be taking pictures of this 'look', was a completely new phenomenon to me and was really providing a new found respect for any models who do it on a daily basis.
Simone's studio is located in South Queensferry and so the plan was that I would go to Dreanie's first for hair and make-up, then she would take me to the studio.  Running late of course (having taking the wrong road on the Motorway and ending up in Livingstone), we only had time to do make-up and so flummoxed and arriving 45 minutes behind schedule, Dreanie pinned back my hair at the studio and then left me with Simone and those wild butterflies again.
Simone very quickly put these nerves at rest however, which to me is a sign of a good photographer when they can do this regardless of the genre of pictures they take.  She directed the photos by showing me the poses I was to copy on an iPad and helped me pick the best lingerie from the selection I had brought.  To be honest the minute you start the shoot, any nervous tension you may have will turn to concentration, as you try to focus on negotiating the poses.
Firstly, Simone advised me of the 'boudoir face', where you have to master smiling with your eyes (but not the lower half of your face), and then with your mouth you are to blow out ever so slightly in order to increase the size of your lips and create a small gap in between them.
As you may imagine such skills did not come naturally and so lying on a red velvet bed; screwing up my eyes like I was staring at the sun; blowing far too much air out my mouth so that I looked like a blow up doll; and then having to hold up my legs, back, backside or another limb up all at the same time; I could not feel further from what Tom Jones refers to as a sex bomb.
Not the most supple of people (I had actually made a promise to myself to go back to yoga during the shoot) the pain was also evident to the girls in the office the next day, when I was walking slowly from desk to destination, clutching my back and whimpering (yes I was that pathetic, same thing also happened this Monday after I spent two hours gardening on Saturday…agony).  Needless to say they were surprised on learning the strain was a result of a boudoir shoot and not a boxing match.
I spent about 3-4 hours in Simone's studio and by the end of the experience, I felt completely at ease and far more confident in my own skin.  Having since seen the outcome of the shoot, I can't quite believe it is me in the pictures.  I would absolutely recommend Boudoir photography for any bride-to-be looking to do something with a bit of an edge and to any female simply looking for a bit of empowerment (a friend of mine once told me she decided to do a boudoir shoot after the breakdown of her marriage in order to build herself up and I can now understand why).
Here's my top tips if you think boudoir could be for you…
Do

Try to select a photographer based on word-of-mouth, this way you'll know what to expect and not come face-to-face with someone who makes you uncomfortable (for example, there is no way I could have gone through with this if the photographer was male)
Get on Google Images and Pinterest to research lingerie that looks good in shots and the types of poses you think look good – but remember holding the poses can be bloody hard and so perhaps a spot of yoga/ light stretching pre-shoot, will help with any muscle tension the following day
If you're not driving, have a wee wine to calm any nerves before you begin.  Not so much that you get that alcohol blush though, appearing squiffy in your pics will take away from the whole look of empowerment
Try to have fun with it, but similar to you not wanting to feel uncomfortable with your photographer don't put your photographer in the position of awkwardness if you want the photos to become even more provocative than planned.  This style of picture is more along the lines of a voyeuristic shoot and so be sure to know what you want before booking a photographer

Don't

Put yourself under too much pressure to go through with a boudoir shoot, or let anyone else for that matter.  The truth is that it will not be for everyone and so do not put yourself through unnecessary anxiety
If at any point your chosen photographer makes you feel uncomfortable, get dressed and leave
Worry if you have a breakout on your skin or indeed worry about any other imperfections on the day (I burnt a large area of my hand the day before which looked pretty horrific). Boudoir photos are airbrushed slightly to achieve the pin-up and arty look, which was definitely a big part of the draw for me
If you decide to go for it, I bet you can picture yourself as a wee granny sitting shamelessly showing your pals what you plucked up the courage to do when younger.  Although a bit risqué, boudoir is not about getting your bits out, it's about showcasing a different side of yourself and doing something out of your comfort zone. This form of glamour portraiture leaves you feeling, well I guess the best word would be beautiful, and everyone deserves to feel that way.
As a final note, I wanted to include an example of a photo from my shoot simply to exemplify the respectable/arty feel of the pictures.  However no doubt my 'rents will read this post, probably feeling slightly aghast, and so if you are reading this…Lindy, JK…I am sorry 😉 x