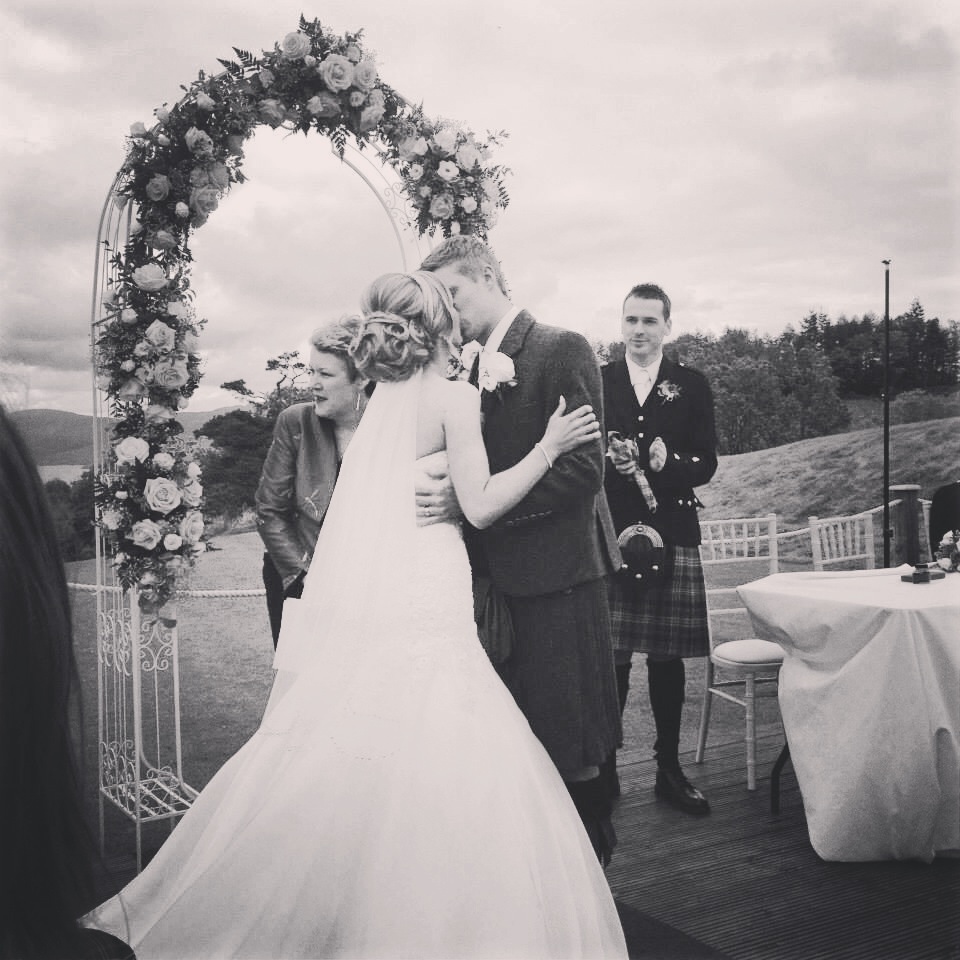 If you are set to wed in the near future, the advice you'll hear most from fellow brides is to make sure you take time alone with your new hubby to toast your wedding.  Based on this, Lee and I ensured that we did escape for five mins during the photographs, where we enjoyed a glass of champagne, a selection of the canapés and actually just kind of looked at each other in this new husband and wife light.
Our wedding day passed by in an absolute haze, albeit a brilliant haze.  I honestly feel like it was the quickest day of my life – you know that way you felt about Christmas day as a youngster (although admittedly my feelings have never faltered when it comes to Christmas), you look forward to it for 364 days and then all of a sudden you can't keep your eyes open after crimbo dinner…
With the beautiful benefit of hindsight, my advice for brides-to-be is: to really try to appreciate all of the aspects of your wedding; don't let your nerves drown out your senses during the ceremony; don't spend too long touching up make-up and hair away from your guests throughout the day; try to get your after-ceremony photos done quickly so you can enjoy some of the drinks reception; and be sure to take time to look around at the smiling faces of your family and friends, it is these images that will forever remain in your memory.
If I had any further words of wisdom, don't overdo the shots after dinner!  I have to say I had quite a few toasts with family and friends when the dancing kicked off, but of course not enough to result in memory loss – which Jagerbombs have often provided in the past – thank god.  Try to get as many pics with the people you love as possible, it is unlikely you will have a camera, but maybe ask one of your bridesmaids or an usher to take their camera/phone with them to ensure they capture the moments you would like to look back on (especially in the days that ensue, Lee and I loved the fact we could go through our friend's Facebook pics whilst on our mini-moon).  Due to time restrictions, I never even managed to get a photo with each of my bridesmaids, mum, dad or brother alone, which is something I would absolutely love to rectify, if I could.
Try to plan something for the day after your wedding, which will enable the party to carry on into the next day and will stop you from feeling too deflated.  Over the weekend my family had booked the four lodges at Lomond Luxury Lodges (which I would highly recommend) adding a real holiday feel to the weekend.  Each of the Lodges had an outdoor hot tub and BBQ and so this provided the perfect location for a 'gathering' on the Sunday.  I had organised a bridesmaid lodge where I stayed with the girls the night before the wedding.  We were pretty sensible, had a few drinks, decided upon the order for walking down the aisle and were in bed for about 11pm.  That's not to say the urge to have a few more drinks and dive into the hot tubs was not a very strong one, but unfortunately the spray tans and lash extensions were unlikely to have survived.  My wee cousin Deborah also gave us all a shot of this prescription deodorant she gets from the doctor which effectively burns off your sweat glands and keeps your pits dry.  Of course I thought this was a smashing idea at the time, but when running to the toilet in the middle of the night to pat down my underarms with a cold cloth (hundreds of nettle stings is how I would liken the pain), I decided this was perhaps not the best of ideas – so if you don't already get this product on prescription, steer clear of trialling it the night before your wedding.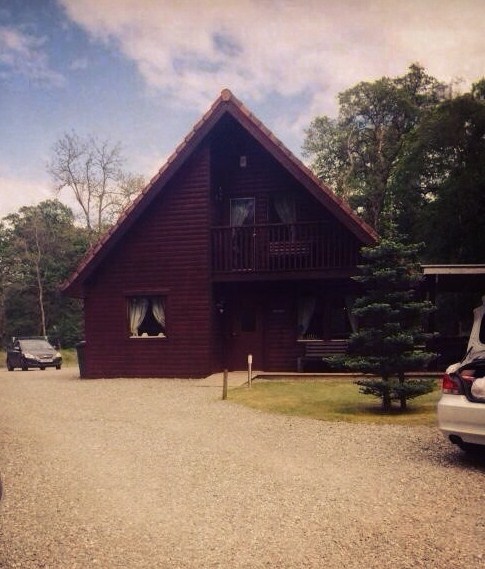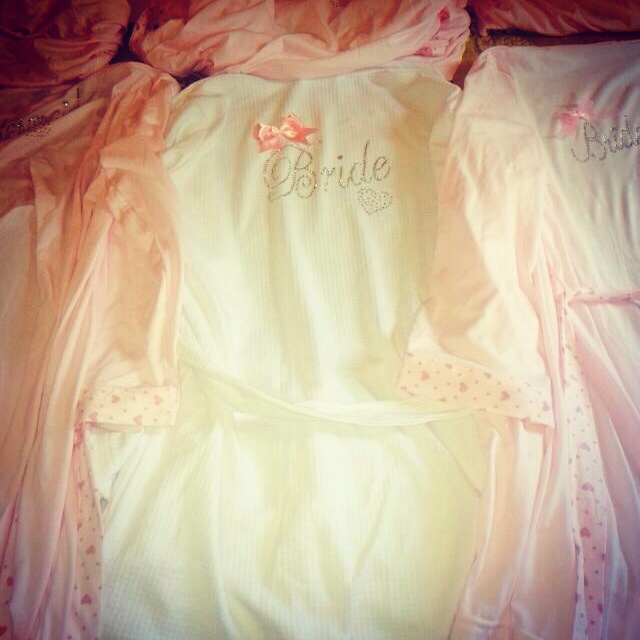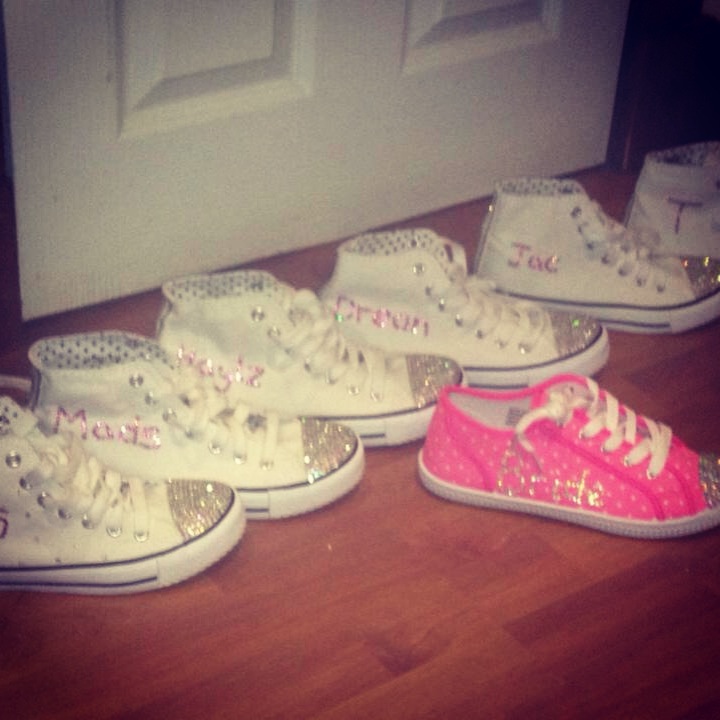 The bridesmaids and I were at the castle for 7am where both the hair and make up artists were ready to kick off.  An important thing to do the night before with your bridesmaids, is to decide the order for hair and make-up, we found drawing names the best/ fairest way to do this.  There were eight ladies getting their make-up done and so on reflection, I think a 6.30am start would have been better to allow for time for photographs before the ceremony.  The hairstylist on the other hand was finished by about 11am and so there would of been scope for her to start later, however this was down to the style being simpler for the bridesmaids and if you have the choice. it is always better to get the hair finished earlier.  Be sure to wash and dry your hair the night before, this ensures it is not too soft for styling!
It is a long day when starting the beautification from the early hours, and so I would definitely recommend ensuring you have a good playlist to keep you entertained, along with a couple of bottles of champagne and maybe even a selection of magazines to focus any nervous tension upon.  EAT!  This is important, no one wants to see a drunken group of bridesmaids roll down the aisle followed by a hiccupping bride, so make sure you nibble away and do not drink too much.  My mum was set that we were only taking one bottle of champagne to the castle but between eight people, I am pretty sure this quantity would have dulled not a single nerve and so we ended up having three bottles (much to her dismay).  Any more would have been too much and so I would advise sticking to about 3-4 glasses on the morning of your wedding.  Remember your adrenaline will be running on high and so it is unlikely you will dull all your nerves whether it be via alcohol, or even the Kalm tablets Debs also brought to the table…
On getting into my wedding dress, I really could start to feel my levels of nervous anxiety creeping up.  I am not an overly emotional person, but I could also feel a knot form in my throat and then the minute I looked at my dad, I was struggling to wipe away the tears – not ideal when you have just had your make-up professionally applied!  With this in mind, make sure one of your bridesmaids carries tissues.
There was an issue with my hoop, which I only realised when the bridesmaids had left and I was alone walking to the marquee with my dad.  For some reason, it wasn't keeping the weight of the dress off my legs and I felt like my skirt kept getting caught in between my legs when walking.  If you have read my previous posts, you'll know that my biggest fear was falling when walking down the aisle and so you can imagine my panic at this point, along with my wishing that I had just bloody well spent that £99 in Eleganza Sposa on one their tried and tested hoops (as opposed to my £12 eBay find).  My only way to overcome this was to hold onto the front of my skirt and put extra oomph into my kick-leg walk (ironic that this could be the only time you'll find yourself consciously moving like a soldier).
For during the ceremony, which we were delighted to have outside, Lee and I decided to set up chairs facing our guests for the bridesmaids and ushers – we felt there was too many of them to be standing at the alter – with the exception of Dreanie and Dave (the chief bridesmaid and best man) as they had some small duties to help the Humanist with.  I was conscious of not letting tears overtake at this point and so I found myself rushing through the words I was to repeat; at one point our archway nearly fell on the Humanist; it was pretty cold outside and so Lee and I were both shaking like leafs; but the whole thing really was perfect.
Three of my best friends carried out readings for us and these included a quote from Hugh Walpole , The Promise by Eileen Rafter and then a short poem I had compiled using some of our fave love song lyrics, which resulted in a soppy Benny Benassi, Jason Mraz, Oasis, Train and Runrig mash up…
This is our poem

I could watch you for a lifetime

You're my favourite movie

A thousand endings

You mean everything to me.

Now open up your mind

And see the world with me

Open up your plans

And forever be with me

Where we'll always find a way

Of chasing the sun

If you let me be the one

I promise days of endless fun.

And so by these bonnie banks

And by these bonnie braes

Will you be my true love

And marry me today.
After the readings, Lee and I signed the marriage documents (remember to sign your maiden name and that these then have to be returned within 72 hours of your ceremony to ensure your marriage is legalised), the ceremony was over and the drinks reception began, happy days!  It was at this point we were called away for the professional pics and those vintage props I mentioned in a previous post came in handy.  If you are looking to add a fun element to your pics I would definitely recommend in investing in some props.
At 4.30pm the top table was piped in and the speeches began with my dad (the order should be father of the bride, groom and then best man).  Prepare to feel a bit overwhelmed during the speeches, I hadn't really comprehended that both my dad and Lee would actually be saying nice things about me and I really did struggle to hold back the tears at this point.  Dave (who had been worried sick about his speech) also did a brilliant job and I was delighted he steered clear of anything inappropriate.
By 7.30pm the evening guests had arrived and it was time to get my bustle tied up ready for the dancing.  By this point both my hoop and veil and broken off and my skirt had taken a bit of a battering with spillages, but trust me you are so happy in the day that these finer details are not as important as they were when planning the wedding.  Another point to mention, is that there was an uncanny number of occasions throughout the day that I found one of the bridesmaids or my mum up my dress (whether it be head or hands), my advice, just accept those hands and heads with no hesitation, the bigger dresses really do need parts pulled up and aligned…from the inside.
Following a small technical glitch, our first dance played at 8.30pm.  After all the first dance soul searching, Lee and I went for Christina Perri's Thousand Years, which was based on our liking of the song…and also a love of Twilight on both our parts…we followed this up with Hall and Oates You make my dreams come true (you know that catchy number from the film: 500 Days of Summer) and then American Authors Best day of my life, which was a great way of filling up the dancefloor after the slower first dance.
The dancing carried on until the buffet break at 9.45pm which was followed by a surprise firework display for our guests and from there the party continued until closing time at midnight.  I actually couldn't believe when the final dance played, my skirt was covered in red wine and feeling slightly squiffy I was put on the shoulders of one of my friends, as Lee appeared on my brothers shoulders and we screamed the words to that Runrig classic at each other (not a sight my mum had thought she would see on the day I can assure!)
On speaking with family and friends after the wedding it seems that they had all fell in love with the venue, as Lee and I had.  I could not recommend Boturich Castle enough to brides-to-be looking for the perfect Scottish wedding location.  The owners Rory and Laura, could not have done enough for Lee and I during our big day, from serving bridesmaids champagne at 7am to ensuring all ran smoothly into the night.  The panoramic views you'll enjoy as a backdrop are simply unrivalled, certainly around Loch Lomond, and I constantly found myself standing in awe of it throughout the day.
Other memorable features mentioned by guests were the sweetie table (there was honestly nothing left when I visited it at the end of the night), the fireworks display and the uplighters which lit up the marquee in a bright pink light.  Although each of these did take up a pretty considerable percentage of budget, if you can stretch your budget and your venue allows it, I would absolutely recommend looking into adding these to your big day.
I wish I could do it all again, it truly was the best day of my life x