When I first moved in with Lee, it is fair to say that his little cottage was less bachelor and more granny pad, which made sense as the previous tenant was a little old lady who had of course dressed up the house in the style of days gone by.  Everywhere you looked grass green walls merged into emerald green carpet, merged into an olive bathroom suite and peeling stripey yellow wallpaper in the bedroom.
Regardless of the décor however, this little cottage of ours has always had a happy feel to it and it is for this reason why we have been contented up until now to spend our money on other things.
As a couple, we have always been saving for something, whether it be the wedding or two pretty unnecessary all singing, all dancing holidays to NYC at New Year (2013) and then Ibiza last September (when a cheap week in the sun, turned into a 5-star, 2-week, all-inclusive Ibizan escape).  So as you can imagine overhauling the decor in the house has taken us a bit of time to get around to.
But with the wedding out the way, we have been able to aim our cash flow towards the cottage and really get cracking with making the place look like ours.  So I thought I would give you a run through of where we have got to so far, to both give you a nosey and hopefully provide some ideas or inspiration along the way.
When it comes to interior decorating, I couldn't claim to draw influence from anywhere in particular, it's more that I see one item or accessory for a room and then the rest of the theme/ style/ look grows arms, legs and glittery pillows from there. And the extremely lucky thing is that on having a vision, it is always pretty easy to see it through using Lee's skills and contacts in the building trade (Lee is a plumber, and his dad a joiner and so they can look realistically at a project and what is truly possible within a budget).
Toilet Talk
The first room completed was the bathroom, this was definitely the worst of a bad bunch.  With his experience, Lee had some great suggestions for bathroom accessories that I didn't know even existed, such as our double-Infinity Mirror, which we picked this up from Wholesale Domestic in Hillington for about £170.  Indeed a lot of dough for a mirror, but when you have guests in and have the mirror alight, it truly becomes a focal point of the room, as lights so often do.
If you are interested in investing in an Infinity Mirror, just remember that as you would a normal wall light, you'll need someone with electrical skills to rig the mirror up (apologies if that comment seems completely obvious, but I am completely blonde when it comes to any kind of trade activity in the house, as with most girls I know, I tend to focus on the aesthetics).  In the table below, I have included an overview of some rough tradesmen prices to give you an idea of what to expect, should you be planning any future work.
To add to the light features, we purchased a down lighter for the window box next to the mirror which has a pink bulb (a pink halogen GU10 from eBay to be precise) and then a black chandelier from Homebase which was on sale at about £27.99 from £45) – when it comes to chandeliers I really have Googled all different kinds and at different costs and I have ended up with three from B&Q and Homebase, I can't bring myself to spend a fortune on one and to be honest the rage offered in both of these store is just as good in my opinion.
If you are looking for a similar one, try to hold off purchasing until a B&Q or Homebase sale weekend (which they seem to have on a regular occurrence) as this will offer a great saving!  The black one in our bathroom sits without the usual crystal droplet jewels, as we felt it looked a bit more unique without them.
For the black sparkly tiles Lee sourced the cheapest he could find online (he would always recommend doing this for if you see a tile you like in a shop, 9 times out of 10 you will find the same tile cheaper online) and the black glittered wet board came from Beatsons.  In my opinion wet board is a better option to tiles for your bathroom, they clean better, and you will be left with no future dirty grout lines (which can make the nicest tiles look bad).  They are also cheaper, far quicker to apply and come in a multitude of colours and styles from white glitter, to marble effect and pretty much everything in between.
To build upon the slightly different features of the bathroom, Lee and my dad-in-law lined the inside of the window boxes with the black wetboard and then framed them with white picture frame facings (both the facings and skirting boards were purchased from Beatsons).  In a room you have the choice of selecting skirting board or a thing called beading, which is more subtle and generally comes in more variety in terms of colours and what flooring it will match than skirting board does.
I never used to be one for fake flowers, but after the habit of continuously purchasing real flowers led to slight issues with the bank balance, my mum introduced me to Country Baskets and a wonderful array of every type of false flower you could imagine under one tin roof.  At least the expensive haul of fake flowers that ensued (which included orchids for the bathroom, pink roses for the bedroom and then thistles for the living room) does not then have to repeated each week (as is the case with the real counterparts), to keep up with the pretty appearance that flowers provide a home.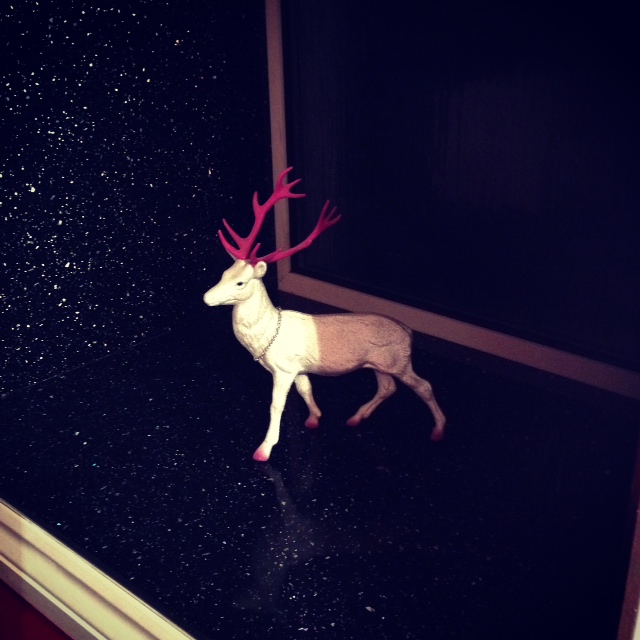 The stag ornament (imaginatively referred to as 'Staggy'), in all honesty that was a Christmas decoration from Paperchase, but we kind of have a stag theme going on in the house, starting at the door with the blue horns (painted in a previous post) and a stag doormat recently purchased from Matalan.  Is this a Reindeer or a stag design, I cannot be sure, all I know is that we purchased it from the Christmas section of Matalan and that there is a small part of me that doesn't mind a gentle festive reminder all year round…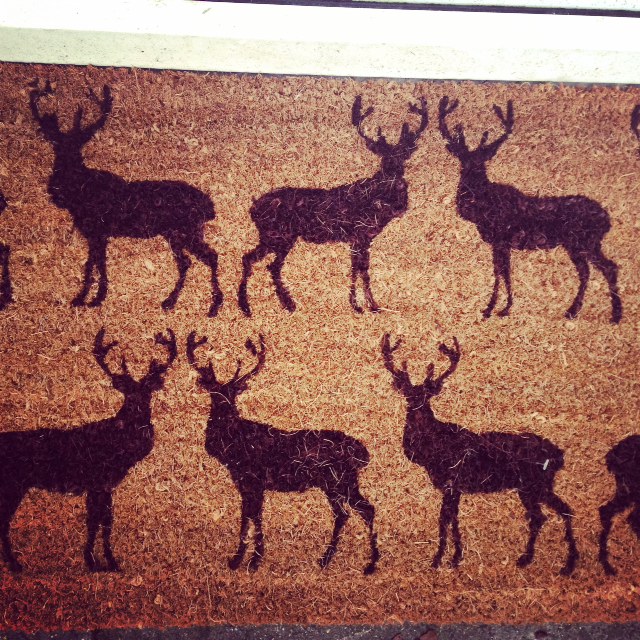 The crystal skull canvas was bought from eBay for £60 and then the Soak sign was picked up from B&M and I then sprayed it with glitter spray which I bought from Homebase.  The glitter spray was one of those purchases that your partner warns it is a waste and that you will never use it, it sits in a cupboard for months, when you are later pulled up for the lack of use you are then determined to cover something in glitter to prove your partner wrong and so you pick up any random thing to spray, to win the battle.  For me, this unnecessary purchase was the Soak sign, but on reflection this ties in well with the black glittery theme of the bathroom.
Paint wise, we went for a Mauve from the Habitat range in Homebase and then Bubblegum Pink from the Dulux range for the feature wall.  You're probably wondering how I ever managed to get approval on the pink wall, well this is still a wonder to me, I guess it is just like I managed to upgrade that cheap week in Ibiza to a lavish 2-week affair…
Living Room
The next room finalised was the living room.  In this room, we were keen to introduce accents of tartan which would allow us to retain a traditional feel to the cottage.  My sister-in-law to be, Jac, is a Home Economics teacher and so we were able to use her expertise to make curtains and pillows using material purchased from Mandors in Glasgow.  If you haven't been already, I'd recommend a visit to Mandors or Remnant Kings just off Buchanan Street to see the amazing selections of fabrics on offer.  Buying material to make your own curtains or pillows (or if you know a lovely person who is happy to do it for you), really does open up the options you have when it comes to the décor of your room, so don't be restricted to shop bought pillows and fabrics.
With the material purchased for the curtains and pillows, Jac then used this to cover 3 small canvas squares for our wall, which was a great idea and a good way of using up any leftover cuttings to use.
For the room accessories, we picked up our rug and pouffe from Next Home, our gilded mirror from Laura Ashley (we bought this in the sale and this has to be one of my favourite things in the cottage), our oak coffee and fish tank oak tables from B&M, our Biorb fish tank from Pets At Home, our metallic globe from John Lewis, glittery pillar candles from B&M and our black bucket table and 4 chairs from Ikea.
Originally when we moved into the cottage, there was no dining space at all and so it was couch dinners for us every night, which after a while, really did lose all appeal.  The issue with our hobbit-sized residence is in the size we have to play with and so when we saw this dinky set of table and chairs in Ikea it really was a revelation, the best thing being that the chairs fold right away into the table and so take up as little room space as possible.
The electric fire again was an online purchase, having been to many electrical stores Lee was able to find a far cheaper option on a fireplace website, again highlighting how worthwhile it is to take inspiration from home interior shops and then source your items on the web.  The black  'designer radiator' was again an online purchase (unfortunately Lee cannot recall the exact sites but finding the cheapest is always an easy challenge online).
For me, hearing the term 'designer radiator' was a completely new concept to me, but this is now the very common term for radiators that differ from your bog standard white double-panelled radiator.  You can truly get some amazing options, such as a radiator which also doubles as a full length mirror – they really can become a funky focal point of the room.  One thing to remember with the 'designer radiators' is that dependent on what they are made of (e.g. chrome and stainless steel), they are likely to omit less heat and so if you have a big room that is in need of a good heat, then maybe this isn't the best option for you.
Another term to remember if you are ever in the market for a radiator is a 'reconditioned radiator', which is basically the term for an olden-style radiator which has been modernised to work today (e.g. remember the clunky old floor standing radiators that were in all schools which at the time you may have thought were pretty ugly, but these days you would love to have one to dress up a room, well this is what I am currently searching for for Lee and I's bedroom).
We were lucky enough to get a great deal on the slate tiles through Lee's work which sit on the focal wall in the living room.  Had we not got that deal it is unlikely we would have been able to afford these tiles at the time.  As an alternative, I have some the most amazing wallpapers that have a slate tile or brick affect and so could be a good option for anyone looking to achieve the look but without the hassle and cost.
Finally our wooden floor was purchased fro Beatsons and the paint colour is a very light grey from B&Q, grey rain I believe it was called.
Rough Costs
Here's an overview of average costings for some of the work listed above.  It is so easy for tradesmen to rip people off as they do not know what jobs involved and trust that what they are getting charged is the going rate…
Fitting Infinity Mirror          £50 – £70

Fitting electric fire                £75 (this assumes there is power close by)

Fitting new radiator               £75 (this assumes no pipework alterations are necessary)

Tiling a wall                          £25 – £30 (per square metre)

Fitting wooden flooring        £15 – £20 (per square metre)
Current graft
At the moment the house is undergoing major renovation in the bedroom, hall and kitchen and Lee and I are sleeping in the loft which will be the final room to be worked on.  In the bedroom, the look will be a French-style boudoir, hard to picture when over the past week this has been the aesthetical appearance…
The kitchen is going to be jazzed up a bit with yet more glittery things (counter, splashback and an array of glittering knobs no less…that's of the door variety, just if you were wondering…).  Based on the mashup of green which enveloped the whole room previously, doing anything to our kitchen is sure to be an improvement, especially as it is the first room you see on entering…
I will be sure to keep you updated with the progress on these rooms and any hints and tips Lee has to offer as we work through it.  Would be delighted to hear of any home interior tips you may have too? x