Halong Bay is an absolute must-visit destination in Vietnam. It is truly little wonder that this archipelago is rated the numero uno attraction in the country.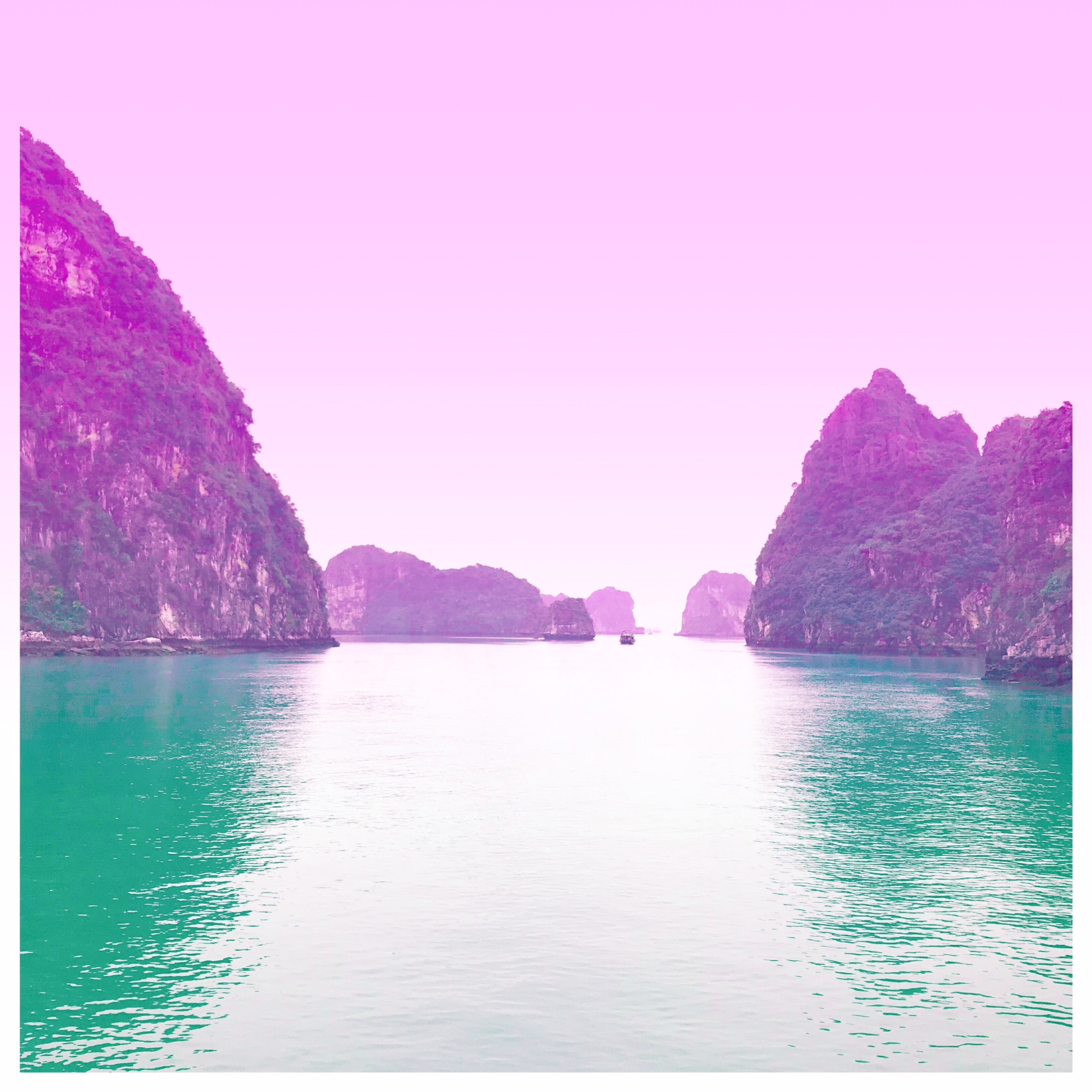 Designated as a World Heritage site in 1994, Halong translates into 'where the dragon descends into the sea'.  Legend has it that the enchanting lime-stone sea stacks and pillars were forged when an angry dragon charged towards the sea swishing its long tail to create the beauty-full scatter of islands.
The most popular way to see this awe-inspiring area, is by taking a cruise from the Gulf of Tonkin.  There are a multitude of cruise options available, most of which are very reasonably priced, so be sure to do your research to find a cruise that best suits what you are looking for.  There are both 1 and 2-night options, I would advise to opt for the 2-nights to enable you to explores as much of the emerald Waters as is possible.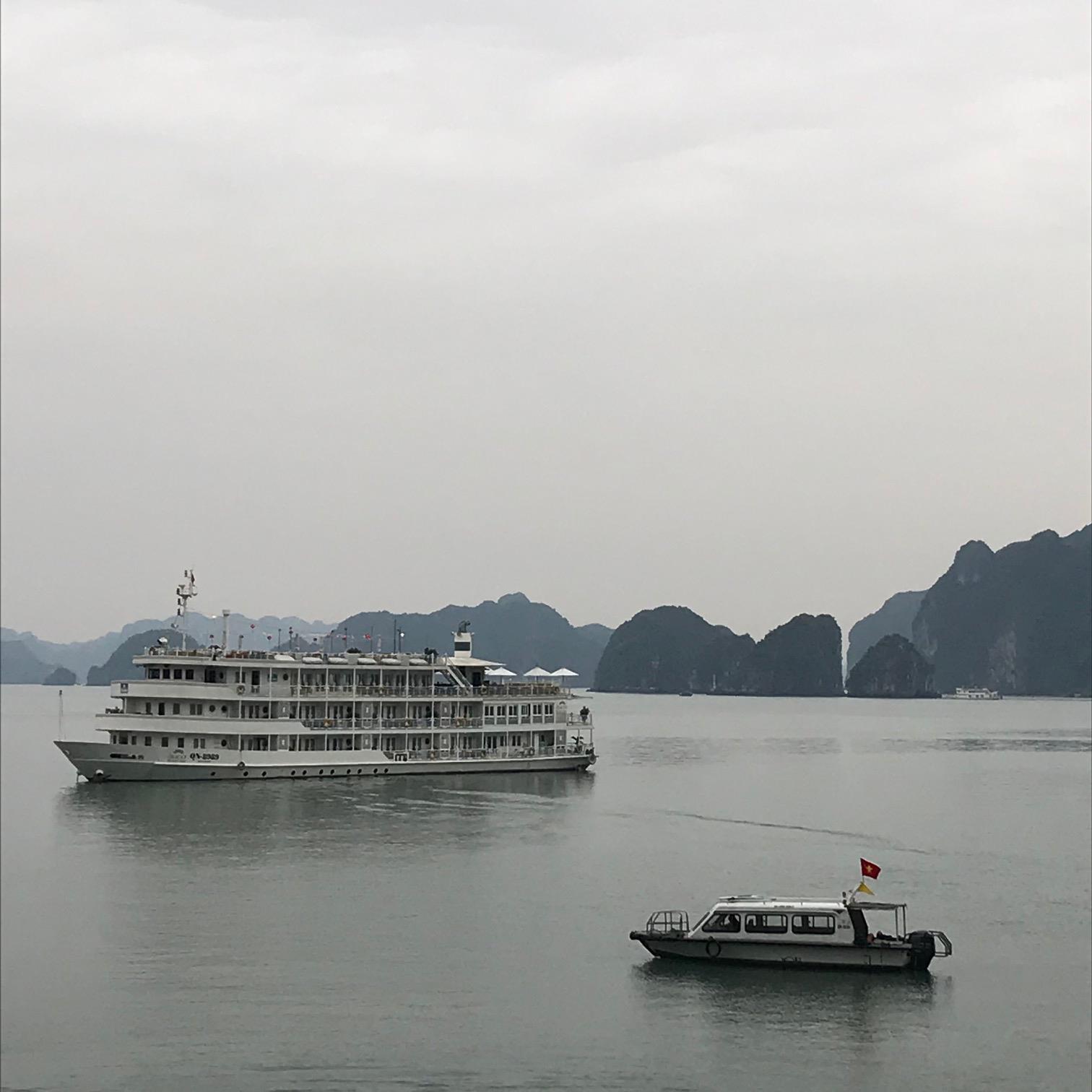 Au Co 2
We had booked the Au Co 2 cruise boat largely because it was the only one with space available when we started looking into options for NYE at the start of December (yes this was a classic case of knowing for months you are going somewhere and still not booking in advance).  I am so glad however, that this was the cruise boat we ended up on for it was just the right amount of luxury vs fun vs relaxation.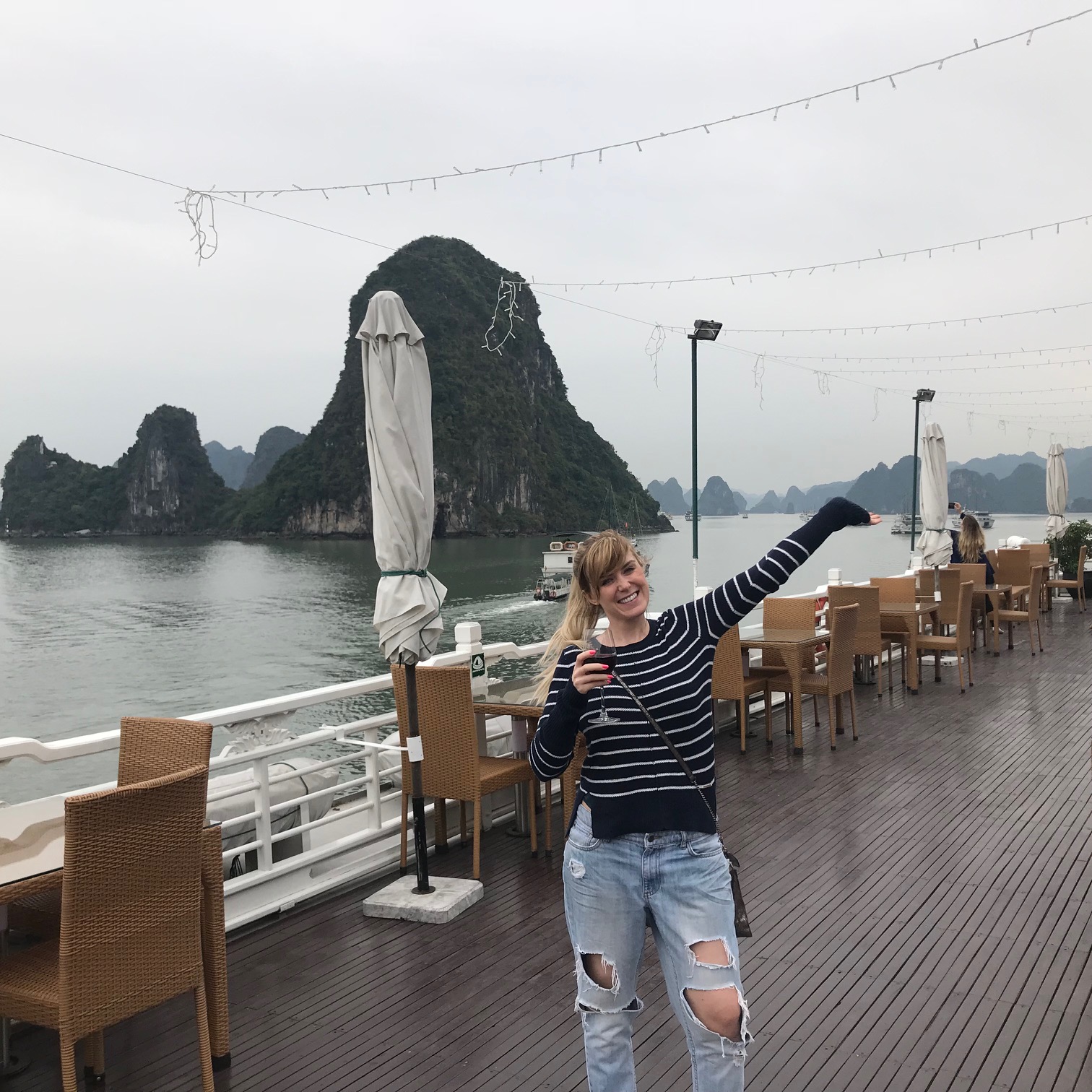 Organised Perfection
The experience from when we got picked up at our hotel in Hanoi – in a 'limousine' bus with reclining leather seats and free WIFI and driven 3 hours to Halong Bay; to getting checked into our executive suite on the cruise boat; enjoying a variety of scheduled activities; and an array of great food – was that of organised perfection.
If, like us, this is the section of your trip that comes after Hanoi, you will be so glad of the break from the bustling craziness, to not constantly be surrounded by car horns and motorbike beeps and you will absolutely love breathing in the fresh sea air.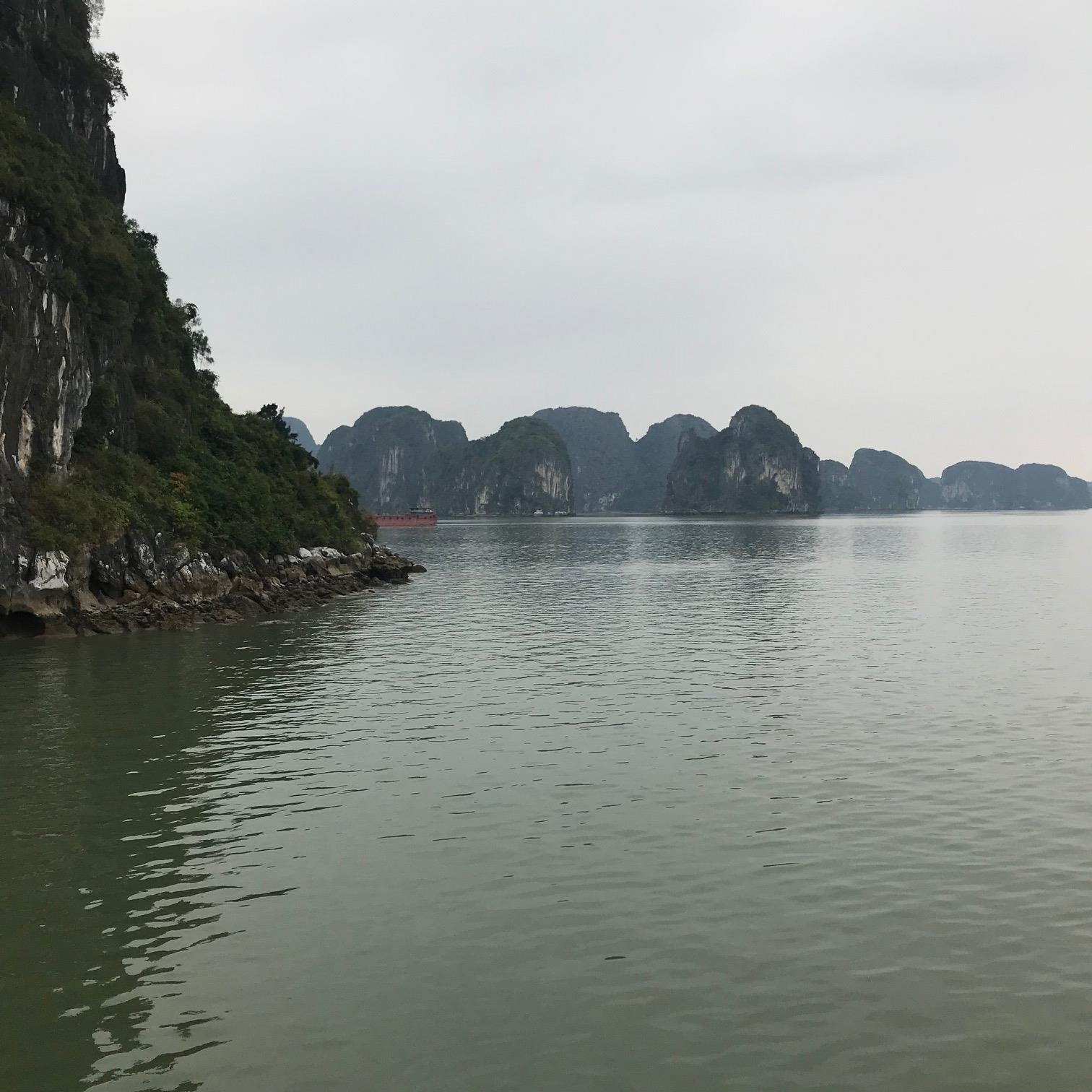 The scenery is quite simply outstanding (regardless of whether you get bright sunshine or eerie fog) and on the Au Co Cruise you can enjoy it from your private balcony, or even better with a beer on top deck.
January Cruising
I am writing this post in Jan and so the weather was foggy and about 16 degrees.  I would recommend having a jacket to hand (we picked up a couple of North Face knock offs in Hanoi for £15 each, which came in very handy on the excursions for the cruise).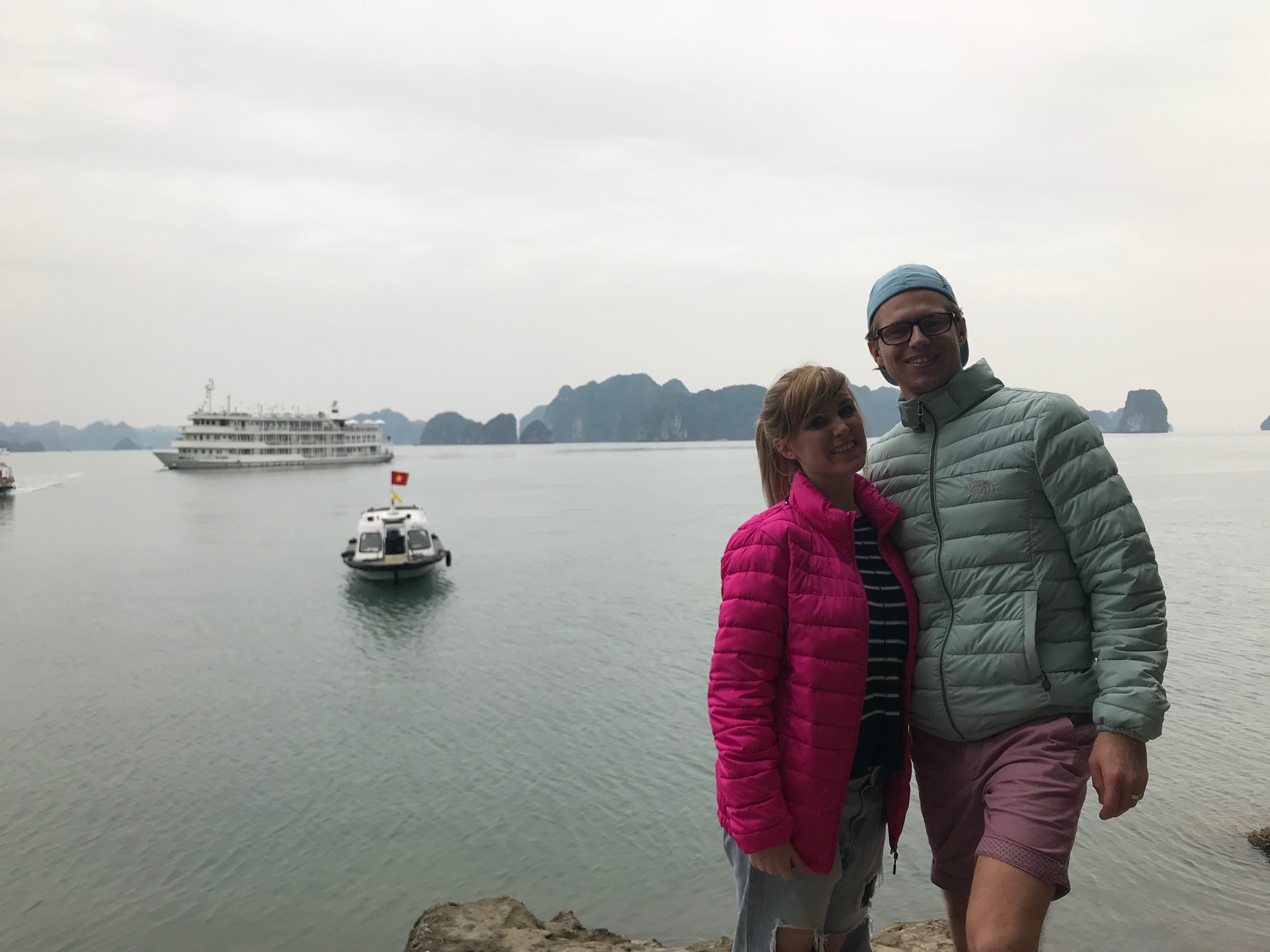 It is unlikely you will go swimming if the weather is the same, but if you get it warmer, there is opportunity to swim from a beach so do have your swimmers at the ready.
Do not let the idea of fog put you off going at this time of year however!!  Seeing the lime-stone pillars surrounded by the eerie mists was really rather beautiful.
If it is however sunshine you are after, peak season kicks off in May and runs to early August.
The Itinerary
So what can you expect from a 2-night Au Co Cruise of Halong Bay.
Day 1
Board the boat to a welcome drink whilst drums play you in.
Arrive at your gorgeous room where your cases will await.  Everything is made super easy for you as a passenger, which is a feature we loved whilst still getting over the flu.  What's more, the room and the shower room / toilet couldn't have been nicer and was constantly getting turned over whilst on the excursions.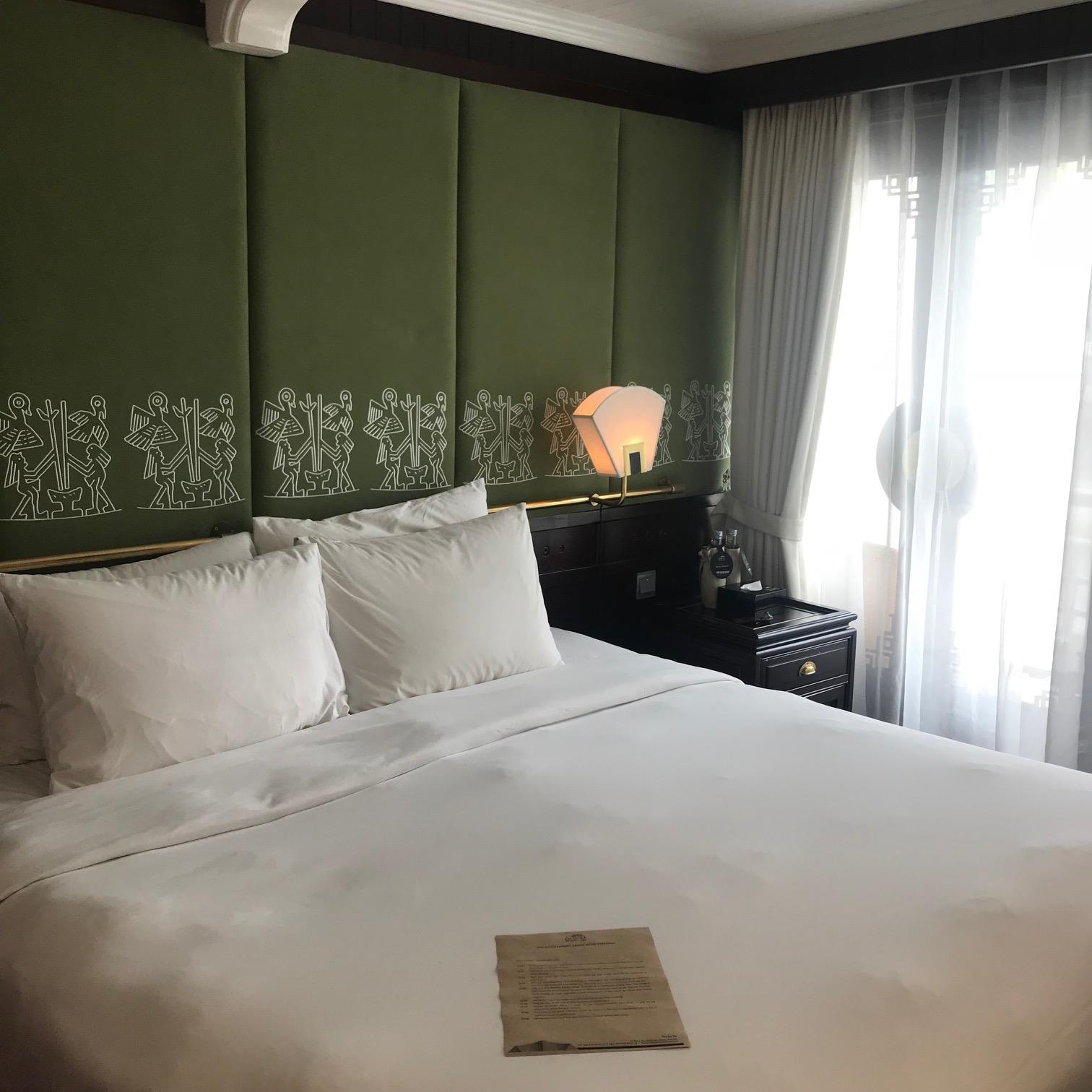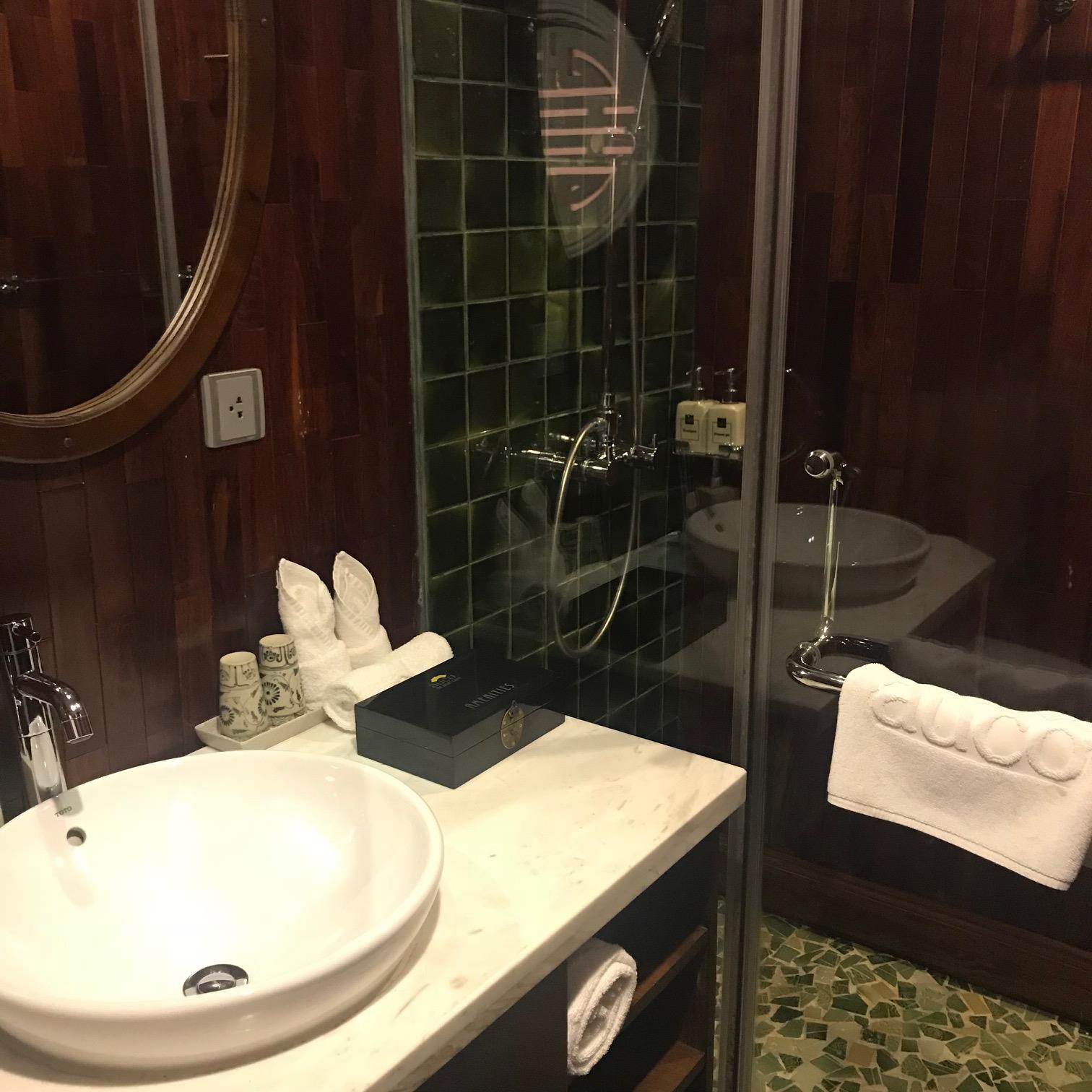 Enjoy a healthy and authentic 4-course lunch.  From spring rolls to soups, seafood and delightful desserts, you certainly never go hungry aboard the Au Co.
Journey into a cave inside one of the many sea stacks to check out the stalagmites and stalactites and meet the man who lives there with his 3 dogs and who keeps the cave in good shape for tourists. What struck me about this man was how professional he was, his uniform was immaculate and he seemed super smiley and happy.  Proof that a simpler existence is the perfect way to live for some.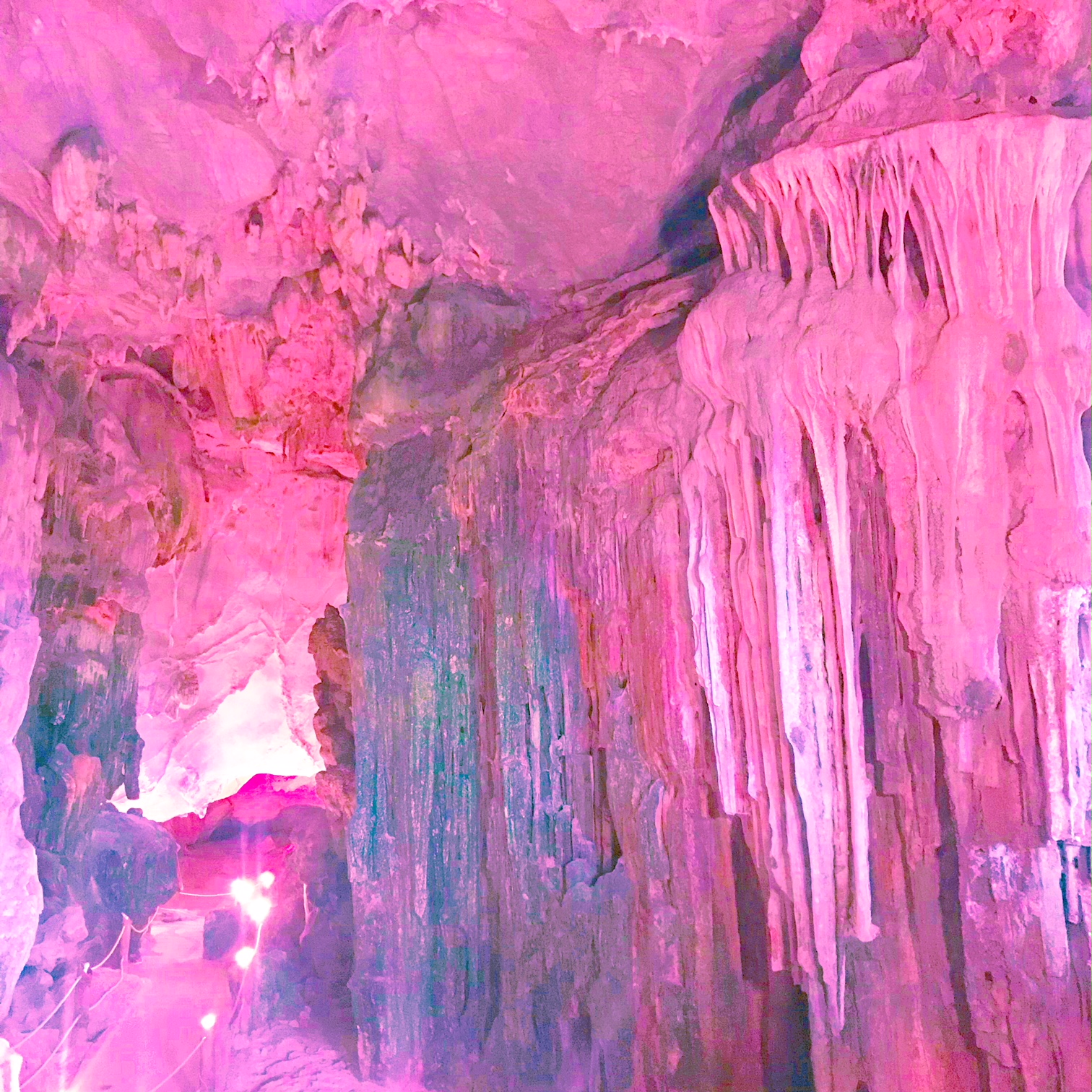 Sail around a local floating fishing village, which is inhabited by only 168 people and take in their simple way of life. Could you imagine swapping your fast-paced life, full of technological advancements, social media struggles, skyscrapers and the potential for vast wealth with seeing out your days living on a floating village, where fishing is the main forte?  It really is humbling to appreciate there a multitude of ways that humans opt to live a happy existence and to know that no one way is right.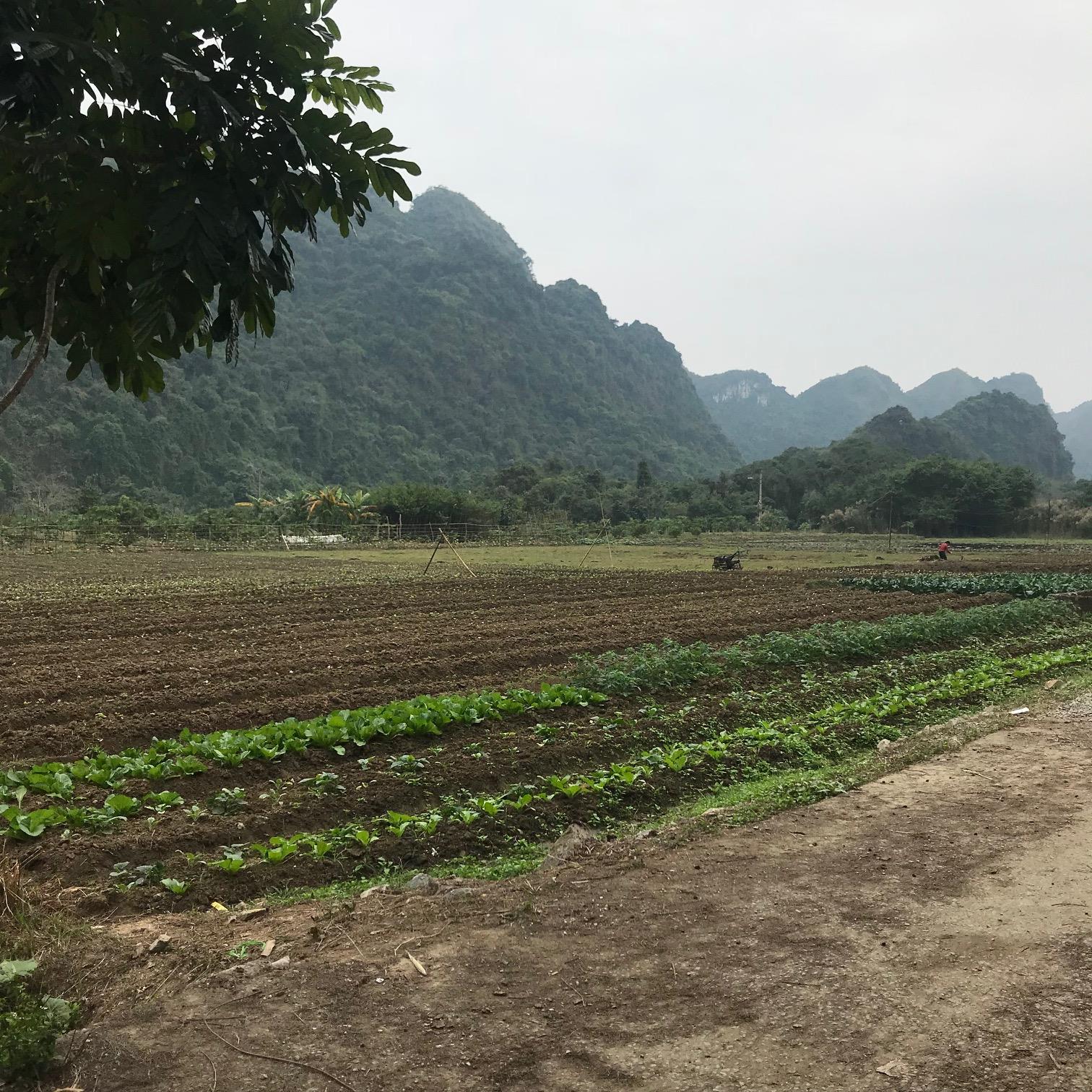 From 5.30 – 7pm HAPPY HOUR (or hours as the case is)!
A BBQ dinner was served on the boat.
Next up you had a choice of watching a movie or trying your hand at squid fishing using bamboo
We then enjoyed a NYE party on top deck.
Day 2
Tai Chai was offered at sunrise (Lee and I intended to do this but literally could not get out of bed).
Buffet Breakfast
Journey to a beach for an hour with the option to kayak there and back from the boat (we kayaked back which was a great way of getting up close to the sea stacks).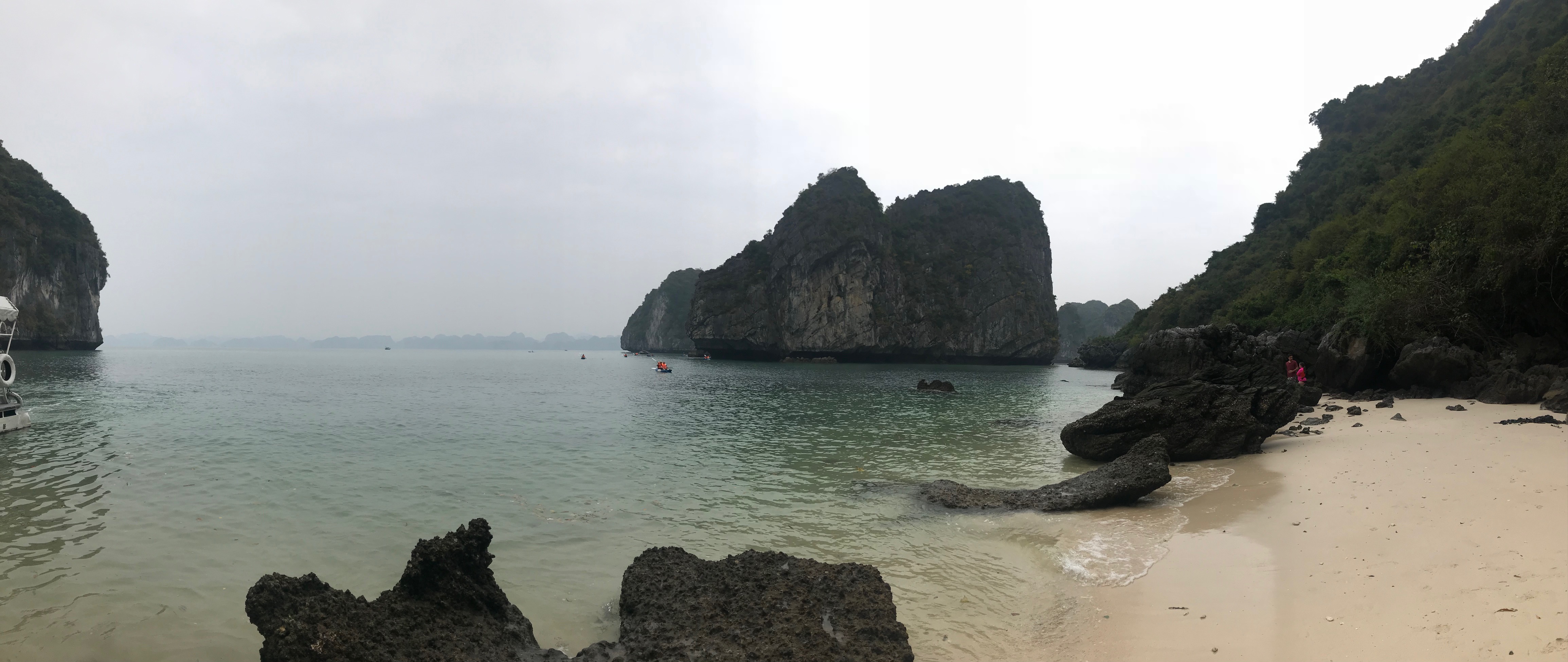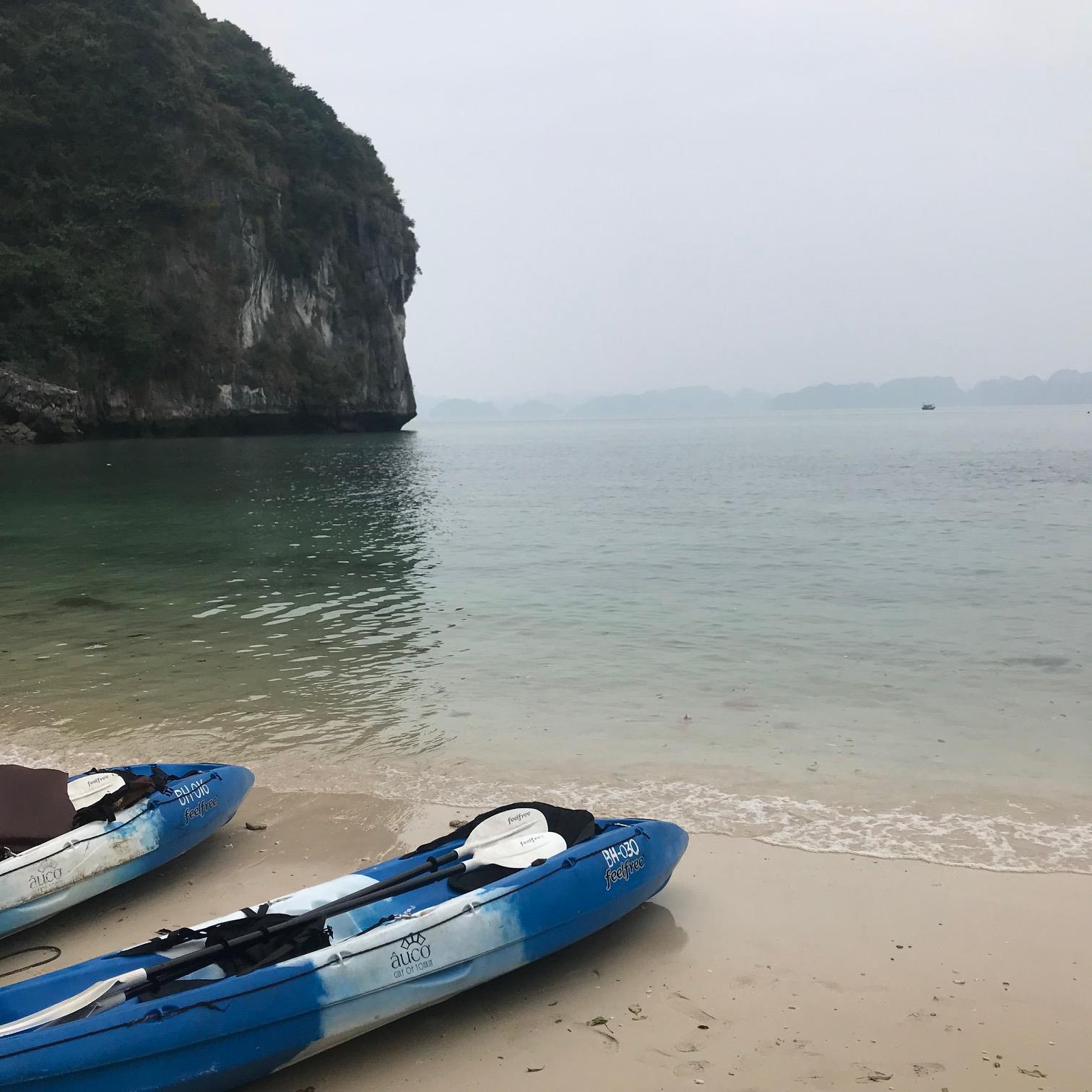 Visit a local village on Cat Ba Island.  Again this highlighted another different way of life for the villagers and farmers in this pretty little homestay.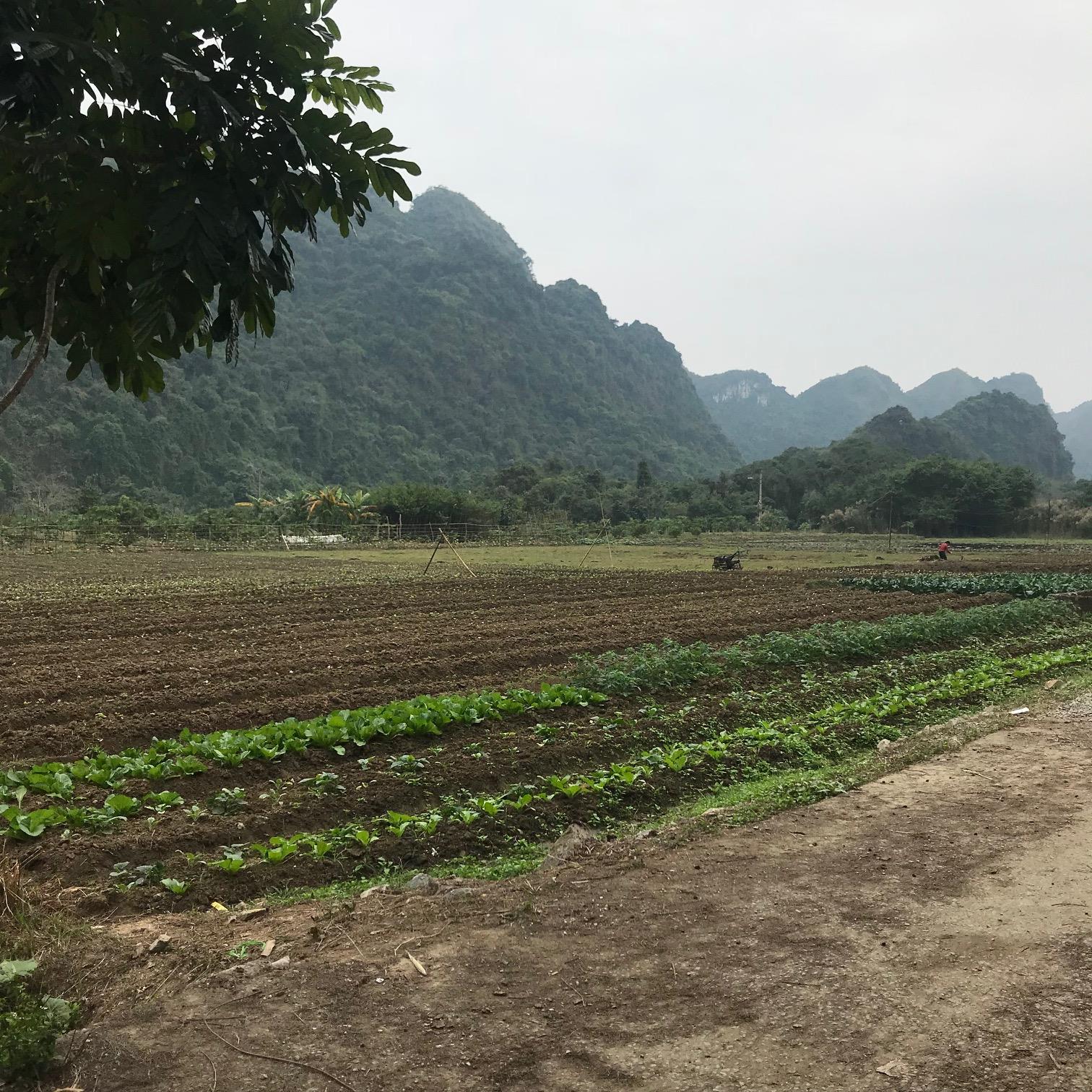 Back on the boat we had booked a full body massage each, but there was the option to get involved in a cooking class at this time too.
4 course dinner.
Movie at the back of the boat.
Day 3
Tai Chai at sunrise (again Lee and I slept in, idiots)
Buffet Breakfast
Checkout – here you settle your drinks bill (everything else has been paid up front) and the staff take your cases off the boat and onto the harbour where your limousine bus awaits.  We had pre-organised an airport transfer and again on this we enjoyed the luxury of reclining leather seats and free WIFI.
Value for money
Lee and I have been lucky enough to do some pretty cool shit at New Year's, from a cruise of the Hudson in New York, to a cruise of Sydney Harbour and a wine festival on Waiheke Island in New Zealand and I have to say the Au Co Cruise was by far the best value for money. For the cost of only 1 person on the 6 hour cruise in Oz, we enjoyed this 2-night luxury affair along with transfers when off the boat.
Expect to spend about £1000 for an executive suite at New Year.  Drinks when on the cruise are slightly more expensive than that which you will pay in Hanoi, for example a Hanoi Beer is going to be about £2.50 as opposed to £1 in the city, but the costs are still very reasonable and drinks are on top of your accommodation cost.
If you indulge in a massage, you can pay in advance or pay on the cruise and you are looking at about £20 – £30 for a full hour up to a 90 minute treatment.
Have you done anything a bit different for New Year?  If so, I'd love to hear about it!
Love,
PTD x