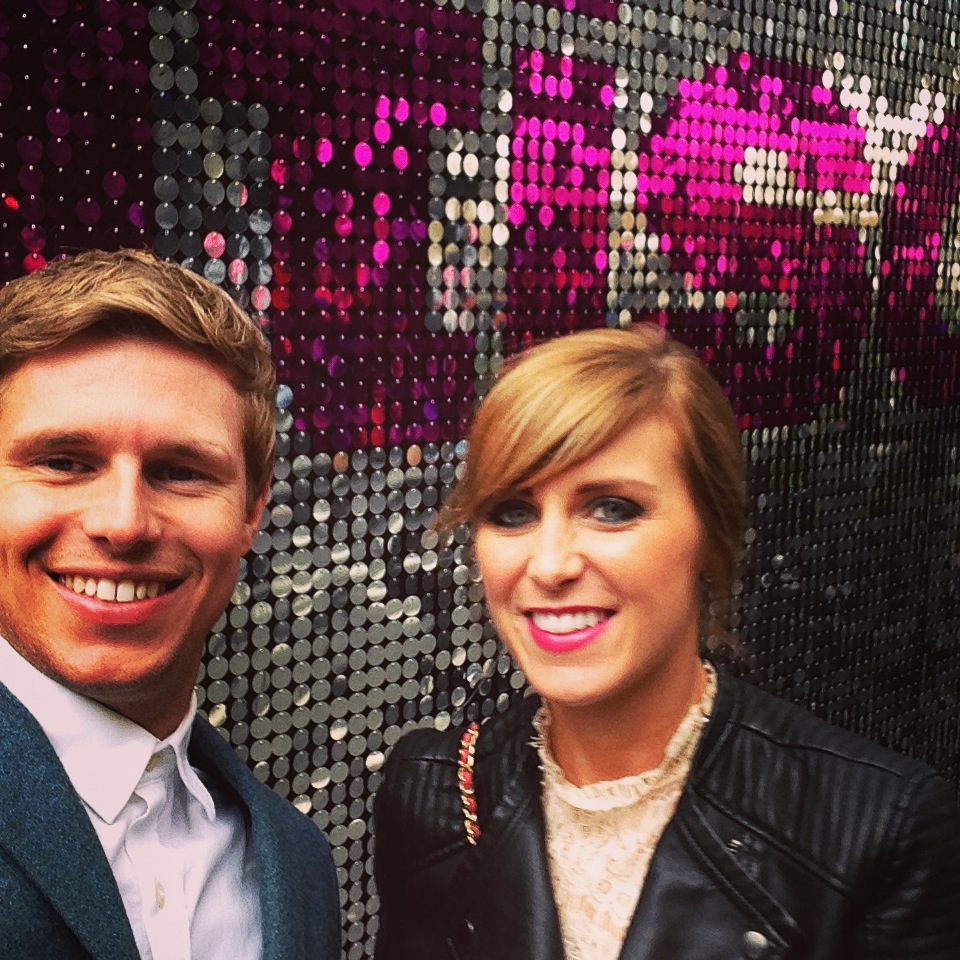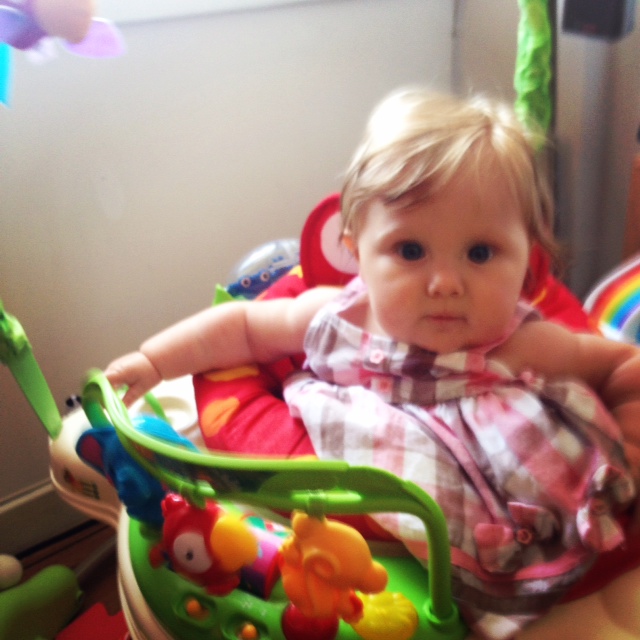 Lee and I journeyed back through to Edinburgh this weekend to spend our Satur-day and night soaking up the atmosphere at the festival.  Yesterday was the close of the Fringe and so if you never made it, be sure to plan a trip through next year, it is in my opinion one of the best things to experience in Scotland.
Arriving in the city at 1pm with only 1 show booked, the Best of Burlesque, which did not start until 23.55, the day was ours to eat, drink and be merry…and that we did.
The Outsider, located on the George IV Bridge, has to be my favourite restaurant in the capital having dined there many times over the past 6 years with my cousin Dreanie.  With a healthy menu full of deliciously innovative dishes and a real focus on fish; an eclectic vino menu; a trendy atmosphere; and a rather enchanting rear view of Edinburgh Castle, The Outsider truly offers a unique foodie experience.
Kicking things off with a bottle of Prosecco, Lee and I both ordered the skewers (Thai Chicken & King Prawn with massaman sauce and Salmon & Monkfish) which comes served with pitta pocket stuffed with a tasty apple and beetroot coleslaw and salad.  Backing this up with some garlicky French fries, this truly was the perfect meal and at £58 (£24 of that covering the Prosecco), I think very good value.
After the meal, we ventured around the various outdoor drinking venues set up for the festival, St Andrews Square Gardens, George Square Gardens, the Gilded Garden and the Udderbelly before heading to Bar Kohl (again located on George IV Bridge), a chilled out vodka bar which is always mobbed, for what was supposed to be a couple of quick drinks and a heat, but what turned into a bit of a cocktail fest, if truth be told.
One in particular which is worth a mention was the Edinburgh Collins, a tangy gin based cocktail which I really think I could have drank all night.  Oh and if you haven't already tried the elderflower gin by Edinburgh Gin, then please do give this a go if you get the chance, teamed with lemonade it creates a deliciously divine drink…
Throughout the day we had read some good reviews for the 50 Shades of Grey Musical and so booked this show just before the Burlesque. Lee has never read the books, I of course have, but we both thoroughly enjoyed what is a very comedic take on the books.  The actor who played Christian Grey could be likened to that of South Korean singer Psy (you know the one who brought us all Gangnam Style…) and songs of the show included 'Fill my hole' and something about diving for atun in the poon, and so as you can imagine, the script really is built to make you laugh.  The actors danced and sang their way very humorously over the plotline, all with great voices, with the exception of the Psy-alike, which allows for another parallel to the Gangnam singer.
From there Lee and I had to run to the Burlesque show, which was quite an experience.  To be honest I don't really know what I expected, I guess a Dita Von Teese lookalike sitting in a cocktail glass, or a twin of Christina Aguillera singing, surrounded by feathers and corsets.  This show was more circus-like and not as tongue and cheek as I'd expect from a Cabaret.  Any less alcohol and there may even have been the risk of feeling a bit awkward (e.g. one of the girls came out dancing with a large dinosaur tail, which she kind of swished about whilst roaring lightly at the crowd…).
But then what I did like about the show was that all the woman involved looked like 'real women' with real curves and the nudity was more implied than overly sexual (e.g. all the girls had nipple tassels on and so at no point was there any full nakedness).  I guess it is the celebration of the female form that Burlesque showcases as opposed to the more seedy sexualisation of it, which is so often the case in the stripping industry, that I admire and so based on that I would recommend any ladies who are curious to see what it is all about to book a show, perhaps not that particular one however…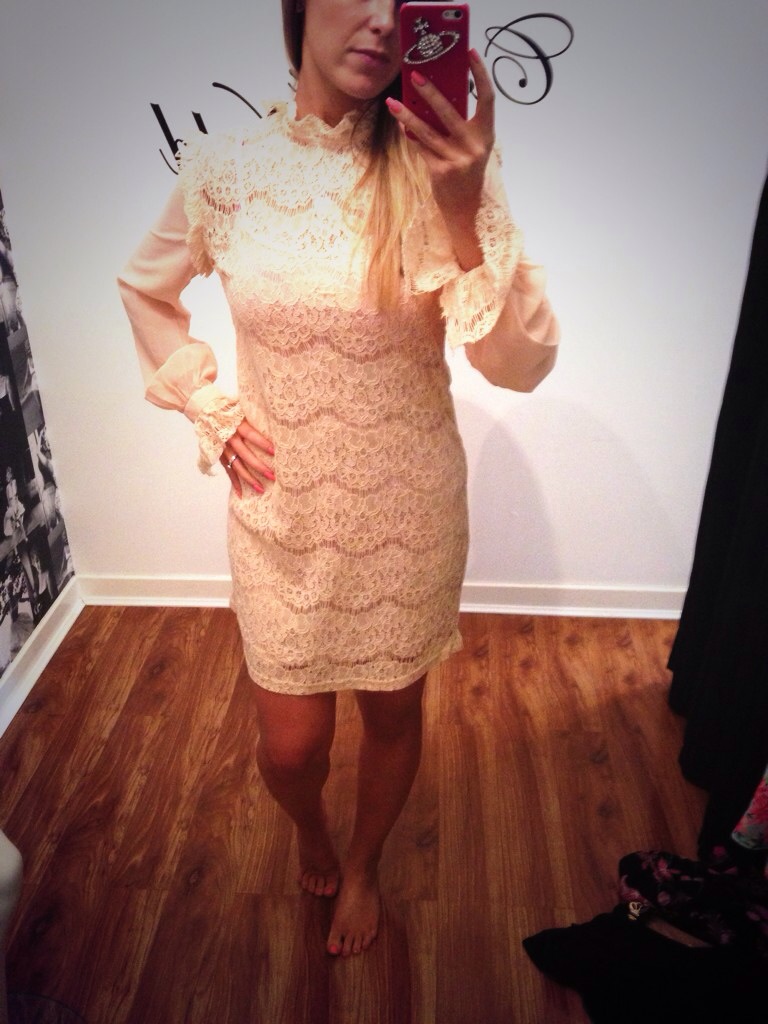 This week my OOTW came from LoveFRMS and it is this outfit I wore through to the Fringe.  This vintage-style lace nude/ cream dress comes with a lycra underlay and a lace overlay with chiffon sleeves and high neck.  The shift shape and detail of the lace is great to hide any lumps and bumps and would look gorgeous on a night out with a pair of heels or for a day out. I teamed it with tights, New Look shoe boots and Topshop leather jacket (both items featured in last week's OOTW).
Today I met up with one of my best and oldest friend Becky (not as in she's ancient, but that we have been friends since we were 4 years old) and her baby Lucy, who has to be one of the cutest little girls I have ever seen.  In the past 6 months since having Lucy, Becky has taken to motherhood like a duck to water, she's always been maternal and I can't imagine her not being a mum now, a sentiment echoed by herself and I bet most new mothers.
I on the other hand, am the most un-maternal person and actually don't have a clue what do to around babies, which I think stems from never really having any babies in the family.  It makes me wonder about the concept of 'broodiness', like will this happen for me?  I know that I would like to be a mum, and Lee a dad, but as it stands there's still so much of the world we would both like to see and learn about – aka we are probably still too selfish to be parents.  On the flip, I often have these fleeting worries about what if we can't get pregnant…I mean let's face it, most spend their older teenage years going into their early 20s, praying never to get pregnant (this obviously not being the case for everyone as people's circumstances differ) but then when you start to get close to and into your 30s, your thoughts turn to…what if I can't?
Bit of a digression, but just wanted to share a worry with you that I sometimes have, it may be something you also think about?  Anyway…back to LoveFRMS, my next post will focus on this brand and how my friend Ashley has successfully built it up over the past 2 years.  Until then x