There's an age everyone reaches in life, somewhere around the mid 20s mark I think, that you all of a sudden realise you're not a kid anymore.  A harsh, epiphantic moment where a feeling of loss, is mixed with envy at the casual students you seem to see e.v.e.r.y.w.h.e.r.e.
But then when you do reach the 'adult' section of life and enter into full-time graft, the world becomes a smaller place, you are earning a decent wage (compared to that which you pulled in whilst studying) and have the potential to try different jobs or experience working in another country…every cloud and all that, I guess.
You could even look to start your own business and I have a few good friends/ family members who have done just that.  For me, this optimises having a big set of balls, a great idea and good business sense and I often feel in awe of my peers with whom I used to socialise with in Primary School, who are now running about as the MD of their own companies, which is another metaphorical slap across the face that you are no longer an irresponsible youngster.
A friend with whom I have great admiration and respect for is Ashley Harris, owner and founder of Love FRMS, formally Fashion Rocks My Soul.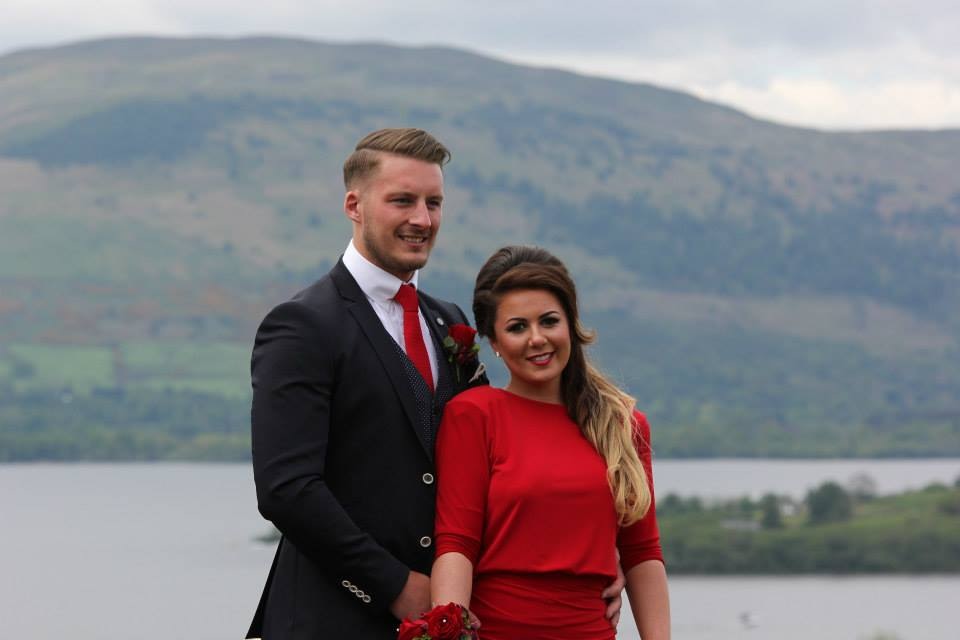 Having studied fashion at college, Ashley graduated and then fell into a comfortable job of providing admin support in her dad's business, completely unrelated to her qualifications, which seems to be more often the norm than not these days.  Then little over a year ago Ashley decided it was time she dipped her toes into the fashion industry, thinking that if she didn't do so now, would she ever…And what better way, than to launch her own online fashion boutique?
Shortly after launching the brand online and selling clothes from her bedroom, Ashley's extremely supportive parents decided to allow her to build a shop within their double garage, creating a destination shopping experience for her ever-growing set of loyal customers.
The Boutique
Driving up to the Love FRMS boutique you already know this will not be your average shopping experience. Firstly, the shop itself is an add-on to an elegant mansion, which you wouldn't be surprised to see on MTV's Cribs. It is also located on the edge of the the sleepy village of Lennoxtown, with breathtaking views across Glasgow.
The decor of the boutique is quirky and feminine with a sophisticated edge, very much so in keeping with the colourful clothes which line the walls. Walking in you'll greeted by Ashley and being a stylist and an experienced seamstress, she can offer tips on the best way to really 'wear' your outfits and how best to accessorize. Be prepared to stand in front of the gold gilded mirror and take a twirl, because if something doesn't appeal, Ashley will find you something that will.
Private style appointments can also be made, which means you have the shop exclusively to yourself. This could be a great way to get ready for a night out with friends, with a styling session and glasses of fizz included with your appointment.
The collections in the boutique are constantly being updated, so you'll always find something to catch your eye. From everyday casual, to outfits for the young professional, chic threads for a night on the tiles and edgy combinations which are firm favourites in summer hotspots such as Ibiza, the boutique really does have it all.
So what are the common things we all hate when shopping? When a shop is too busy, long queues at both the fitting room and till, clothes organised like a jumble sale and just generally the feeling that the service is impersonal and no real fashion advice is ever given. Well here's what I love about the FRMS boutique: there's a face to the fashion – Ashley is eager to help you pick out clothes that actually suit you; the fun feel and edgy look to the shop; the massive dressing room which pays homage to the queen of curves, Marilyn Monroe; and of course the eclectic range of clothes?
Considering taking the bull by the proverbials and doing something similar yourself?  Here's a little question answer sesh with Ashley which may help to further inspire you…
Questions for a Queen of fashion
What does fashion mean to you?

From a young age I have always loved fashion and dressing up.  Infact, I remember hiding my jeans at the back of my wardrobe from mum as I loathed wearing trousers and to be honest that really went for anything else I felt to be overly masculine.

Fashion represents the person I am and is an extension of my personality.

It allows you to express yourself though style and be creative, it's your chance to stand out and be different. Before having my own business I used to always be on the hunt for quirky different websites and boutiques that weren't the common high street brands, as I hated having the same pieces in my wardrobe as thousands of others.  Don't get me wrong, I love high street, but striving for the unique has always kind of been my thing.

I have a long-standing adoration for shopping, sewing, dress making, accessories etc and love following designers and keeping up the latest fashions. For years I have also customised clothing and made my own to try and be a little different.  For example the red dress that I wore to your wedding was a creation of mine (this is the red dress in the leading pic).

So in short fashion means the world to me and this is why I had to make it my career.

At the risk of sounding clichéd fashion is my passion, and I truly believe if you can make a career out of something you love, you are giving yourself the best chance of success as it will be something you will always love to do.

What made you take the leap and start your online business?

I have always been brought up in a business environment, thus having my own little empire was the ultimate dream. Studying fashion at college and university I always thought I wanted to be a magazine stylist or a buyer. But after years of research, working with my dad, interning for various fashion companies and job hunting, I realised that I didn't fancy moving to London and treading the heavily worn paths of many others in my situation.

I therefore decided to start buying and selling clothes as a hobby to see where it got me for extra pennies. Keeping on my full time job, I finally found suppliers and started a business Facebook page, it boomed and I loved it. Four months later I managed to go three days in my job, and finally full time.

I never went to the Government or Scottish Enterprise for help to set up, in hindsight I should have as there are lot's of great schemes and advice available for those looking to start their own business.  I on the other hand, had been saving for a deposit for a flat and decided to use all of this money on my business instead.

A massive driving force which encouraged me to launch a website for what was Fashion Rocks My Soul at the time, was signing up to the Girls Day Out show.  And all of a sudden we had only 9 weeks to finalise the style of the brand, flyers, logo, website everything.  It was an extremely highly pressured time, but having the deadline helped me move quickly, as deadlines do.

At the time people were telling me it was too soon for me to have a presence at Girls Day Out, that I wasn't established enough and it could ruin the success I had built up in a short time.  But as with all new business, there comes risk and I decided to take the risk. I had a great feeling about it pushing things forward quickly and I knew that my business instinct, although not yet fine-tuned, had to be trusted and what better time to test it.

Also at that time in the Glasgow area, the Facebook business pages for fashion was quite minimal.  There also wasn't many boutique-style shops that gave a personal shopping experience and so this signified a gap in the market.

The decision to create a boutique at my parents house came about as girls were collecting their orders regularly, and traipsing about my parents house just wasn't ideal.  Furthermore, having a shop on a main street wasn't what I wanted at that time – I knew I had to grow the brand first.

Living in such an incredible location, my parents and I thought why not do something different and convert our double garage into a boutique?  And I believe this point of difference has really added to the success of the boutique and customers truly do travel from all over to visit.

What do you look for in the products you source?

I look for what I think our target market want, the latest trends at affordable prices. To be honest I only currently buy items that I love and what I would wear myself, as my adoration for the clothes is evident when speaking with each customer and I don't feel like I am selling any items that I would be less than proud to wear myself.

I also look for nice quality products but again at mostly affordable prices. I have truly fallen for one of our brands Lucy Paris, this is a little more expensive than the rest of the collections, but again still very affordable and absolutely fantastic quality.

I also wear all of the clothes, so can always give good advice on washing instructions and how to care for them etc. I think it is important to be a walking advert for the brand, I often get asked about the clothes I have on and feel it is right that it be a showcase of a piece a client can purchase from me.

Do you follow the catwalks to provide inspiration for buying?

To be honest I don't feel I follow the catwalks as closely as I should, but I absolutely do keep my eye on upcoming seasonal trends and also scour the shops of my competitors to ensure any items I buy differ from what is already out there.

Magazines are a great source for fashion updates with Vogue being my bible. People often get annoyed by the adverts in the high-fashion titles, but for me these are my source of inspiration.

Caledonista is also a favourite source of information for me and it is here that I discovered my favourite designer of the moment, Hayley Scanlan, a lady with whom I have the utmost admiration for.

Where do you want to take the business/ improve upon and focus upon?

Expanding the brand's reach in the UK is my major priority and as the business grows, this will also open job opportunities and create fashion jobs in Glasgow, which can be very hard to come by.

Another focus is upon the consumer journey offered by the website and adding pages relevant to an International audience. We currently get lots of orders from London, and various orders worldwide from Australia, Germany, Italy etc. but this needs to grow.

We are also currently looking for another premises/outlet and I also want to start designing some of our own collections, this is my dream. I want to have my own brand and other boutiques selling our labels.

What is your vision for the A/W season which is just around the corner?

I am on a buying spree as we speak, so watch this space. Heavy knitted cardigans and capes are making their appearance again this winter and so this dominate our outerwear options.

I also have my eyes trained on party dresses for the festive season, lace is still massive so expect to see beautiful elegant pieces lining the walls of the boutique.

And for those who are looking to enjoy the last month of Summer, then we still have lots of bright seasonal stock left in limited sizes and at amazing prices as low as £5, so grab them quick for any last minute holidays or if you just simply love a bargain.

Any advice for those who are considering launching their own business?

Go for it.  Follow your dreams so that you have no regrets in life.  My focus at college was fashion, not running your own business and so everyday is a learning for me.  The key is to both teach yourself but also learn from others and utilise the expertise of friends and family who want to see you succeed.
A true inspiration, I have had the pleasure to help Ashley with copywriting and some marketing ideas for Love FRMS, something we plan to greatly build upon over the next few months.  So watch this space, I am confident that Ashley Harris and Love FRMS will be taking the UK by storm in the not so distant future. x
BOUTIQUE OPENING TIMES
MON 10-6
TUE 10-5
WED 10-6
THU 10-9
FRI 10-6
SAT 11-5
Trinity House
61 Crow Road
Lennoxtown
Glasgow
G667GX
Get Social with Love FRMS – Twitter – Facebook – Instagram – Pinterest