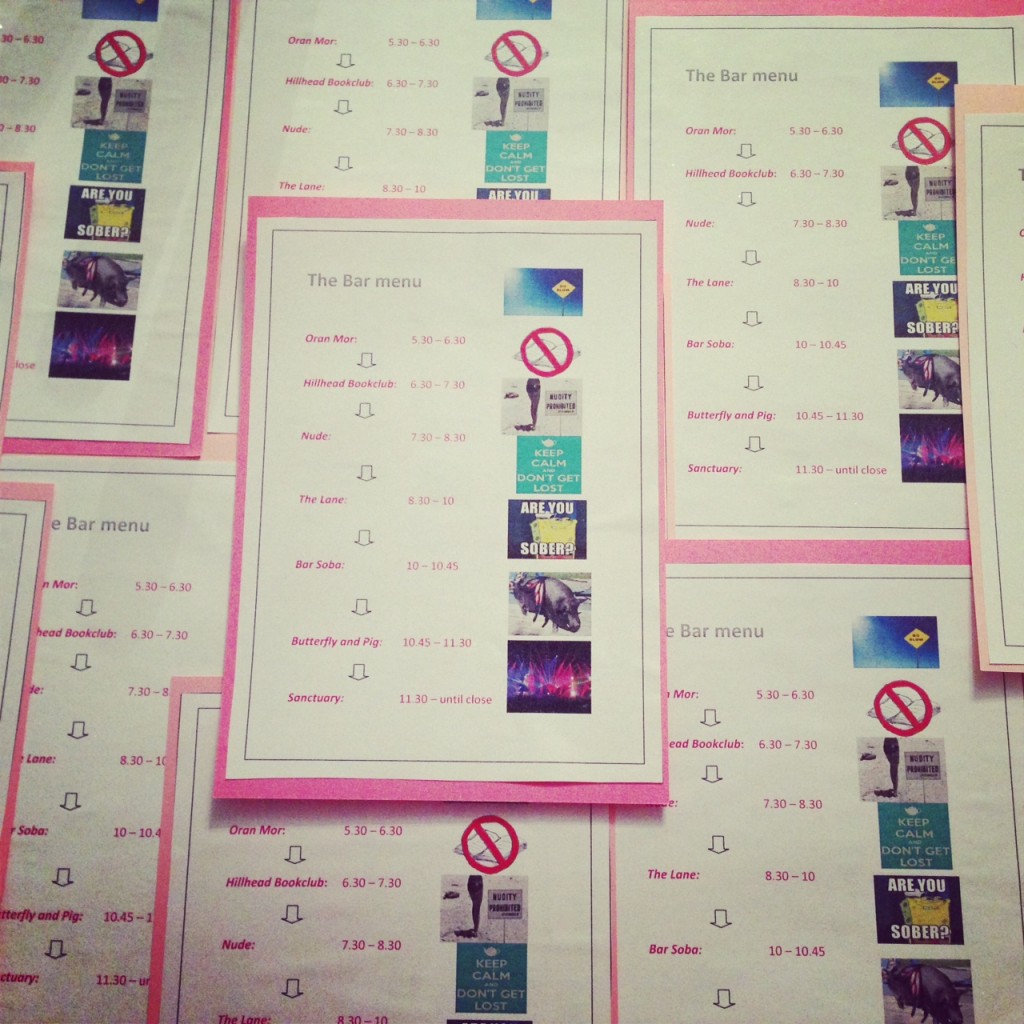 The hen do was a success! I would definitely recommend the 'Intoxicating Afternoon Tea' at Saint Jude's on Bath Street for any hens who want to kick off their party in a civilised yet quirky manner. There was 40 of us, which was over capacity for a private room and so we were given exclusive use of the main restaurant for three hours, which was absolutely ideal. I was also still able to have my iPod play into the restaurant (the music in the main restaurant plays in the private rooms below – unless you bring your own iPod – so the manager wanted to approve the playlist before putting it on.  As he scrolled through my compilation of songs, I have to admit I was a bit nervous but my musical tastes seemed to pass the test).
For £20 the Intoxicating Tea Party includes (between two people): a cake stand comprising of a selection of sandwiches (ham & tomato, egg mayo, cheese mayo and tuna) although pretty safe fillings these still hit the spot; a scone each with jam and cream; and array of cakes and sweet bites, including a dark chocolate brownie, banoffee pie, strawberry tart, coconut bite, marshmallow and tablet; all very lovely and certainly enough to leave you full. And saving the best 'til last, each table enjoyed two cocktails from large vintage teapots (it worked out at half a teapot each – a decent amount to see you through your afternoon tea). I would definitely recommend the Pina Colada.  If you finish your teapot then despair not, the main cocktail menu at Saint Jude's is also very good with the majority being averagely priced at £5.
Finally as part of the Intoxicating Tea Party package, you also get a mini cocktail making demo which adds an extra dimension to the afternoon.
From Saint Jude's we jumped in taxis to take us to the West End ready for our bar crawl to commence. I had made menu cards listing the bars and times we were scheduled to be at each (pic above), which were good at keeping everyone right and resulted in no ladies getting lost.
Oran Mor was the first stop then onto Hillhead Bookclub (a favourite location due to the £3 strawberry mojitos), Nude and then the Grosvenor Cafe. Whilst here, we were in the Green Room, which had a karaoke machine and the kitchen stayed open so we could order pizza and chips (by this stage we had some very hungry hens).  Rather unexpectedly I ended up on the karaoke, several times, which is something I never do what with my awful tone and overly deep singing voice. The girls selected Bonnie Tyler's Total Eclipse of My Heart for me and before I knew it I was on a chair, belting out the Old School version of the song – you know the one where the wedding singer had included inappropriate expletives: "Turn around bright eyes, f**$in every now and then I fall apart, and I need you now tonight, I f**$in need you more than ever…" In hindsight I'm very glad my mother and aunts had left at this point, or else I have a feeling I would have had the chair pulled from under me.
From there the plan had been to go to Bar Soba and the Butterfly & the Pig before heading to Sanctuary but by the time we got to The Grosvenor Cafe, trotters were starting to ache and the general consensus was to end the bar crawl there and head directly to Sanctuary.  This plan was absolutely fine by me, by this point I was regretting not having broken in my new 5 inch Carvella heels, purchased the week before from Shoeaholics.
In Sanctuary we had a booth booked at a cost of £400 and this included your entry, an impressive 3-litre bottle of Belvedere and your mixers all night and so it worked out at about £20 per person.  I would absolutely recommend booking a booth to ensure you get a seat and also to save a bit of cash – none of us bought any drinks outwith the vodka on the table.
So from 40 to 20, one lost jacket and one lost breast pump, we ended the hen do in Sanctuary 12 hours after kick off and it was bloody brill!  If I were to pass on any pearls of wisdom…
Hen Do's

If a bar crawl is part of your hen party plan, regardless of location, make sure you contact the bars in order to reserve an area for your group
Make sure you get lots of photos, I only took two and so have been trying to round up as many snaps as possible from my friends and family
If you are the bride, go for it and wear white, very often the bars will not allow you to dress up and so this is a good way to make you feel bridal
Try to time a make-up/ hair trial for your wedding before your hen, this will make you feel extra special at your party (but ensure you mix up your look a bit so as not to give too much away).  My make-up was done by Tara at Gravity Beauty and Hair in Lennoxtown and hair by my cousin and bridesmaid Madeline

Hen Dont's

Wear shoes you haven't broken in
Leave your iPhone and iPod in any bars
Stress about your hens all mixing ok with each other (if they are from different social groups), they will!