Las Vegas has to be one of the best places to visit in the World.  A Disney World for adults, it is easy to see why it is tagged Sin City.  From the 24 hour gambling, to the boozing in the streets, call girl cards that get offered to you at every turn, to the abundance of pool parties and world renowned clubs -there's seriously something for every so-called sinner.
I mean we all know the saying: "What happens in Vegas… goes on Facebook", don't we?
Lee and I's holiday this year was 50% Vegas and 50% Orlando and it was heartbreakingly good!  Two months on and I still have the holiday blues.
I read many a blog on the run up to our trip to create a list of the unmissable things to do and see in Las Vegas. Although we were there for a full week (the average visit normally being 5 days), we still never got the chance to do it all.  Of what we did manage to nail however, here's a list of the best bits.
WARNING this is a long post, the 'best bits' are plentiful…
Accommodation pros
We stayed at the Hard Rock Hotel in both Vegas and Orlando.  If you are planning a 'twin centre' holiday (as the Americans call it) in the future, make sure you look into the deals a hotel chain will offer if you choose to stay in two of their hotels in the one trip.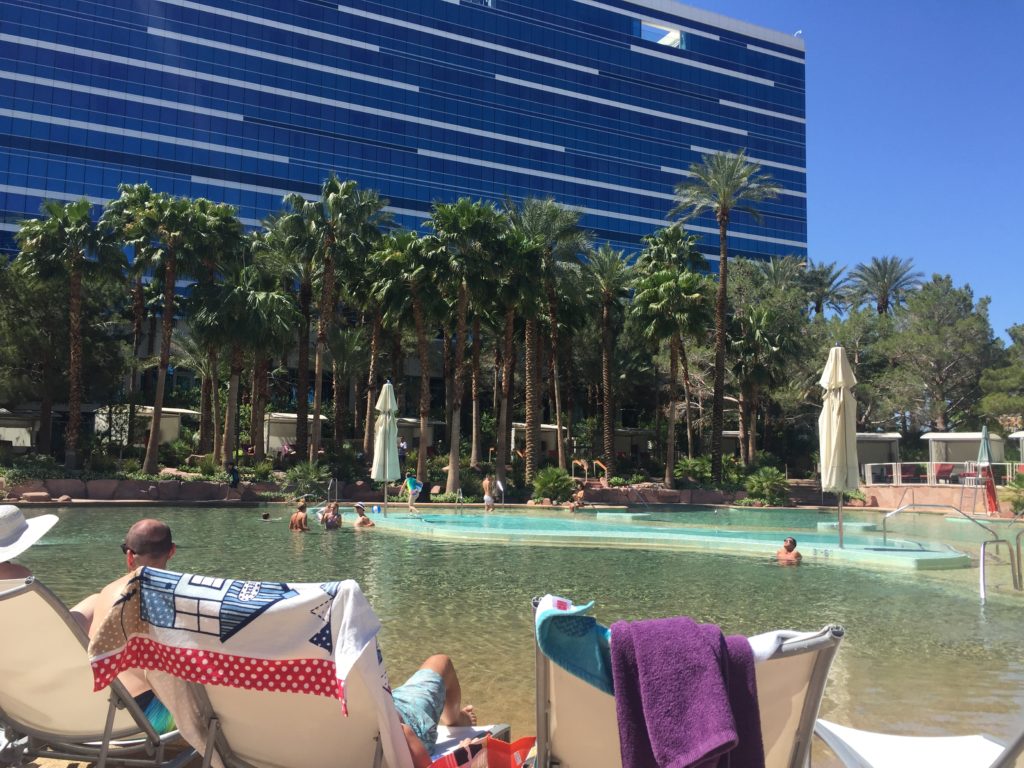 The hotel was fab. The rooms were glam and massive with dark, plush interiors and the pool area in the centre of the three hotel towers was extensive and eclectic (one half being made up of the Rehab Pool Party and the other, a family friendly 'beach' with real sand taken from a Californian beach).
The selection of restaurants was good and included Nobu, so Lee and I were happy.  Not only that, but we seriously felt that the machines in the casino paid out more than anywhere else and this was the only casino we gambled in that we were offered free drink.  So def worth a visit to the casino if you are looking for a night of gambling and getting drunk on free spirits!
Accommodation cons
For us the only downfall was the location.  Although only a short 5 minute drive from the strip, the hotel wasn't really within walking distance and so you are looking at a $12 charge to and from the strip.
Oh and then there was the argumentative call girl who turned up at our door at 7am looking for a Harvey who had ordered a 'blonde'.  Not the hotel's fault though I guess, more this graft-shy guy by the name of Harvey.
WARNING, if you are awoken by an incessant knocking at unconventional cleaning 'o-clock in Vegas, it will likely be a hooker and if you are brave enough to answer (let's face it, you do wonder if they look like the cards that are handed out), then block your door.  Our frisked up female tried to force her way in, trying to avoid being seen in hotel corridor. Talk about a 'prude' awakening!
A return visit
If we were to go back, I would want to stay at The Wynn (followed by the Cosmopolitan and Bellagio).  This is one of the newest hotels on the strip and outshines many in terms of how modern and swanky it is.  However, The Wynn is also one of the most expensive hotels. For example, if you were to book a week in June via the website for Hard Rock you would be looking at $1334 and for the same week in The Wynn $2048.
TIP! If you know what hotel you want to stay in well in advance of booking, sign up for their database, as very often you can benefit from some amazing deals.  For example, I signed up to The Wynn's insider programme and in doing so, could save 30% on the figure quoted above for a break in June, taking the cost to $1605.
Dining
For unbeatable and revolving views of the strip, book a table at the Top of the World restaurant in the Stratosphere
For 'the best' buffet brunch in Las Vegas, head to the Buffet at The Wynn. From sushi to schnitzel you could plate up just about anything and the dessert 'area' is too bloody good.  If you go, be sure to make your brunch bottomless!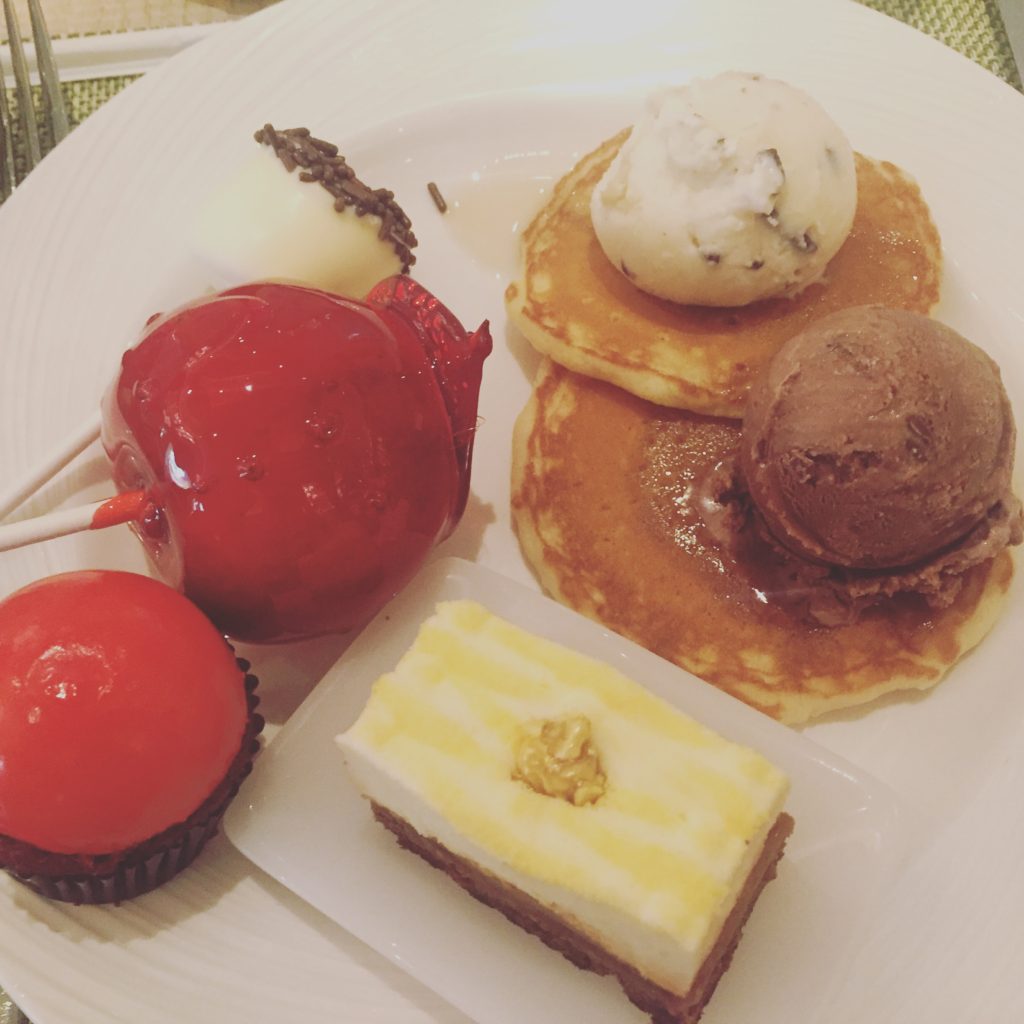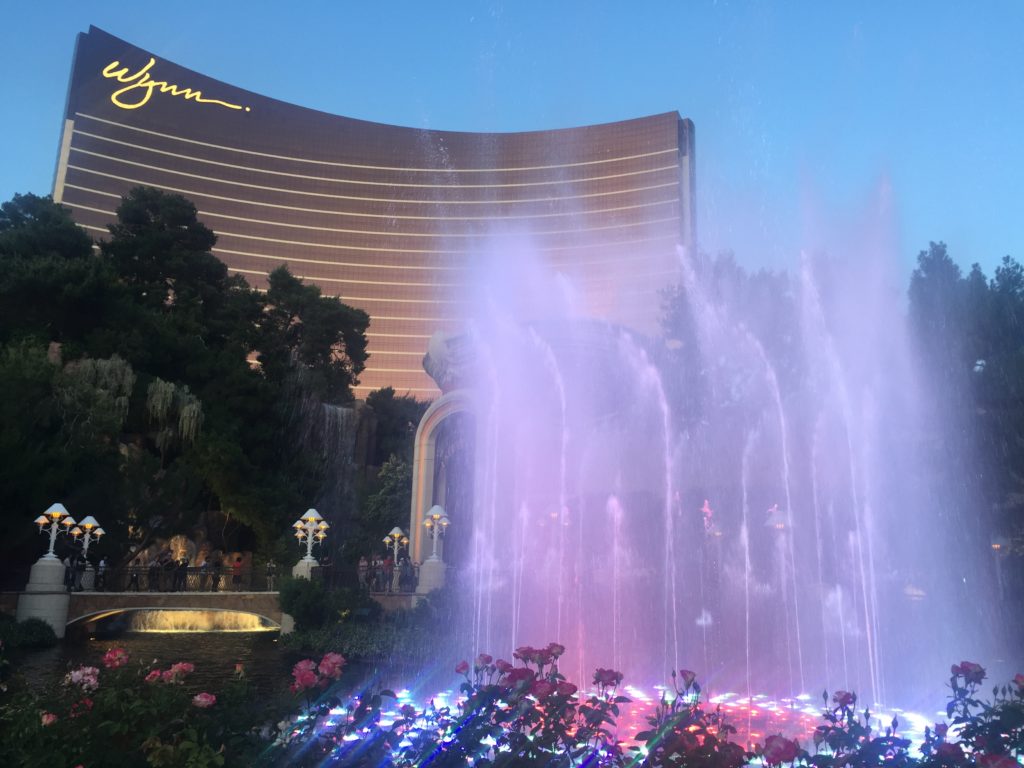 Nobu.  There are two of these restaurants in Vegas, one in Caesers Palace and one in Hard Rock.  This is where we dined for Lee's 30th and it was ah-mazing.
STK in the Cosmopolitan was my favourite meal of the trip.  BOOK IN ADVANCE!!  We were struggling to get any dinner times before 9.30pm and that was me booking a week prior to us leaving.  We opted for Sunday Brunch instead, in the knowledge that STK is quickly becoming THE place to brunch in Vegas.  It lived up to the hype.  From the cheese tasting plate we were given to start, from the bottomless Mimosas (which eventually just became glasses of Veuve in succession – oh to be back there right now) to the live band, dark moody ambience and amazing main meals – this is a spot not to be missed.
Hakkasan restaurant in MGM offer Cantonese cuisine at its finest and is again a very trendy dining spot.  Everything about this meal was delicious and it was made even better by the cool surrounds.
Pool Party
If you Google the top pool parties, Wet Republic at MGM is more often than not at the top (this is where Calvin Harris plays), followed closely by Encore Beach Club and it is here that we went.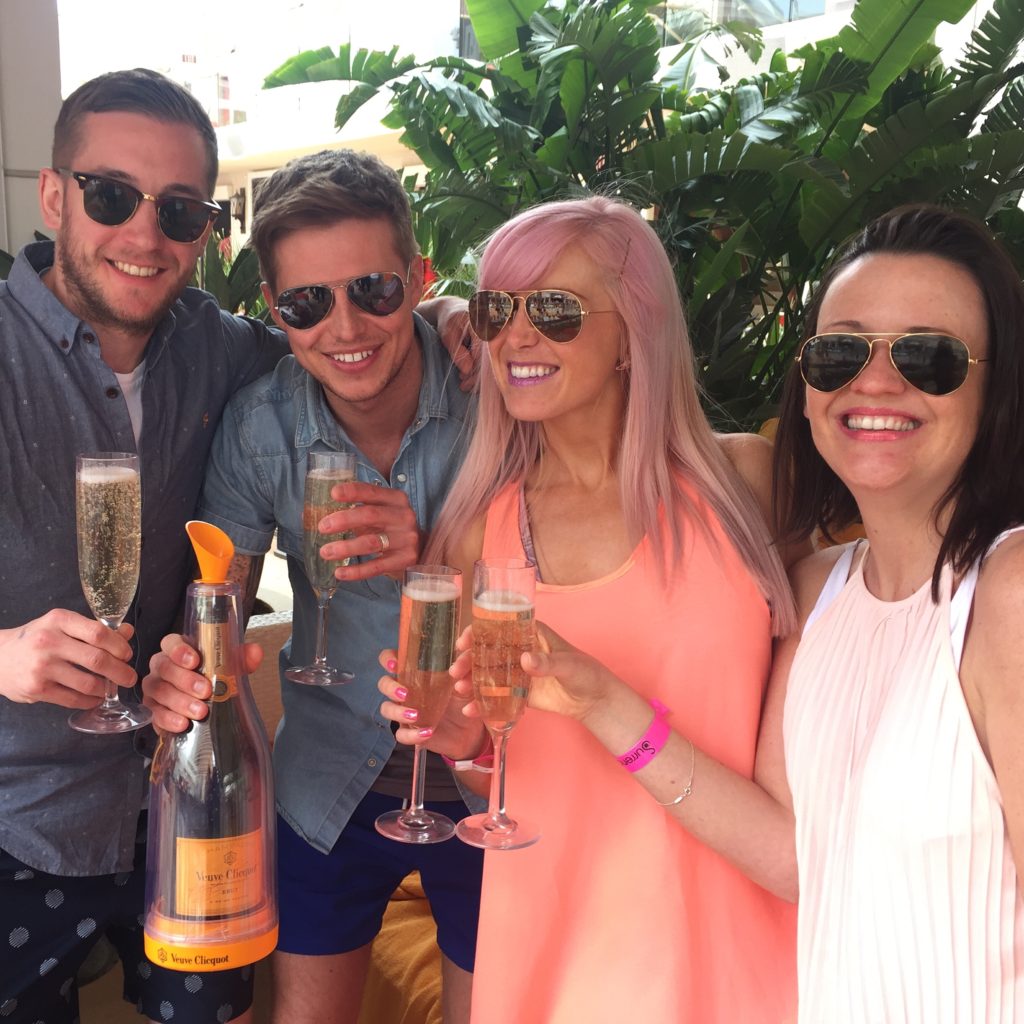 For a 6-person bed at Encore Beach Club (in May) you are looking at a $1500 minimum spend (meaning that you have to spend that figure on drinks when there) and on top of that you are obligated to tip your server 20%.  Big bucks, but definitely the best way to do a Pool Party, as the other options would be to towel up on the poolside or stand in the pool itself.
Don't, like us, have a heart attack when you see the alcohol menu.  We spent $1400 dollars on a standard size bottle of Veuve and Hendricks. Yes that's right, we spent the price of what could have been another holiday on a standard sized bottle of champagne and gin.
Thank god we had our friends Lynz and Phil with us, which leads me onto my next point.  Try to get a squad together at the pool party to lighten the financial load a bit.
WARNING! Don't try to put a contact lense in when sitting on your bed just as you get into the party.  The bouncers will likely ask if you are taking drugs… had we been chucked out for the supposed drug taking, I don't think I would ever recover from the financial loss!
WARNING NUMBER 2! Try to avoid booking a big club night on the same day as your pool party… Waking up at 1am after having missed the entry cut off for calvin Harris at Omnia is not a good feeling…
Activities
Shopping – There are two major outlet choices in Vegas.  Las Vegas Premium South Outlet Mall is located just south of Mandalay Bay and is enclosed, so a better option if the weather is not great.
Las Vegas Premium North Outlet Mall is located downtown and with savings of between 25% – 65%, this is well known to be better in terms of value for money. You are also out in the open and so you can catch the rays and shop all at the same time, bliss!  And 40% off Michael Kors, need I say more?
The High Roller– The Las Vegas Eye is located at The Linq and is open pretty much 24 hours.  We chose to ride during Happy Hour at night. Happy Hour consists of a barman serving up as much drink as people can manage in the circuit of the High Roller (about 30 mins).  Totally worth it and great to see the Vegas lights at night.
Make sure you take change for a tip. Our barman uncomfortably piled on the pressure to fill his tip jar.  Also make sure you get tickets in advance, the queue is massive at night!  We pre-purchased our tickets at Viator, click here to do the same.
Helicopter ride to the Grand Canyon – You will likely ponder over this due to the cost, but I promise this excursion is totally worth it.  We went for the sunset flight into the grand canyon, where we landed and enjoyed a champagne picnic before heading back to Vegas and flying over the strip as the sun sets.
There are a number of operators that you can do this with, but I opted for a Papillion tour, as it was the most cost effective and also included limo transfers from the hotel to the airfield.  The total for Lee and I came to just over £600 in May, but you can opt for a cheaper tour at an earlier time in the day.  For more info on this tour and the cost during your break, click here.
A night at Fremont Street – Downtown Vegas is a melting pot of extroverts, people who have seriously hit rock bottom, families and party goers.  Aside from carnival in Rio, it is probably the most colourful bunch of people and performers I have seen under one roof.  And it is under a roof, a roof which is digitised and pretty bloody cool.  With live stages at every turn, you'll likely find yourself dancing in the street to a tribute band, steaming on the famous alcoholic slushes.
Don't miss the Slotzilla zipline and if you do it, opt for the top line where you fly across the whole street.  It is only $45 each and is a bit of a once in a lifetime experience.
WARNING! Whatever you do though, don't get on it blazing.  Someone told me about an 18 year old boy who peed the whole way across the street…not great for revellers or for the boy who apparently got huckled as soon as he got off the ride.
Cirque Du Soleil – A visit to Vegas would not be complete without getting to a show and if you are looking to be seriously entertained then the Cirque Du Soleil performances are unrivalled.  Last time I was in Vegas, I went to see O, which is the water show based in the Bellagio and is like nothing you will have ever seen before.
This year Lee and I splashed out and went to both the Beatles Love show and Zumanity – it was his 30th after all!  The Beatles is a mix of trippy circus acts, with an amazing Beatles soundtrack and impressive stunts.  Zumanity is a cabaret/ Burlesque show and was less circus more comedy/ boobs/ stunts – with a wee bit of humorous sex simulation thrown in.  The cheapest of the bunch, I have to say Zumanity is the better option if you are looking for a laugh.
Of the others, I hear the Michael Jackson One show is phenomenal as is Mystere, which was the first Cirque Du Soleil to have a Vegas residency.
Bars – Hyde is a club in the Bellagio and aswell as serving amazing cocktails and light bites if you are peckish, you get front row seats to the awe inspiring Bellagio Fountains.
Parasol Down at The Wynn offers an amazing view of a 40ft waterfall installation and pine-topped mountain.  It is an amazing place to enjoy a cocktail or two and toast your trip.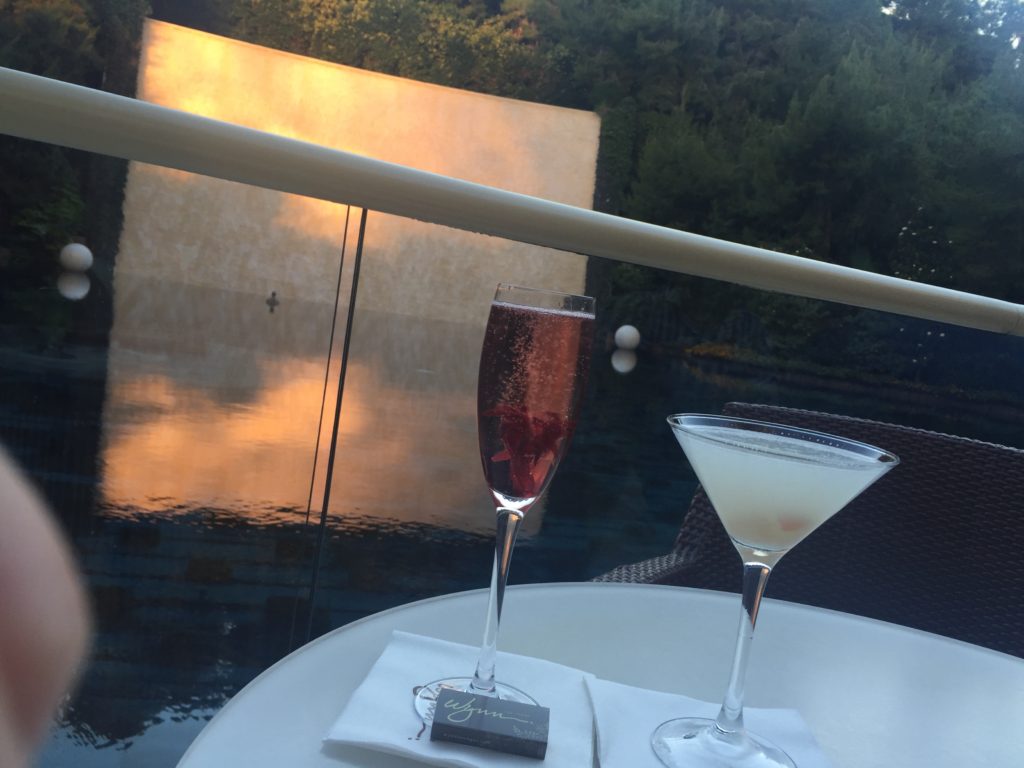 Oh and on my last visit to Vegas, I also visited the Coyote Ugly Saloon in New York New York, which you will love if you are a fan of the film.
Outwith that and if you can make it, it is possible to do an around the world bar crawl of strip, stopping at the likes of the Luxor, NY NY, The Paris, Caesers Palace, The Venetian etc…
If you haven't experienced Vegas yet, get it on the bucket list and get saving. It is seriously like nowhere else on earth! x