I hope you all had a smashing weekend?  I have only just recovered from my dad's 60th birthday bash on Saturday.  Long gone are the days when I could drink a vast array of beverages (not that I am encouraging this type of drinking) and mix it up until my tastebuds were content.  Now it seems like a few glasses of wine, a few gins and a Malibu and I am no use to man nor beast, for a minimum of 48 hours.
On researching hangovers and why one's body can react in such a brutal way to alcohol, I came across this article on the BBC which highlights, amongst many things, that a hangover headache is caused due to severe dehydration so much so that your liver has to take water from your brain to help break down the alcohol in your system.  So the lesson we can deduce from this…for next weekend?  Be sure to drink a pint of water before residing to your slumber 😉
With my aim to include more fashion-focused posts in the blog, I am going to launch an OOTW (outfit of the week) feature, whereby I will showcase either a recent purchase, or select a favourite outfit/ style found during my endless hours of online shopping (still trying to save, save, save…which is just bloody rubbish).  I would also love to hear of your all of your OOTW ideas, so please do get in touch with them as they could become the favoured published threads!
This week my ideal attire came in the form of a co-ordinate bra-let and a-line midi skirt from Honey Boutique.  Part of the VIP range by Vicky Pattinson, I have fallen head over heels with the bold pattern and also the highly flattering shape this two-piece offers. At £55 the outfit is affordable, the quilted material is unique and I have to say it went down an absolute treat with my family.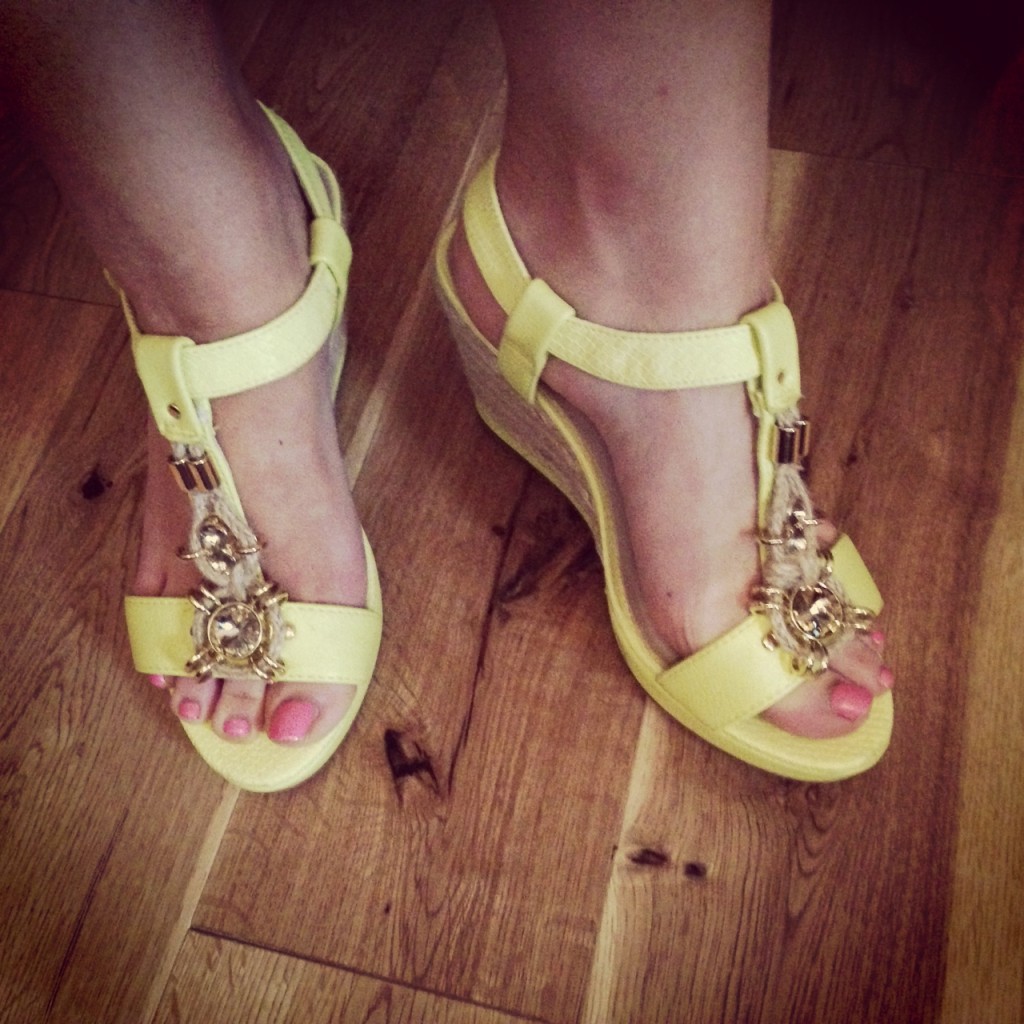 I teamed the Honey Boutique set with a pair of bright lime wedges from River Island.  With a raffia (rope made from the fibres of the raffia tree) heel, snake effect trims, T-bar decorated with gold rings and jewels and 9cm heel, these sandals are both comfortable and versatile.  And at £35, they are the perfect pair of summer shoes whether it be for work, or play.
And to top it all off, I was lucky enough to enjoy a spray tan (in work, on my lunch break would you believe!) using the Fake Bake Gold liquid.  One of the most luxurious formulae in the Fake Bake range, and a fave with celebrities and brides-to-be, Fake Bake Gold gave me a beautifully deep colour (see pic below which highlights my bronzed glow when compared with the tanned colourings of my nephew pug Charlie), which is still prominent today.
One of the major learnings for me thus far at Fake Bake, is the importance to both prepare your skin for a fake tan and then maintain it.  This involves exfoliating the skin, moisturising dry areas (this has to be with an oil free moisturiser or it will breakdown the DHA of the tanning product, making the colour appear catchy), applying the tan and then moisturising again when the colour guide is washed off.  More tanning tips to follow in next post…