Last weekend saw 13 ladies fly to the sparkling lights and sights of Paris for my cousin Dreanie's hen do (or should I say parti di poule!) and what a bloody weekend it was.
As the organiser of the trip, which was booked back in January, I put a lot of pressure on myself to try to organise a hen that was as unique as the person it was for, but the great thing about Paris is that the city is so special, it is hard not have an absolutely amazing time.
The Paris Lookbook


Parisian planning
If you are organising a hen do in a foreign place, the main thing I would recommend doing on the run up is research, and lots of it.  TOP HEN DO TIP: in order to be as organised as possible, you should try to know everything from the best way to get to any activities you book, including the travelling time – this was one thing I did not have the best grasp on (I had taken screen shots of addresses on my old iPhone which I then subsequently put through the washing machine and so consequently lost the pics…and my mental health of a short spell).
The Itinerary

Friday 17th October – arrive in Paris

Train to the accommodation – This involved taking two trains at a cost of 10 euros each.  Somehow for 2 nights and 3 days, I had managed to pack so much that my case was tagged with a 'heavy' sign and so I have to say lugging it about the metro, where there are often no escalators, was a bit of a nightmare.   It also seemed to take us longer than anticipated to get to the apartment on the train and so if I was to make any recommendations, it would be to hire a private bus for a large party into the centre of Paris if you fly into Charles De Gaulle Airport.

With this knowledge we had our hotel book a private taxi on the Sunday evening back to the airport and this only worked out at about 17 euros each (between 8).

Arrived at the Adagio ApartHotel Eiffel Tower (finally) – Centrally located and only a 15 minute walk from the Eiffel Tower, I would absolutely recommend this accommodation, which worked out just over £60 a night per person.  You cannot fault the location and the 6-person apartments were not only spacious and clean, but contained all the essentials (wine glasses, bottle opener, large fridge to keep the wine and cheese chilled, plates and cutlery for eating cheese) and offered pretty breathtaking vistas across the romantic city of Paris.

Wine – Another good thing about the location of the Adagio, was the fact there was a Carrefour market a mere 5 minute walk away and after there being no booze served on our 9.10am flight to Paris from Edinburgh, the hens were all looking to add a bit of 'moisture' back into the party.  So myself and another couple of the ladies gathered a 20 euro kitty each and sauntered off to the shop picking up 4 baskets full of booze, cheese, crackers, baguettes and crisps.

TOP HEN DO TIP always utilise a kitty when you are away with large groups, this makes settling the bill a far easier process.

Cruise of the River Seine – After a glass or few of the bold vino (the bottles we purchased ranged from 4 to 8 euros and all were very palatable indeed), we jumped into taxis and headed to the jetty in front of the Musee D'Orsay to board our 75 minute, 3-course cruise of the River Seine.  I booked this via Viator the week before jetting off to Paris and it truly was the perfect way to kick off the hen do.

The starters were distributed before the cruise commenced and these were somewhat bizarre (Foie Gras, a cold pea puree served in a shot glass on walnuts, a scallop served on leeks and then a terrine drizzled with a fruit sauce and strangely enough a half macaroon).  The main choices however of steak (which had an additional charge of 7 euros) or cod, were both lovely.  And to finish a tasty assortment of chocolatey desserts were served which were lovely jubbly and so all in all I would say the meal was a success.

The sights of Paris that you drift by are truly magical and starting in the twilight (you board the boat at 6.15pm) you then end it in darkness, with the sparkling views of the city shining into the glass boat on the way back to the dock.  From Notre Dam, to the Eiffel Tower and the miniature Statue of Liberty (did you know it was the French who gifted NYC with the Statue of Liberty?), you really do feel like you are experiencing the best of the city as you sip on the glass of champagne and glass of wine included with the voucher.  You can of course purchase more wine on the boat which we of course did, and so on top of the bill already paid, we each had to contribute an additional 15 euros each.

One thing that I loved to see whilst cruising down the River Seine, with French music playing into the boat, was the number of couples who lined the banks of Seine, drinking wine and just generally having their own romantic moments.  Let's face it, one would never see that on the banks of the Clyde of an evening…

A couple of points to note. The sign on the decking in front of the Musee D'Orsay to highlight the boarding point, is small and it is entitled CityVision instead of Viator and what the voucher says.  The voucher also says that you need to take photo ID which I forgot and we got away with it, but if you can remember take that along with you just in case (what a nightmare if I had been the cause of getting a KB from the captain of the boat).  Finally, it states smart attire should be worn on the Viator website, but then there were a large number of tourists who were completely casual.  I would always recommend going smarter, you are on a cruise in Paris after all dahling!!!

Brasserie hopping – One of my favourite things about Paris was the uniquely French Brasseries located around every corner, where one could sit all day long, sipping delicious wines, eating good food and watching the eye-wateringly chic people stroll by.  After getting off the boat, we walked over to one such Brasserie, where we enjoyed a few drinks before heading to Les Trois Malletz.

This was a bar/ restaurant and underground club recommended to me by a friend who used to dance for the Moulin Rouge and to be honest, the entertainment in the club was eclectically unique and amazing.  When we were in, there was a group of jazz and operatic singers taking to the mics and dancing on the tables and the club was jam packed.  And with our group being the only British people present, the rest being locals, this is a sure sign of how highly regarded Les Tris Malletz is in Paris.

The downside?  The attitude of the older club owner left a lot to be desired.  After drinking in the bar for  hours we were promised a bottle of champagne if we were to go down to the club (at a cost of 25 euros per head) but then on going down, the old man took real umbridge to following through on his promise and this hostility was then passed onto the female behind the bar who when we tried to order drink, pretty much scoffed at our request.  The rudeness of the staff killed our buzz a bit which was a real shame, because this was truly one of the most entertainingly different clubs I have ever been too and if you can ignore rudeness and the empty promises from the old PR/ owner, then it really is a location worthy of visit.

Day 2

Eiffel Tower – the next morning we arose at 8.30am to ensure we were getting the chance to see as much of Paris as possible and so after a bagel breakfast (in a pretty amazing Bagel Bar just around the corner from the hotel), we walked along to the Eiffel Tower (which was only 15 minutes from the Adagio) with the intention of taking the elevator to the top of the tower to enjoy a 10 euro glass of fizz in the Champagne Bar.

Unfortunately this was closed on the day we visited, but I hear this is a perfect way to spend a couple of hours in Paris and so put this on your itinerary if you visit.  Please note however the queues are pretty massive for this attraction and so getting a ticket with a queue jump before you go, I think, is well worth it.

Hop on, hop off – Just beside the Eiffel Tower you can join the hop on hop off bus and for 32 euros this will allow you on any of the bus lines for 1 day, or pay 36 euros and you can get a 2-day ticket (we started on the green line).  If however your intention is to include a visit to the Louvre whilst on the tour, then be sure to purchase a ticket from the driver which is inclusive of this, you will save money, a rarity in Paris!

Selfie's with the Mona Lisa –  We of course, did not notice this saving offered with your bus ticket and so paid 12 euros on the door at the Louvre (surprisingly there were no queues).  By this point the 4 'culture vultures' who had chosen to visit the museum, had each had a couple of bottles of vino in various brasseries frequented during the hop on hop off tour and so conditions for concentration and artwork pondering were somewhat depleted.

TOP HEN TIP: if you hope to get lost in the artwork of the Louvre, I would perhaps avoid the pre-boozing session!

Heading straight towards the Italian paintings section we had only one intention, and that was to get a selfie with Leonardo Da Vinci's famous painting of the Mona Lisa.  Ever so slightly underwhelming, she sits on a wall by herself and is a noticeably smaller painting then much of the artwork around her.  It is true what they say about her eyes following you about and I guess it is the mystery around the expression in her face, which has made her famous the world over.

Although it was a flying visit to the Louvre for us, this is a place ticked off the bucket list and it was good to inject some culture into the trip – being in Paris it seems essential to cross the door of at least one museum.  The exterior of the museum showcases the strikingly modern looking glass prisms rising from the ground (visualise Tom Hanks running by them in the Da Vinci Code) – the larger being the entry point to the museum.  These structure are set against the beautifully historical architecture of the Louvre building itself and in the 25 degree sunshine, this truly offered a little moment of awe-inspiring wonderment.

Ponts des Arts – Exit the museum to the left so you are facing the Seine and turn left, walk for 5 minutes and  you arrive at the Ponts Des Arts or better known as the 'Love Lock Bridge'.  Truly a sight to behold, this is a powerful symbol of love and looks like a piece of modern art.

If you are keen to seal the love of your loved ones and you on the bridge, then I would advise taking your own padlock with you (you can get a pretty heavy duty one from Poundland for a pound…) as the stalls will charge you up to £8 for a padlock next to the bridge.

When on the bridge, you'll notice there are a few panels that have been replaced by glass and this is said to be because areas of the bridge are crumbling due to the weight of the locks.  It really is little wonder that this is happening, there is not a spare metal bar on the bridge itself for you to close your lock, locks are all now been clipped onto other locks.  If you would prefer to clip your lock onto a less busy bridge, then a 5 minute walk heading in the direction away from the Eiffel Tower, you will come to another bridge, which is fast getting busy with padlocks.

La Cantine de la Cigale – When planning a hen, you have to be mindful that there will be people attending with varying budgets and then couple that with visiting a place like Paris, I would recommend basing your research on places to go on a budget.

When searching for budget restaurants in Paris, I found a great article in The Guardian which listed La Cantina de Cigalle as a top budget restaurant to visit in Pigalle – the red light district of Paris and the location of the world-renowned Moulin Rouge. As our Parisian itinerary included an 11pm show at the Moulin Rouge, this restaurant (which was only a 9 minute walk from the famous windmill) seemed like the perfect location, and perfect it was.

Having emailed the restaurant the week before, a lovely girl called Valerie got back to say that with a large party they could offer us a set menu for 35 euros (excluding booze).  This included a mixture of starters to share, a choice of fish or steak for mains with mashed potato, chips and a ratatouille mix to share. All this was followed by a delicious selection of desserts.

I could not recommend the service or food highly enough, a must visit restaurant in Pigalle and if I return to Paris, I will certainly go back to La Cantine de la Cigale.

Moulin Rouge – at a cost of £91 for a table and half a bottle of champagne each, this is the stand out activity for us all the hens and bride-to-be in Paris and what a thing to have now checked off that bucket list.  A colourful cabaret show full of glitter, fun dancing and a whole lot of gorgeous girls with their boobs out, what more could one want?

We were seated right at the front of the stage, which was a massive spot of luck and I have a feeling this was down to the fact we were in such a large party.  With these seats, this of course made us the first target for audience participation and Dreanie was pulled up on stage, which was absolutely hilarious – not many brides- to-be can say they were on stage at the Moulin Rouge during their hen party and so having this happen, felt a bit like a once-in-a-lifetime moment.

If you get the chance, the Moulin Rouge is a must.  You can only book a maximum of 6 tickets from the website however and when I did this, the original show we booked (which was for 9pm) was fully booked before I could purchase the 2nd group of 6.  TOP HEN TIP: my advice is to email the Moulin Rouge direct before booking anything as they can process larger groups for you and the lady with whom I was emailing spoke fluent English and was extremely helpful.

Beware however, every night is said to be a sell out well in advance, so do not rely on getting tickets when there and be aware that the queue for the show is the longer than a Disney ride, so try be there a bit earlier and ensure you go to the toilet before joining it.

The 11pm show worked out better for our plans as it allowed us to have a dinner before heading to the Moulin Rouge and also gave us longer in Paris during the day, so I would advise to be conscious of your ideal time to go based on your itineray.

Sex Show (with no sex) – After the Moulin Rouge, we had an inkling for a sex show (as one often does…) and so journeyed into the un-classy establishment next door with a large sign which read sex show (I believe it was called la Diva).  At a cost of 20 euro per head, we were promised both a sex show and a free drink from the old lady on the door and so of course seated our selves right at the front of the empty bar, sipping away at our horrendous free drink and giggling in anticipation.

After we had watched one female stripper work the pole, the feeling was that she must of been a warm up to the main event.  Then when another lovely looking girl graced the stage, questions started to be asked as to whether we were going to see any guys at all in this show (ou est la pénis dans Paris?).

On hearing calls from the rowdy hens of getting a refund, I knew it was time to round everyone up and make a swift exit, but not before the very merry bride-to-be had the opportunity to propose that the barman 'do' the stripper as a means of ensuring we got what we paid for…Needless to say it was au revoir to the lovely strippers and speechless barman!

Having tried another door of a sex show, we were told by the bouncers that there are no sex shows in Pigalle which involved men and so if catching sight of a pénis in Paris is part of your itinerary, don't expect to see this in Pigalle.

Clubbing in Pig Alley – after the disappointment of the sex show, it was just Dreanie and I left to go clubbing in a busy establishment next to the Moulin Rouge called La Machine Du Moulin Rouge.  By this point, I would conclude we were perhaps slightly drunker than was safe in an area such as Pigalle (a name that developed from its past nickname of 'Pig Alley' down to it being the place were men would go to pay for liaisons with ladies of the night).

The club only sold tequila shots and so tequila it was for Dreanie and I…and then it was off to one of the many sex shops in the area for a photo shoot with the various different toys and tools, including a very amusing Eiffel Cock.  However, when a creepy dude kept following us about the shop asking how much ("combien, combien, combien" for the pair of us, we knew it was time to call it a night and go crashing back into the hotel to prepare for what was one of the worst hangovers I have ever experienced.

Day 3

The Champs d'elysee – Walking the length of the Champs d'elysee is a lovely way to spend a day and in 26 degree heat, it was even better.  We started at the Eiffel Tower and stopped for a lunch in an Italian Restaurant (the main aim was to purchase some emergency beer to help with the hangovers) and then from there we strolled past an array of wonderful shop fronts before making our way through the park to the Louvre before heading back to the apartment to get our lift to the airport.
For 2 nights and 3 days in Paris, I spent £400 and that is with the cruise of the Seine and Moulin Rouge tickets being pre-purchased.  If you are planning a hen to this magical city, including flights and accommodation I would say setting aside about £850 would cover you and see you really making the most of it.
TOP HEN TIP: don't go to Paris without making the most of it, be sure to save enough to allow you to experience the magic of the city, it has become one of my favourite cities in the world and I would be gutted to have gone and not seen as any of the hotspots as possible.
Hen do paraphernalia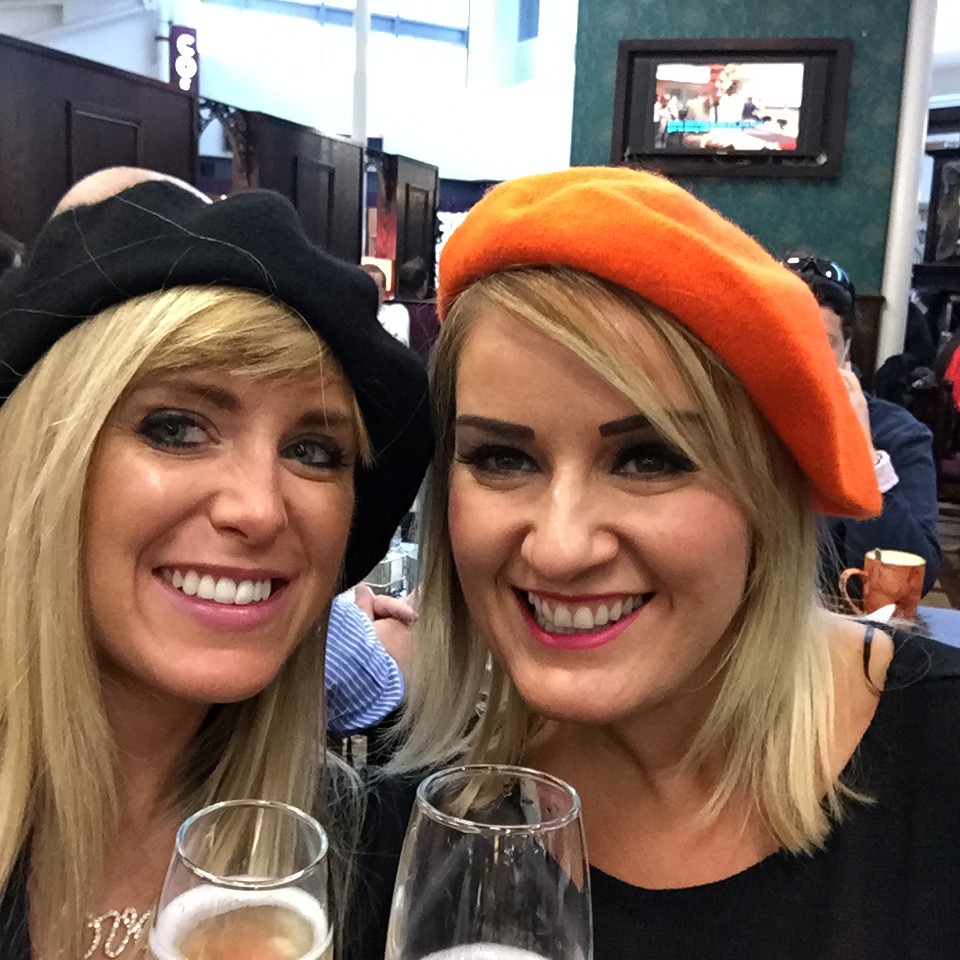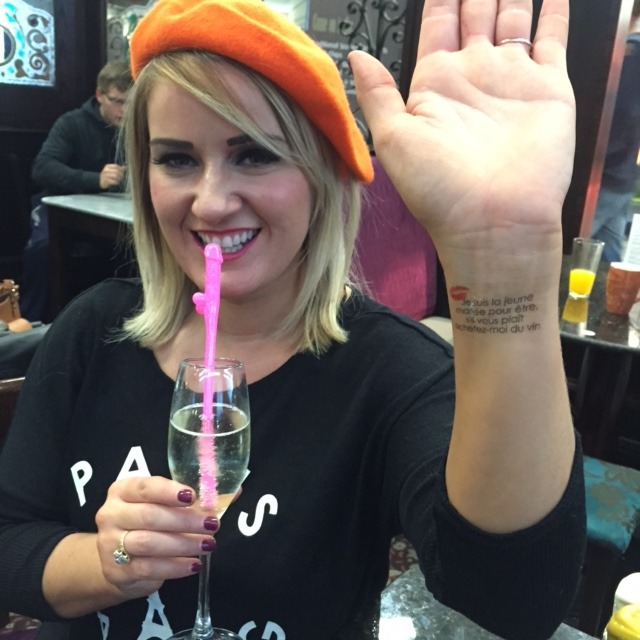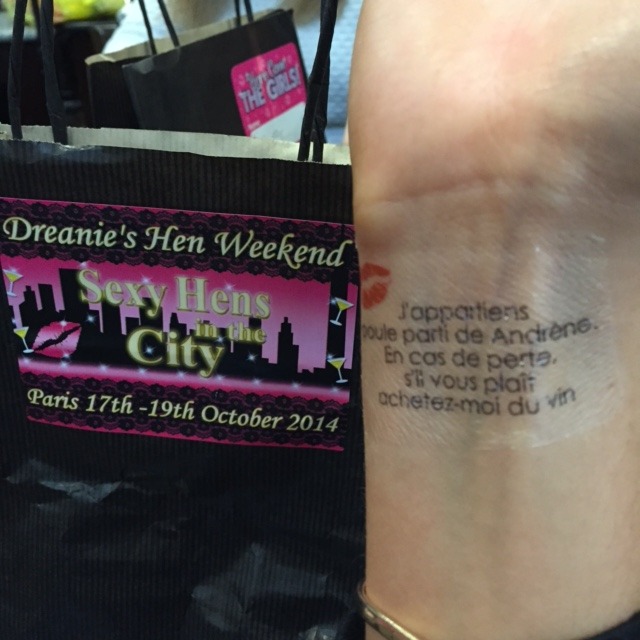 On every hen you want to add some additional feathers and fluff to make the bride-to-be feel special. I was keen however to avoid the usual sashes/ veils, which I felt may have been frowned upon in the city of Paris.  So here's what this hen trip included:
Hen party bags – These were personalised from a supplier on eBay and included sweets, a lock for the bridge and the obligatory penis straws (again sourced from eBay)
Black berets for hens and then an orange one for the bride-to-be to ensure she stood out on the journey (sourced from eBay)
Temporary tattoos which were personalised with messages for the hens (I belong with Andrena's hen party, if lost please buy me some wine) and Dreanie (I am the bride to be, if lost please buy me wine).  I took this idea from Lauren Conrad's hen do pics.  Although a quirky touch, do not expect these to last more than a day!
On the Friday evening we all dressed in tuxedos with black bowties and Dreanie sported an orange bow tie to ensure she stood out – I seen this in a picture on Pinterest and thought it was a great way of showing you are part of a hen but without the sashes and veils – don't be surprised however if people jokingly ask you for drinks…
One of the apartments was decorated with penis confetti, L plates and bunting to match the design on the hen party bags (again all sourced from eBay)
Surprises – the best thing to do for a hen is include a few surprises that will keep the bride-to-be on her toes.  For example, Dreanie did not know anything about the trip with the exception of the Moulin Rouge and so everything from the accommodation and itinerary were a surprise, with a main one being the Cruise of the Seine.
You know sometimes after you have an amazing weekend, and after you come down from it/ or sober up, you start to feel like it really was a once in a lifetime trip and you get the blues that is over (often a feeling one has for the weeks that ensue a visit to the white isle of Ibiza)- well this is how I have felt since Paris (and is the reason for my tardy post).
I could not recommend Paris highly enough for a hen do and I really hope the ideas above will help you should you be considering a visit…Je t'aime Paris x
SaveSave
SaveSave
SaveSaveSaveSave