The power of hair
Ever look in the mirror and think, my god my hair looks rubbish today?!  Or step out after giving yourself, what you believe to be a very technical blow dry, only for the heavens to open and in a second your bouncy barnet could be likened to the end of a wet mop? It is very likely that you have and we all know these can be very harsh times that can of course cause deep and emotional stress.
But from this view of hair as simply an aesthetical feature, which can be used to improve your look or portray your personality, what really fascinates me about it is the cultural significance it has always held across time periods and continents. In many cultures for example, it is a showcase of religious importance or even mystical and evocative symbolism (strong feelings which very much so belittle my own on-going quest/struggle to manoeuvre my locks into a doughnut…)
Take for example the religion of Kabbalah (whose followers include celebs such as Madonna) which teaches that hair should be recognized for its spiritual power.  This view of hair being spiritually very important is similar to the religious teachings amongst Sikhs, whereas in other religions, cultures or groups of people keeping short hair is vitally important (take for example Buddhist Monks who shave their hair as part of their worship or people who worked in the armed forces who keep their hair short to adhere to rules.)
I wouldn't normally recommend a Wikipedia article, what with the capability for any Tom, Dick or Harry (do you ever wonder who these men are?) to log on and write anything they want whether it is made up or not, but if you are interested to read more on the meaning of hair amidst different cultures, then this article may be of interest to you.  In addition to info on the meaning of hair amidst a variety of religions, you will also read about prominent hairstyles through the ages.
And from ancient barnets, this leads me onto a historical scare-do of my own…
A very dark time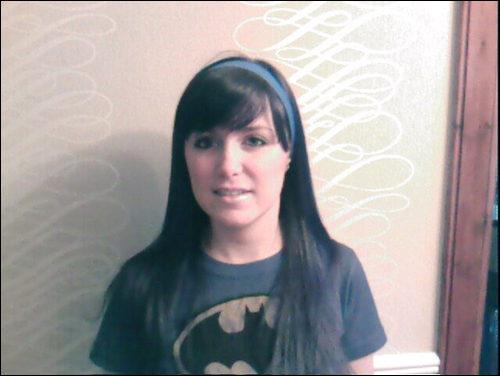 When I was about 20, I had a nightmarish experience at the hairdressers (one I had been going to since I was a little girl, but at which the stylist had changed).  My aim was to go from highlighted blond locks to a rich chocolate brown colour, for a seasonal switch over the festive season, but unfortunately the chocolate brown dye, ended up being black dye and the exotic look I was going for turned into a Wednesday from the Adam's family-esque look (see pic above. To be honest what made it worse was the heavy fringe, this very much likened the hair to a wig and the dark bangs meant a constant tan top up to try to rid myself of the vaguely ill look I felt black hair gave me).
Well I cried and I cried and I cried, but all that could be done was to either get it stripped out (something I was keen to avoid due to the notorious damage which can be done to your hair) or to wash my hair as much as possible to lighten the colour. Well I washed and I washed and I washed (Vosene was the recommended shampoo for stripping colour which is in reverse one to avoid if you are looking to lengthen the time you have with your colour) to no avail and ended up having to go to the former option and get the colour stripped (this is the only time I ever hope to see my hair the same colour as Irn Bru).
The only saving grace about getting the black barnet over Christmastime, was that I was able to wear a Santa hat everywhere I went, and when I say everywhere I truly mean it -uni, at my work in Tesco, meals out – you name a place and I bet I have been there wearing a Santa hat.  But the day after Boxing day, of course the sad reality was I could no longer hide beneath my glittery hat and that's when the stripping was booked…
A cut above the rest
After this experience, I had lost all faith in the hairdressers and decided I had to make a move and on hearing my cousin Madeline was set to pursue a full-time a career in hairdressing, I thought what better person to style my hair?  And now 27 (how did this happen), I have never looked back.  Maddi is, without a shadow of a doubt, the most talented hairdresser I have ever been lucky enough to work on my hair.  Having moved from being a mobile hair therapist, to owning her own business (follow her here) I could not stress enough just how good she is.
So good infact, I entrusted Maddi to help me both pick a hair style for my wedding and also take on the daunting task of doing it on the wedding morning itself (a selection of pics can be viewed below) which, to no surprise, she did with ease and no stress whatsoever (any bride will appreciate that a calm stylist is absolutely essential on the morning of your wedding).
If you are thinking about a career in hairdressing then read on for a question and answer session with Madeline, to find out the path she took to get her to where she is today.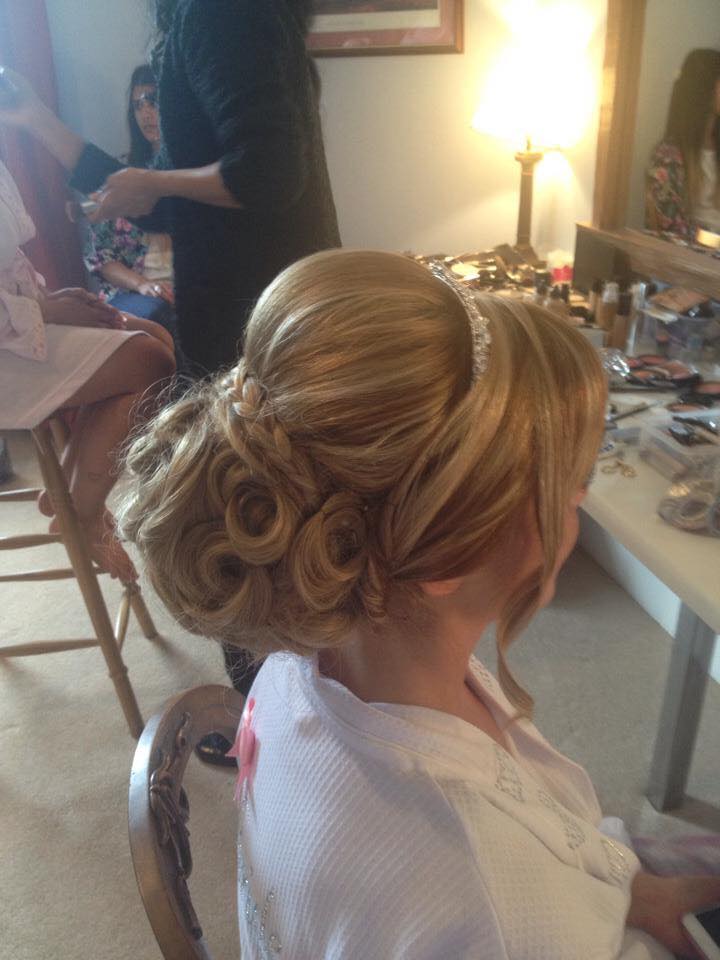 1. Have you always wanted to be a hairdresser?
I started working in a salon at the age of 13 and it was just supposed to be a Saturday job for some extra pocket money. At that age my heart was always set on being a PE teacher and so I stayed on at school and completed the first year of PE teaching at Edinburgh Uni.  During my time at uni, I carried on with hairdressing as a weekend job and was lucky enough that my boss did some really great and comprehensive training with me when she realised that I picked things up really quickly. After a year I found that my heart wasn't in teaching anymore, my passion lay in hairdressing so I took a risk, left uni and decided to pursue a career in hairstyling.

2. What made you choose to get into the beauty industry at such a young age and focus on hair?
I just naturally fell into hairdressing, through people I knew, it was never my career plan and I never ever thought when I started that it would end up being my career.

I have always just really enjoyed doing hair, even as a wee girl if you see pics of me or my sister going to parties or school discos, I've always done both of our hair in some crazy style!

3. What was the hardest thing to learn about hair?
For me the hardest thing to learn was cutting. This is only because for years in the salon I had loads of colour and hair-up practice, but I had no cutting experience – obviously I wasn't qualified and clients of course aren't so willing to let you near their hair with scissors!

When I went to college, I got into second year due to the previous experience I had but there was still a bit of catching up that I had to do.  Luckily enough I had no major problems catching up and I knew right away I had made the right decision leaving Uni.

4. I am rubbish with hair, do you think everyone has it in them to be a good stylist with practice?
I think everyone with practice can definitely master the basics but in my opinion and experience with hairdressing, I think you either have natural flare or you don't.  This is why it is so important to have trust and faith in your hairdresser, whether you have that natural flare or not!  Your hairdresser should be like a best friend who will never lie to you and will always do the best for your hair.

5. If a client asked for something which you didn't think was going to look great would you tell them?
I'm always as honest as possible with clients as there no point in promising something will look good or work out that way they want it to, if you truly don't think it will – the client is only going to be left disappointed at the end of the appointment and any for good hairdresser, an an unhappy customer is the ultimate thing to avoid.

In hairdressing there are limits as to what you can do to people's hair depending on the condition/ previous colours they have had, so it always really important to explain this and to manage expectations.  I absolutely love a challenge though and so if a completely new look is achievable, then you can bet I will work until the customer is completely happy.

6. You started off as a mobile therapist and now have your own business, what advice would you give to anyone in a similar situ?

I've been very lucky since the salon opened as there hasn't been a single week where business has been quiet and I think this is due to me being mobile part time for about 8 years before the salon opened. I worked long hours and gained a large and exceptionally loyal client base who have all supported me in my new venture and now love coming to salon. I think building such a big client base before launching your own business/ opening a salon is definitely the best advice I could offer, as gaining new clients takes time whilst you get your name out there.

7. What aspect of hair do you specialise in?
I pride myself in covering all aspects of hairdressing from colouring and cutting, to curly blow drys, hair ups and extensions but I would say since opening the business, bridal hair and hair extensions have become my speciality.  I always get bookings for these based on recommendation, which I  love.
8. What advice would you give to any female looking to start their own business whether it be in beauty or another industry?

If you want to own your own business you need to be prepared to put every hour in as is possible and give it your absolute all. Before the salon, I worked for years from 9 in the morning until 10 at night in order to build up a loyal client base.  So long hard graft is definitely key to a successful business.

A second absolute must is that you need a passion for whatever area your business is in, or else your 'dream job' could become a monotonous nightmare.

9. Where do you get your styling inspiration from?
I like to keep up with the trends so I use celebrity styles, magazines, online tutorials, aswell as regular training sessions with the hairdresser I employ and external training courses to keep up to date with all current styles.

It is so important that just as a new style kicks off, you are knowledgeable in exactly how to achieve it.  Take for example the recent outbreak of ombre, which is still a fave on going style.  I knew that was going to be massive having tried the style on myself a couple of months before it became the most common style in the media.  Staying ahead of the trends therefore is an absolute must.

10. Would you be happy for Pink Tartan Doll to run a monthly masterclass, promoting how to master a different style every month?

Definitely would be delighted to do monthly master classes to help ur blog readers master styles they would like to learn!
So there you have it girls, each month Maddi will be highlighting the steps to create the hairstyles you have always wanted to master.  Email me ([email protected]) with any styles you are particularly eager to see demonstrated and this will be included within an upcoming tutorial.
Maddi's Hair Boutique is located within Feeva Looks Salon, 51 Lomond Drive, Bishopbriggs, G64 3BY.  If you are keen to try a new stylist, are looking for the perfect wedding hairdresser or simply looking for a quick up-do before a big event, I would recommend you book an appointment at this quirky boutique with this very quirky stylist. x