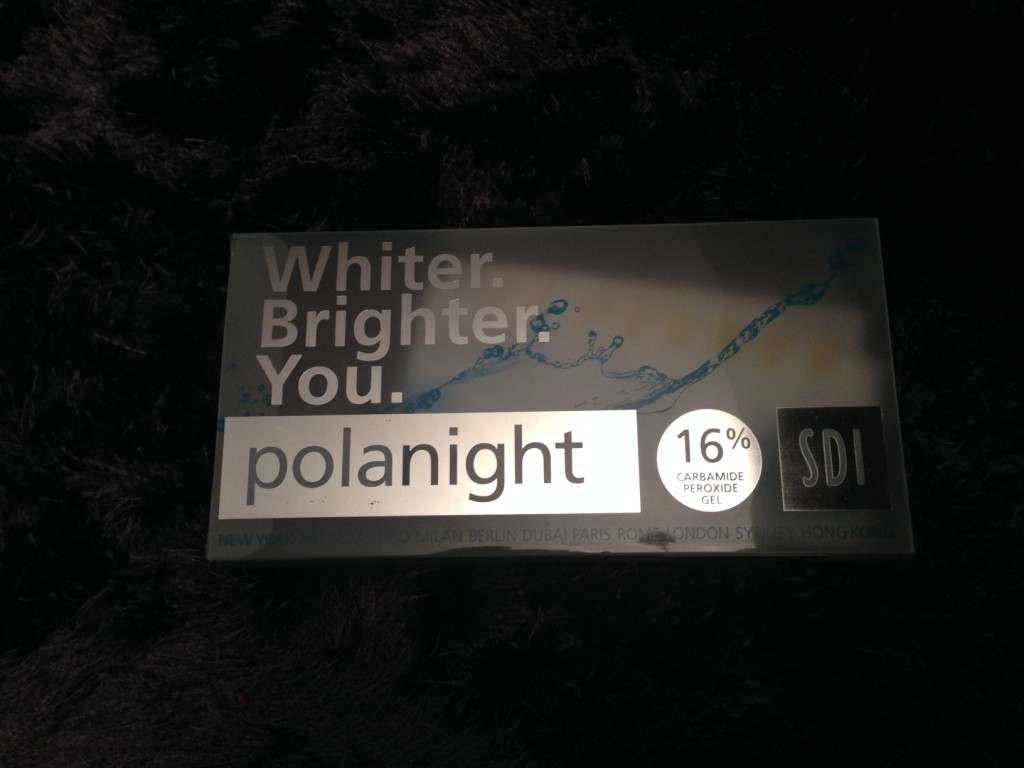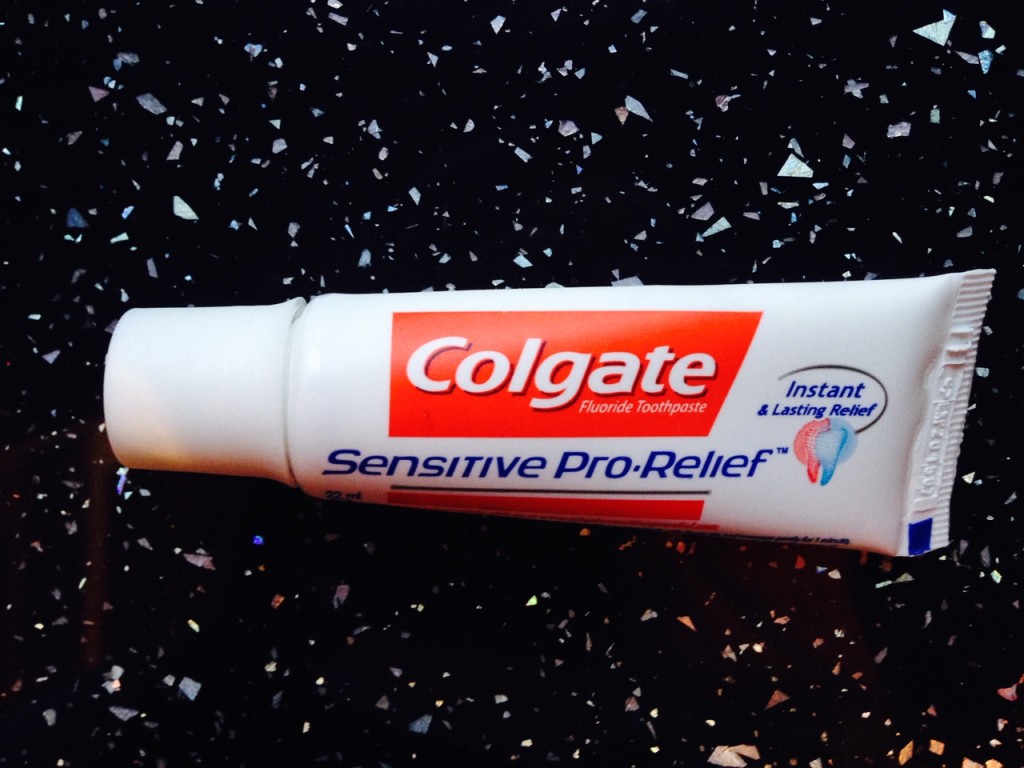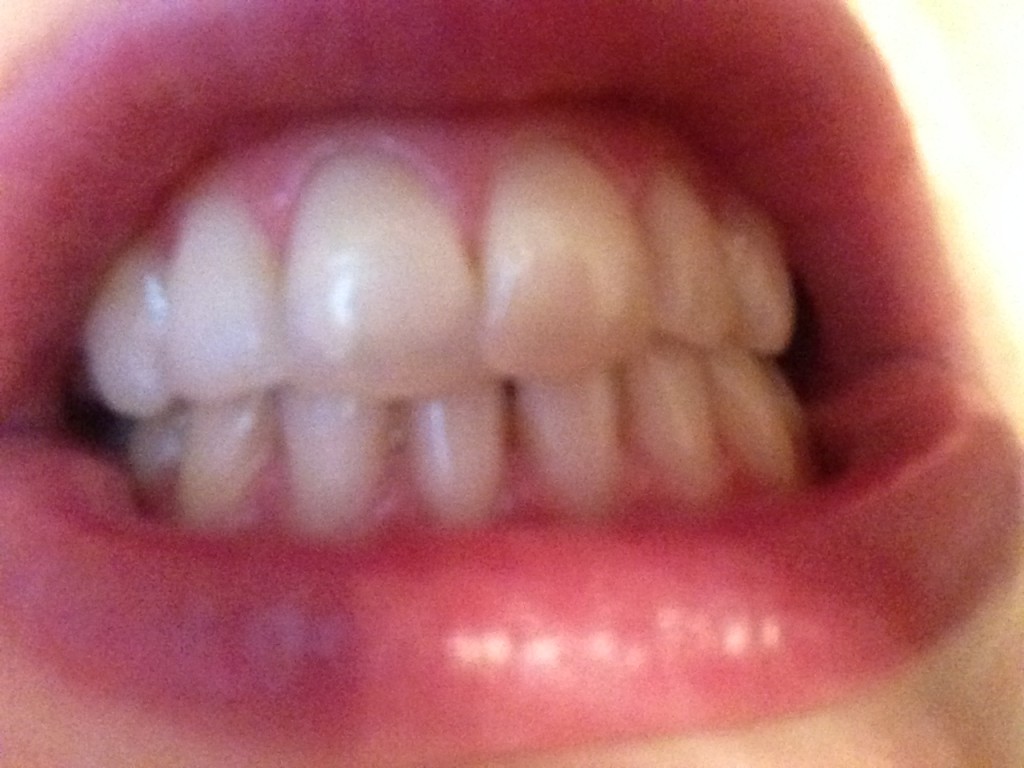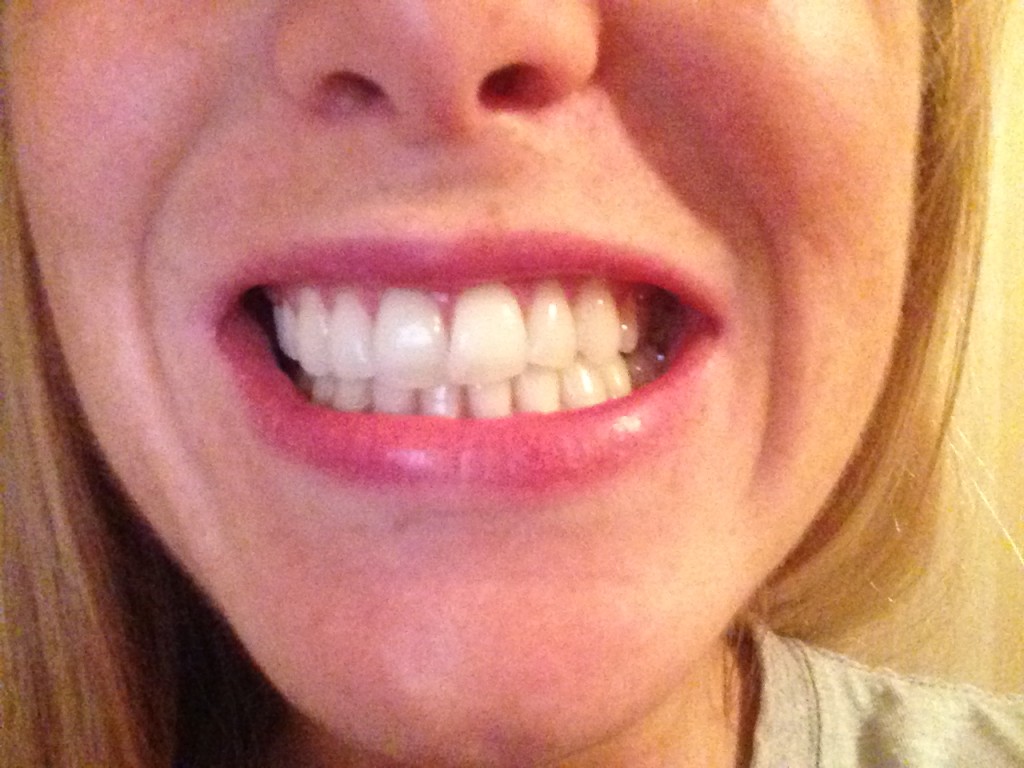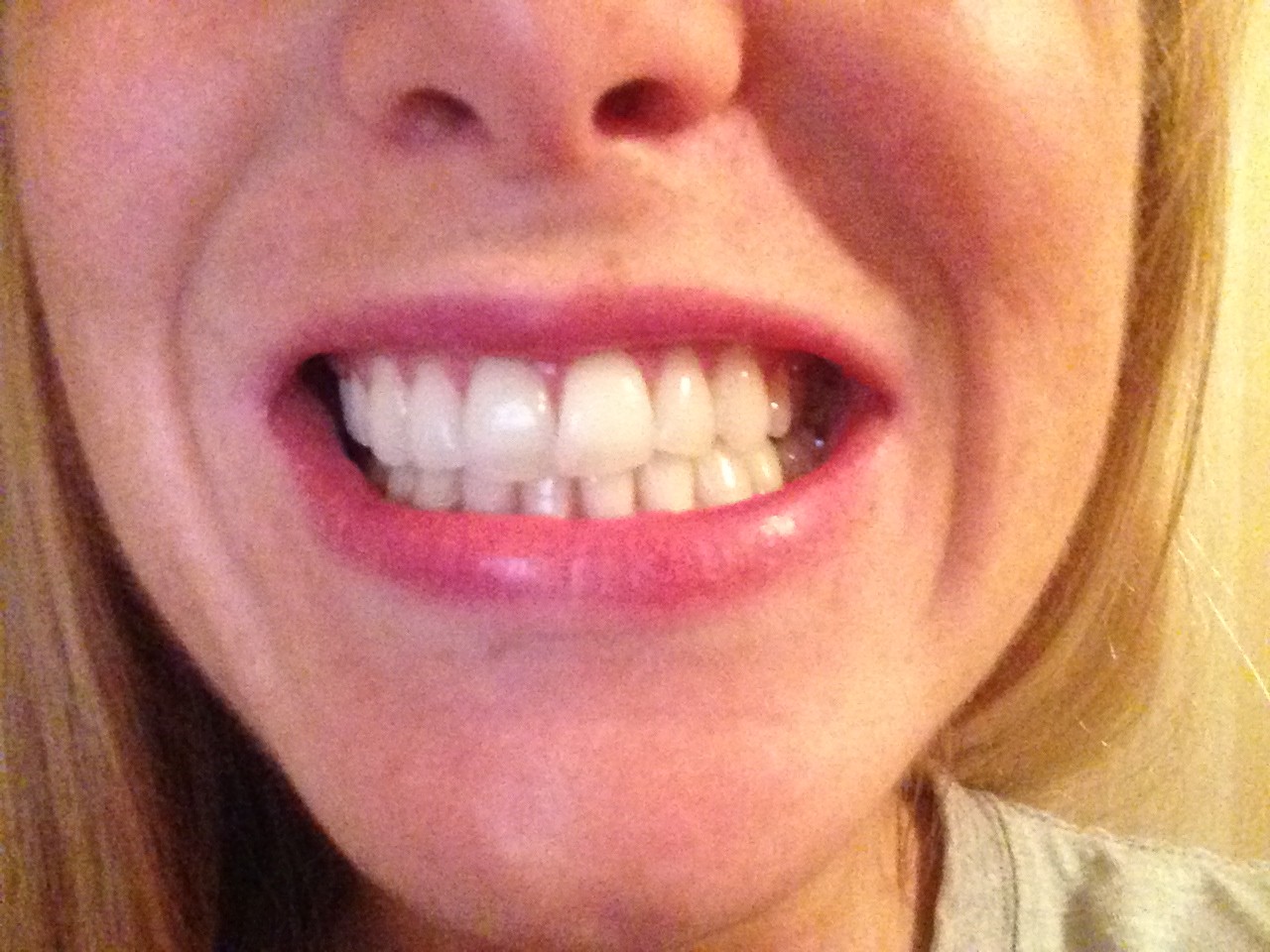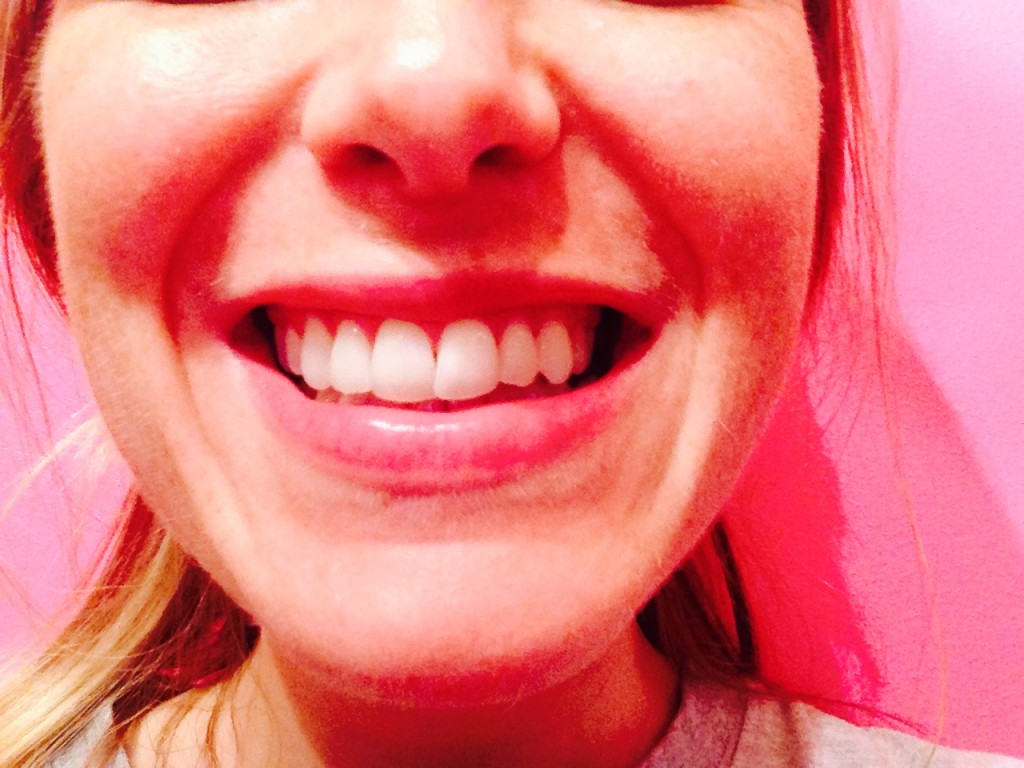 The moment that you look at a photo of your smiling self and notice that a yellow canine is the focal point of the image, you realise that a bit of teeth whitening is in order.  I to be honest, am normally scrutinising and criticising many other areas of myself in pics, and so teeth was a new one to add to the list.
Throughout school I trained myself to smile with a closed mouth, partly because I was trying to appear aloof (or too cool to be overly happy about anything) and then also of course to cover up the pink train tracks I rocked out for years.  However on getting older, and ever-so-slightly more comfortable in my own skin, a toothy Grinch-like grin really has become my prerogative, hence the shock at the sight of my yellowing gnashers!  Please note that has not happened through smoking, but most probably down to my large consumption of staining (yet delicious) foods and beverages, such as red vino, curry, coffee etc etc etc.
With the wedding taking place a week on Saturday and with the prospect of professional photos and of course wearing a constant cheeser, Lee and I decided to invest in teeth whitening.  We were both completely clueless as to where to start, but luckily, my cousin and his fiancée are dentists and so have provided us with guidance throughout the process.  They recommended we go down the below route as opposed to laser teeth whitening (which you'll find at a lot of the wedding shows) because apparently the laser simply dehydrates your teeth making them appear whiter for only a few days.  Whereas using a product like Polanight can keep your teeth white for up to 6 months.
If teeth whitening is something you are considering, hopefully the below review will offer some assistance.
This product was initially only sold to dentists and is made by Australian company ADI.  Now it can be purchased online at a fraction of the cost dentists sold it on for – happy days.
It was Polanight that my cousin recommended to us and then on top of this Lee and I also invested in the moulds created by a dentist, as opposed to using the standard trays which companies like Polanight supply.  Getting your trays made by a dentist (which results in you having a slim gum shield that perfectly fits to your teeth) generally costs about £250 and so it is a big initial investment.  To save on costs however, I would recommend going for the option of creating your own moulds and sending these to a Polanight technician, who will then make your trays to fit your moulds (exactly as your dentist would), which is a far cheaper option than going direct to your dentist.
Along with the trays you will need a 14-night course of Polanight and 16% is the recommended dosage – Polanight contains a carbamide peroxide based whitening agent and comes in 10% (which is the gentlest option and is best for people with sensitive teeth and gums), 16% (which is the medium strength option) and 22% (which is the most powerful option and will provide the fastest results).  We were recommended to start with 16% and then chose to try the 22% when we ran out of syringes.
The process
As teeth whitening can sometimes lead to over-sensitivity in your teeth, sit for a couple of nights before starting the treatment with Colgate Sensitive Pro-Relief toothpaste in the trays to prepare your teeth
Brush your teeth (being careful not to irritate your gums) and then dry your teeth and gums with a tissue
Only use half a syringe each night to cover both your top and bottom tray, putting a dot of the gel on the centre of each tooth mould, on the side the front of your tooth will sit, (I had read somewhere that you should use a cotton bud to spread the gel, however I would imagine this would actually soak up most of it and we were advised the best way to do it is to simply put a dot in each mould).  Using half a syringe will mean that you require 7 syringes in total to see out the 14-night treatment
In the morning remove the trays and wash them out and then that night ensure they are dry before adding Polanight again – dry them with cotton buds and never be tempted to do so with a hairdryer, my friend did this and melted the trays so that they no longer fitted correctly
Repeat the above for 14 nights and marvel at the results!
 Tips
As the name suggests you are recommended to sleep in your trays overnight, but if you are finding your teeth becoming too sensitive then try sitting with them in for 2 hours after dinner.  There is also the option to purchase Poladay, which comes in 3% or 6% and is made of hydrogen peroxide and is far stronger than carbamide peroxide (with 1% of hydrogen peroxide equating to 3% of carbamide peroxide).  With these they are designed for short spells of day wear (I have read that the 3% can be used up to 3 times a day for 30 mins or the 6% can be worn for 45 mins a day or for 2 x 30 min spells)
Do not use too much gel in your trays as this will spill over the top and will lead to irritation of your gums.  If this does happen, be sure to wipe away any excess liquid on your gums
If your teeth are oversensitive on one day, miss a night and then continue with the treatment on the next night (adding any days missed to the end of the course)
Continue to brush with a sensitive toothpaste over the course of the treatment
Do not eat or drink anything which is likely to stain your teeth up to two hours after removing your trays.  This can be quite a hard task especially if you can't function in the morning before a coffee.  To combat this, I changed tactics and started my day with a milky tea (which was approved by my cousin) – do you know tea has more caffeine than coffee anyway?!
If you do find that your teeth are too sensitive when using the 16% strength Polanight, and you are still determined to get those teeth gleaming, then why not try the 10% Polanight?
Only use the 22% if you do not find the 16% to have affected the sensitivity in your teeth.  This was the case with me (Lee's teeth were far more sensitive than mine, he was even complaining about being freaked out by the feeling of toilet paper…big blouse that he is) but on trying the 22% for only 2 nights, I had to have a break.  Even the slightest bit of wind would whistle through my teeth and so do be prepared for this if you move to the 22%
Polanight recommend carrying out the 14-night treatment every 3-months, but my cousin has advised that every 6 months should be adequate to keep your pearly whites, white
If you have product left and do not intend to use it until your next course of treatment, keep it refrigerated Do not continue with the teeth whitening process beyond the 14 days.  Ultimately the whitening ingredient carbamide peroxide is said to be a skin, eye and respiratory irritant and so must be used as instructed on the packaging or by your dentist
If you experience extreme pain or sensitivity consult your dentist immediately
I still have 3 nights remaining of wearing the trays until I have completed my 2-week treatment of Polanight and I have to say I am very happy with the results.  And… no yellow canines hurrah!  You'll see in the photos above, an image of my teeth before starting the treatment, at the mid-way point and then a pic I just took.  I would recommend this product, but perhaps stick to the 16% strength Polanight to avoid the frozen teeth feeling! X
Ps I must apologise if you are viewing this post on a tablet device, for some reason on these, two of the teeth photos are displayed the wrong way up. This is not some kind of artistic expression highlighting that my world has been upside down until achieving whiter teeth, but rather a techy glitch (the images appear ok on computers!)  I have relentlessly tried to fix and will continue to do so!