Wednesday 21st January 2016 will forever go down in my big red 'This is your life' book as a stand out date. This was the day I unintentionally walked the red carpet at The NTA Awards…
 
As myself and the other lovely Fake Bake Beauty Consultants journeyed to London for the NTA Awards, excitement levels were exceptionally high.  You know that feeling you get when something memorable is about to happen, like a mixture of nervous anticipation with excitement, with a touch of anxiety, well that was me to a tee.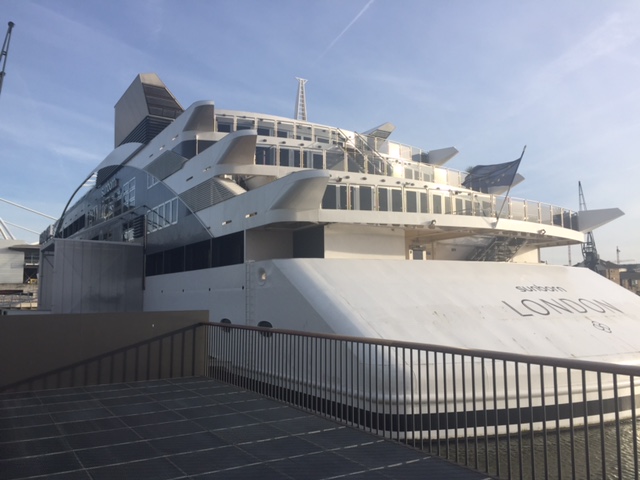 We were staying at the Sunborn Hotel, which is a plush 4-star yacht hotel, and it was after being greeted with bottles of Champagne and goodie bags, that the 'is this all seriously happening' feeling commenced.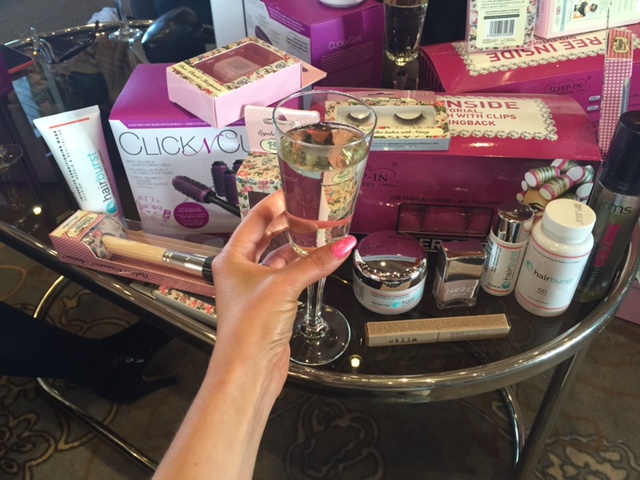 Firstly, our hair was styled by the lovely Joanne Beckham, and by Beckham I do mean a relation of the adonis himself. The temptation to ask about her aesthetically pleasing bro was strong, but I managed to refrain.  Incredibly down to earth, she spoke about being a hair stylist since her teens and how she had recently launched her own concierge members business, WeAreYourCity (read about the launch in this article).
After finishing hair, make-up and nails, it was time to get into the party frocks and taxi it to the O2 arena.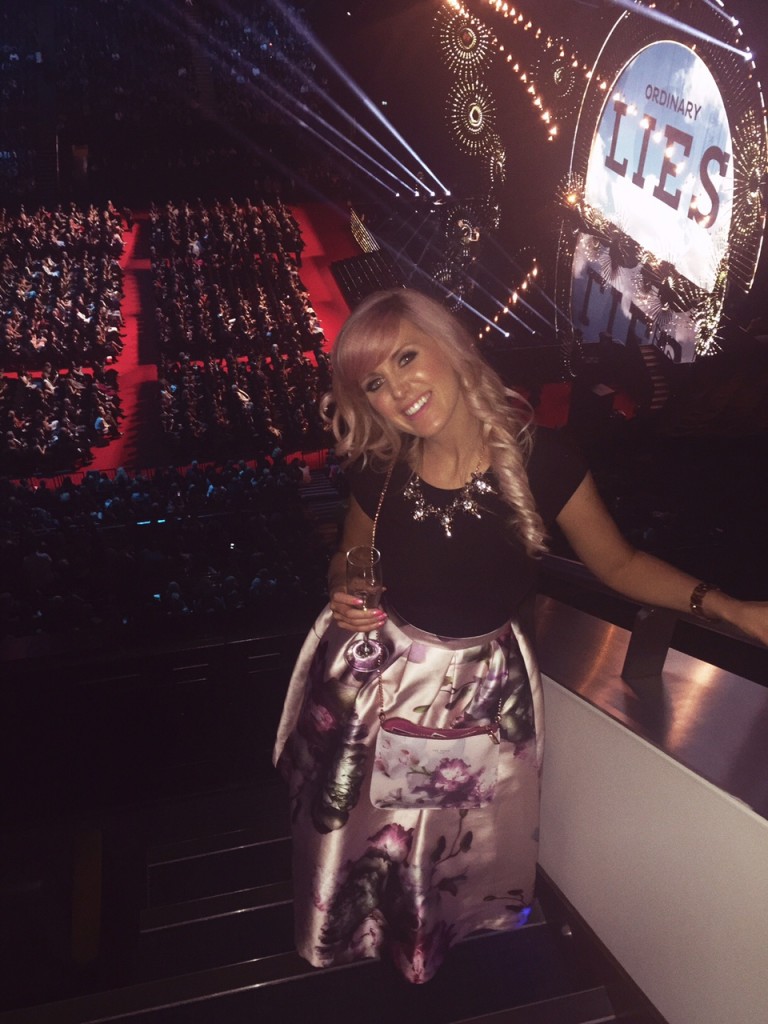 Quick side note on my outfit.  Last weekend I had my heart set on renting a glitzy floor length number, but after trying a couple on, I had that sinking 'this is not me' feeling (if you are looking to do this yourself however and you are Glasvegas based, I hear that Black Noir in Shettleston is great). The fail safe for me has always been Ted Baker and so this is where we located 'The One'.  It had a simple black t-shirt top that was fitted to a 50s style petticoat skirt in pink with a gorgeous flower pattern (very Ted Baker spring, which seems to be filled with pastel colour with blush holding prominence over the collection).  I teamed this with the matching bag, rose gold statement necklace and then rose gold sequin stilettos – all from Ted Baker. The sales assistant called it 'Ted to toe'… Lee called it a massive financial loss… but hey it was the NTAs and the outfit ended up on the red carpet so was worth every pound…all 450 of them…
But I digress, back to the story… So I was in the taxi with the lovely Victoria Halliday (Head of Business Development at Fake Bake Beauty and the lady behind the organisation of this whole shindig) and celeb and all-round good girl Josie Gibson. En route to the carpet entrance to drop Josie off, a taxi crashed into the back of our car (not a bad one) but bad enough to ruffle the feathers of Lady C, star of Celebrity Jungle, who jumped out her taxi to reprimand her own driver (again one of those did that really just happen moments!).
Then as we drove away in fits of giggles, all of a sudden we were out the car, the passes were flashed and Vic, Josie and I were facing the red carpet.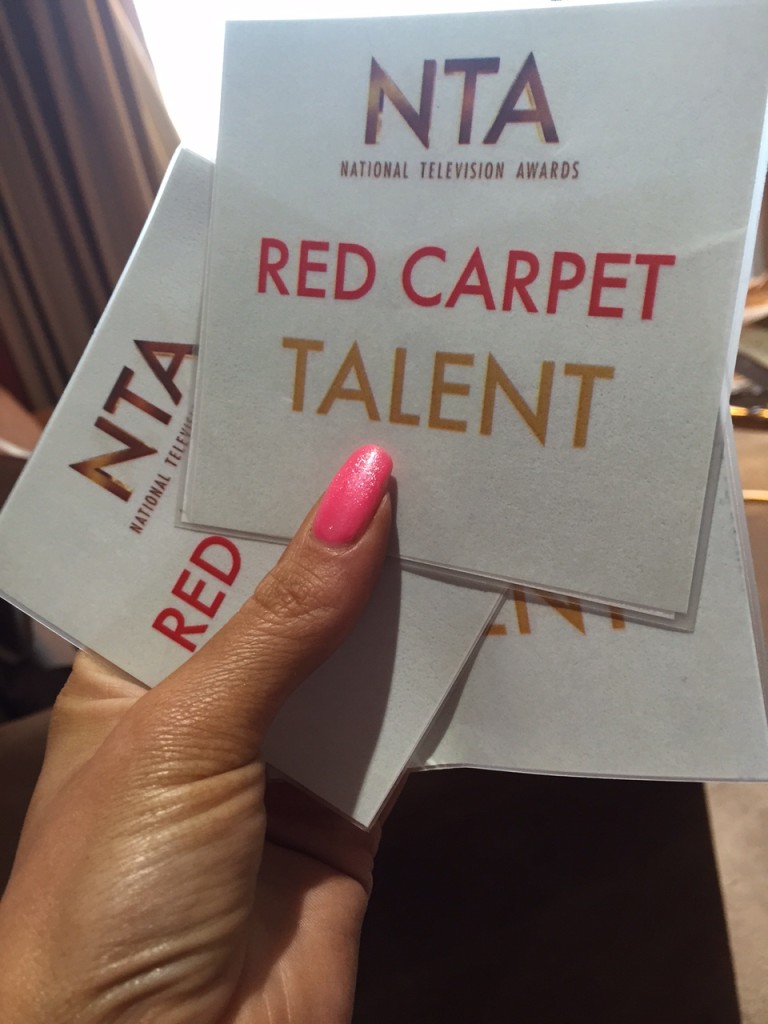 Vic and I nervously highlighted to the bouncer of the carpet (yes there is someone there to make sure that everyone on the carpet had booked a place and been given a pass) that we weren't actually walking it, we were only dropping Josie off.  But to our complete surprise, we were told we had no choice, there was no side entrance and we would just have to go for it.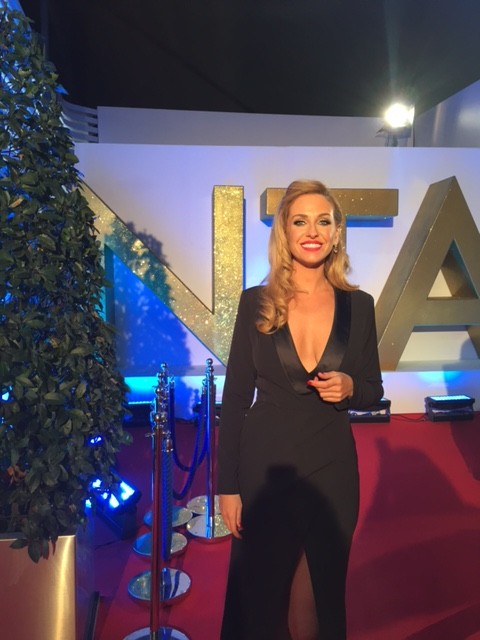 With echoes of 'enjoy it ladies' from the bouncer, our feet had taken that initial step onto the red.  A menacing colour, which more often than not relates to danger or of course stop, I looked at Vic wide eyed like a rabbit caught in a headlight, but really the lights were camera flashes and I was a person not a rabbit and we had to start moving…
Having been there many times before Josie took it in her stride, but Vic and I were not prepared.  I had on my long Biba coat hiding my dress (which I must add did not match my outfit as I had anticipated) and having not had enough time, Vic had not a stitch of make-up on and bulbs and lights were going off everywhere, with journos shouting at each of the celebs for a few quotes.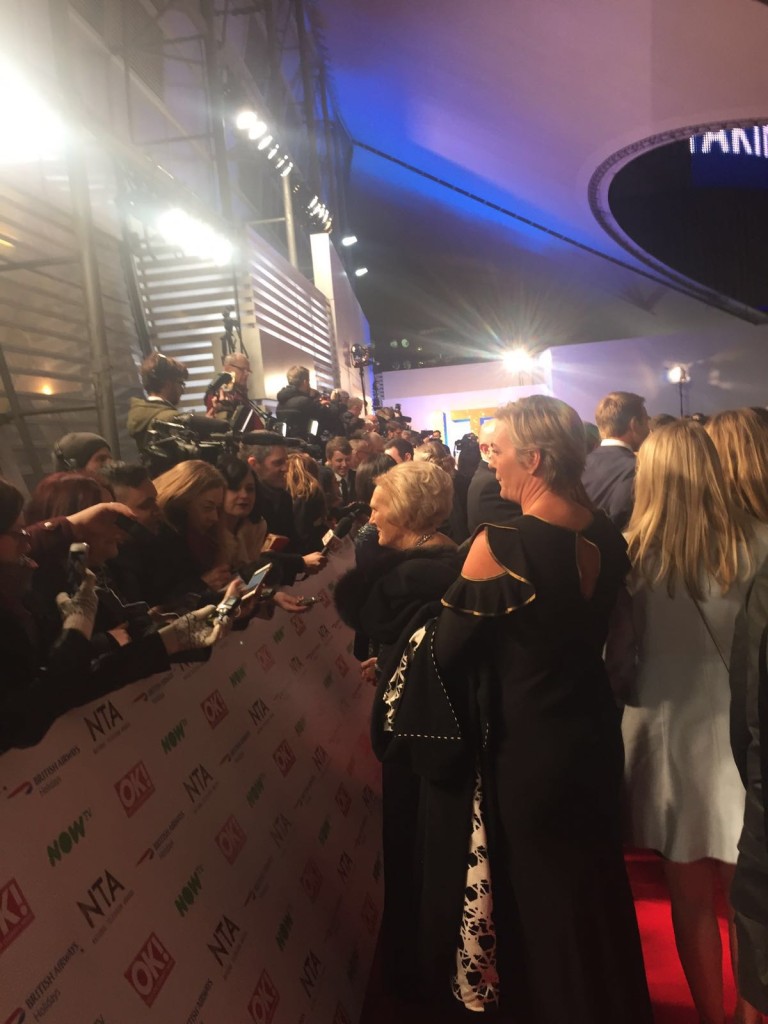 All I could think of was: "I wish I had broke in these stupid shoes.  Should I carry my coat?  Is that Charlie from Casualty? At least he has his coat on too! Oh my god it's Mary Berry!!"
Of course the good thing was that no attention from the crowds were aimed at Vic or I, infact people were probably thinking who the hell is that idiot in The Matrix coat and the pink hair?!  But we made the most of it, as Josie talked to press, and tried to catch a few sneaky pics of celebs in the background… my absolute fave being this photobomb by Graham Norton.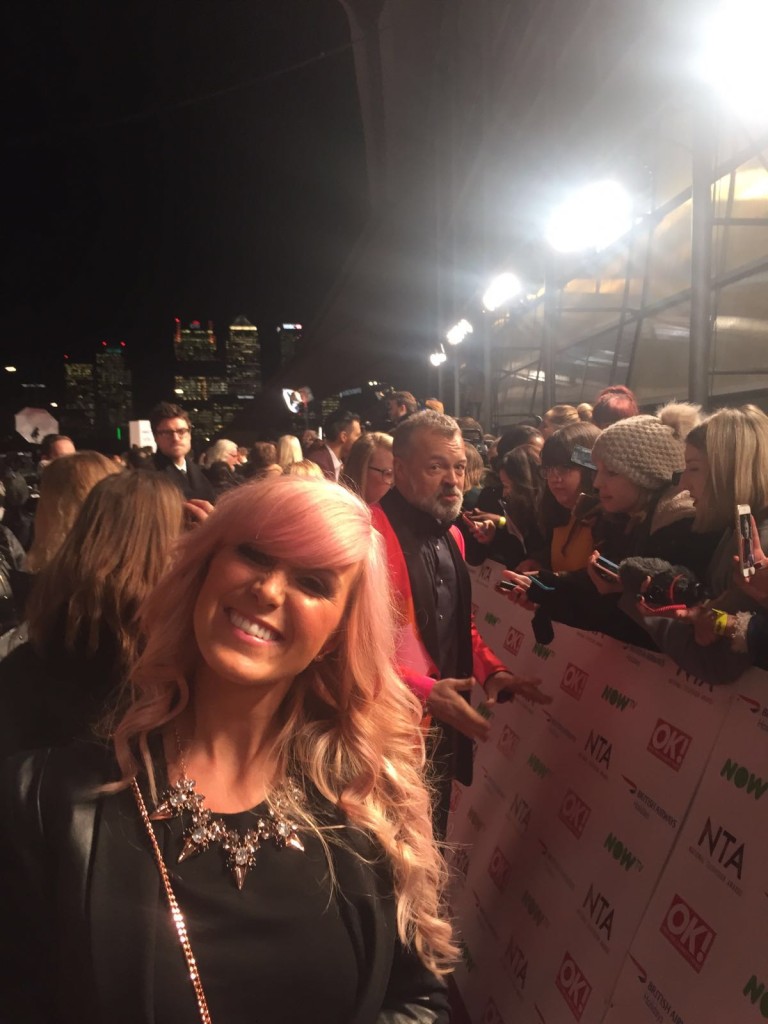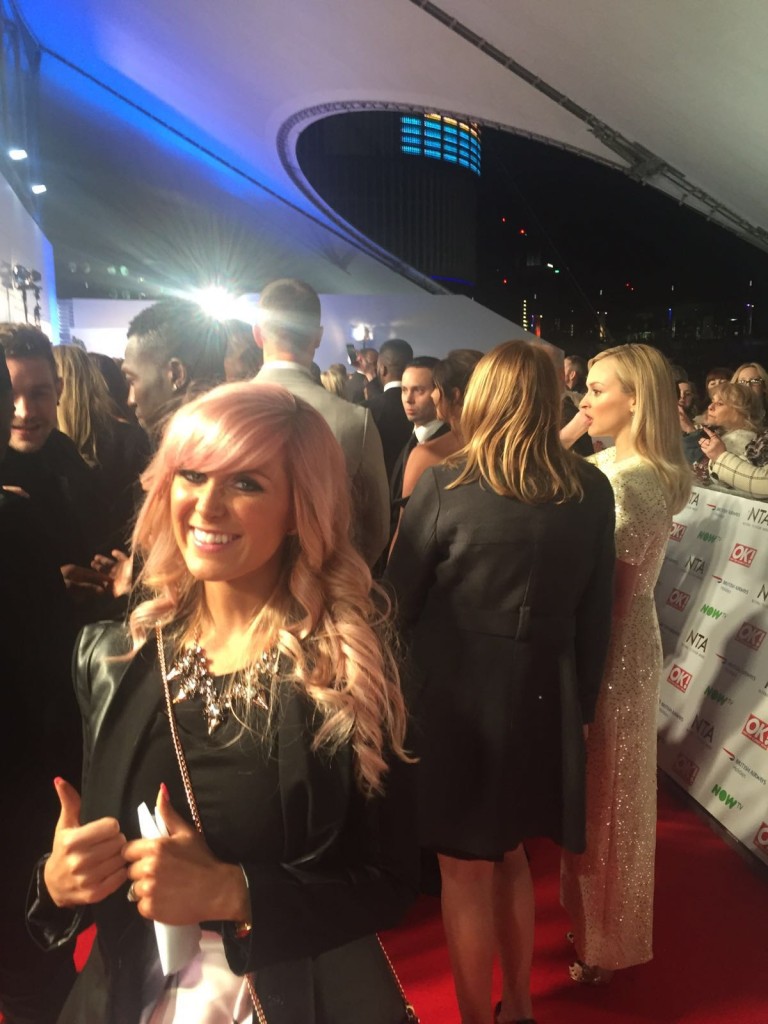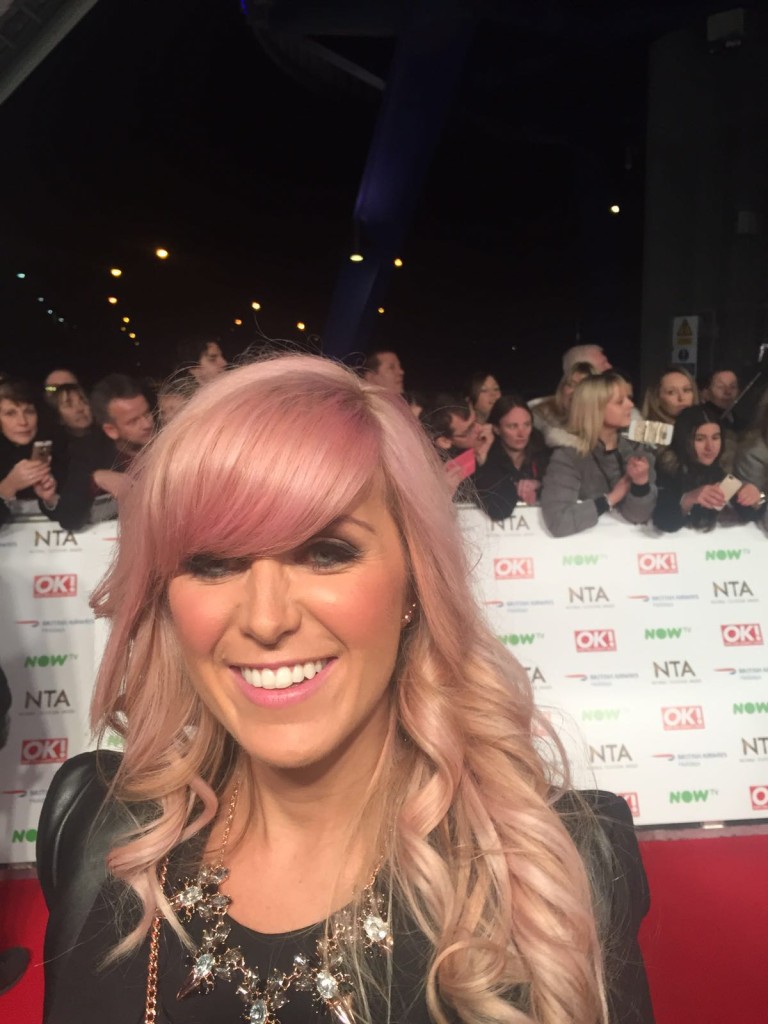 Who else did we spot rocking the red carpet?  Well Fearne Cotton, Mary Berry, Danny Dyer, Greg James, Reggie & Bollie, Maisie Williams and a whole host of reality stars to name but a few.  I was in awe and still am… talk about red carpet surrealness!!
Then it was off to the Fake Bake private box, which was another amazing experience in itself, especially with it being right next to the stage.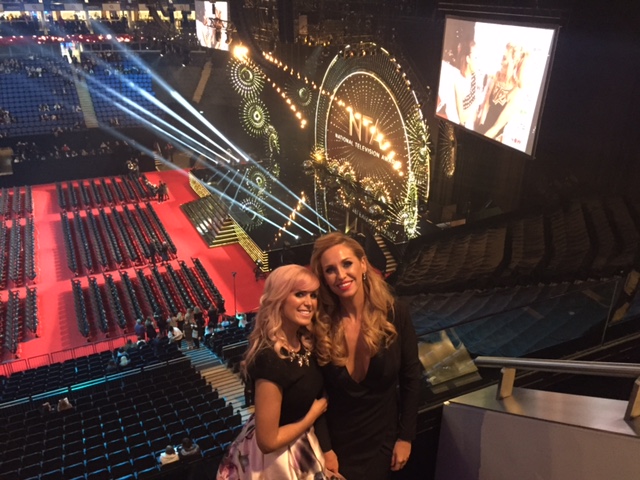 The box contained a glittering array of inspirational people, including Sandra Vaughan (my boss and Director at Fake Bake who hosted the evening), Craig-Alexander Wilson (Head of Strategic Development at Fake Bake Beauty at Home and beauty editor at the Sunday Mail) and some more big names in the beauty and press industry, including top UK blogger Really Ree, model and TV presenter Jean Johansson, beauty editor at The Sun Cheryl Carter and make-up artist Mikey Phillips… and that is to name but a few.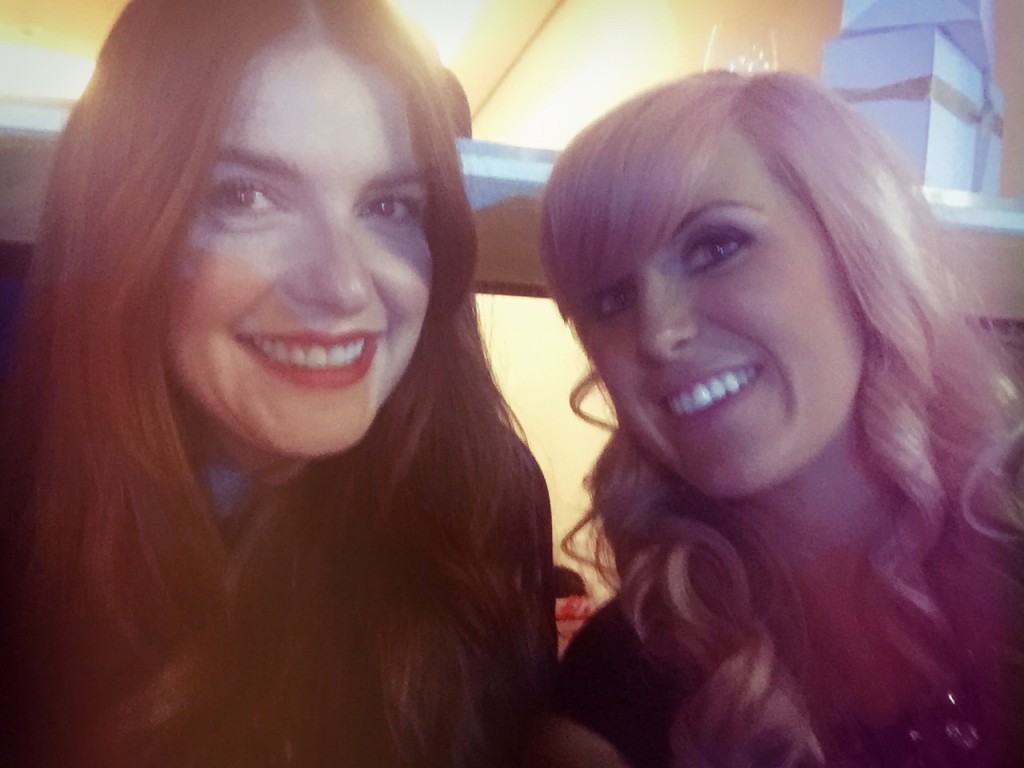 Too busy was I chatting to folk and getting tips from Really Ree (check out her massively popular blog here), that I honestly couldn't tell you much about who won any of the awards!  But I caught the most important part, which was the special recognition award for Billy Connelly.
After the show we went back to the Intercontinental for a drink or few, before Craig had the bright idea of heading to Soho for dancing and yet more drinking.
Fast forward an hour to the pair of us swinging round a pole, and taking shot after shot with the rest of our crowd (and what a fun crowd it was)…
The next morning I awoke with the strong smell of burger in my face, which I pondered on for a while before opening my eyes to reveal a Big Mac with an exceptionally large bite out of it sharing my pillow with me.  Having got in an 6am (and after starting drinking at 9.30am the previous morning) you can imagine the hangover.
Needless to say however, it was all absolutely and totally worth it.  For even if I never get near an event like that again the future, I can truly tick walking down a celeb-filled red carpet off the list! x