On Thursday evening Lee and I enjoyed our very first in the F-row experience at the Scotland Re:Designed event.  Located in the SWG3 warehouse, the event and its content surpassed my expectations.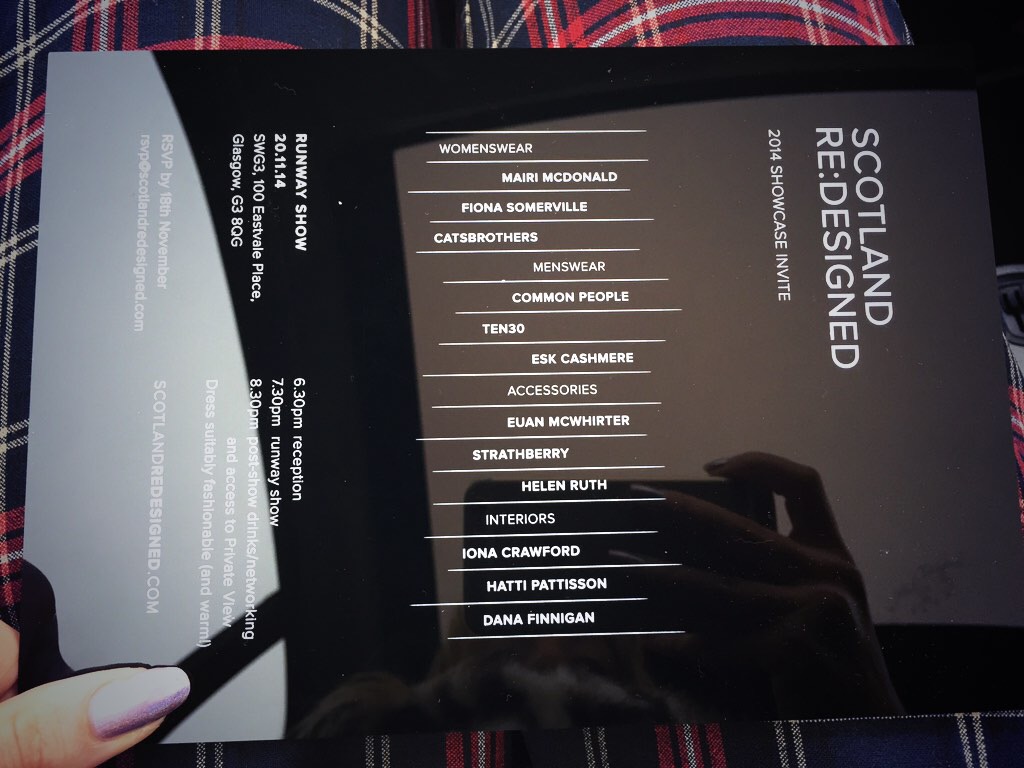 So what is Scotland Re:Designed?  Well this was the first question I also asked on receiving what has to be the chicest invite I have received for any event to date (I must remember in future however that I am not required to take the actual invite along to the event itself – it was too big for my bag but I refused to leave it and so this chic black plastic invite became an obvious sign of a rookie attendee)
Scotland Re:Designed is a platform from which Scottish born, or Scotland based, fashion designers and textile companies can build, establish and secure business relationships with industry, media and consumers. With the support of SR:D designers can create new collaborations, short and long term sales, PR opportunities and successful businesses.
The first thing that grabbed me on Thursday evening, when following the Sat Nav to the location, was how cool the SWG3 warehouse was itself.  Apparently this is the location for Electric Frog, which is a pretty big dance event in Glasgow and having now visited SWG3, is definitely an event I would like to go to in future.
On checking in (invite casually hidden underneath my tartan, fur-trimmed River Island poncho), every guest was handed a sugar rimmed glass of mulled wine.  You then moved into an exceptionally white room, with bright white painted walls adorned with turquoise panels and a floor covered in white salt, so your shoes sunk into it like they would on a beach (had I known this, I perhaps would have refrained from wearing my spiked platforms…perhaps). I later discovered that this room is part of an art installation by Dominic Samsworth entitled 'Salting the Mirage'.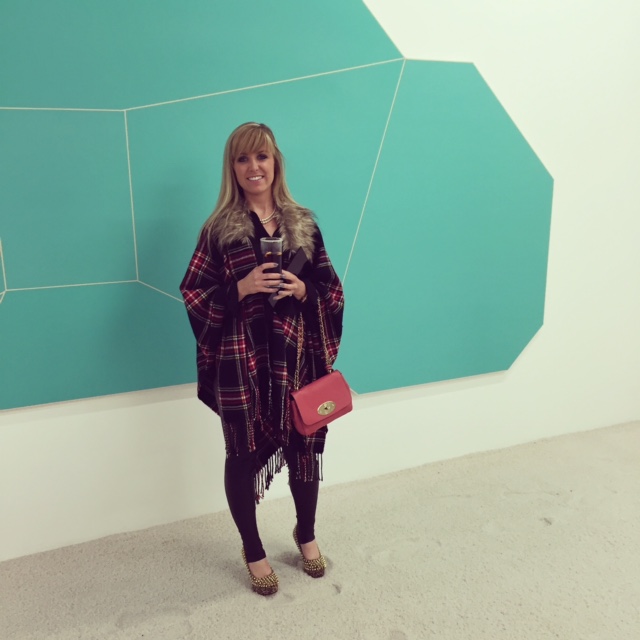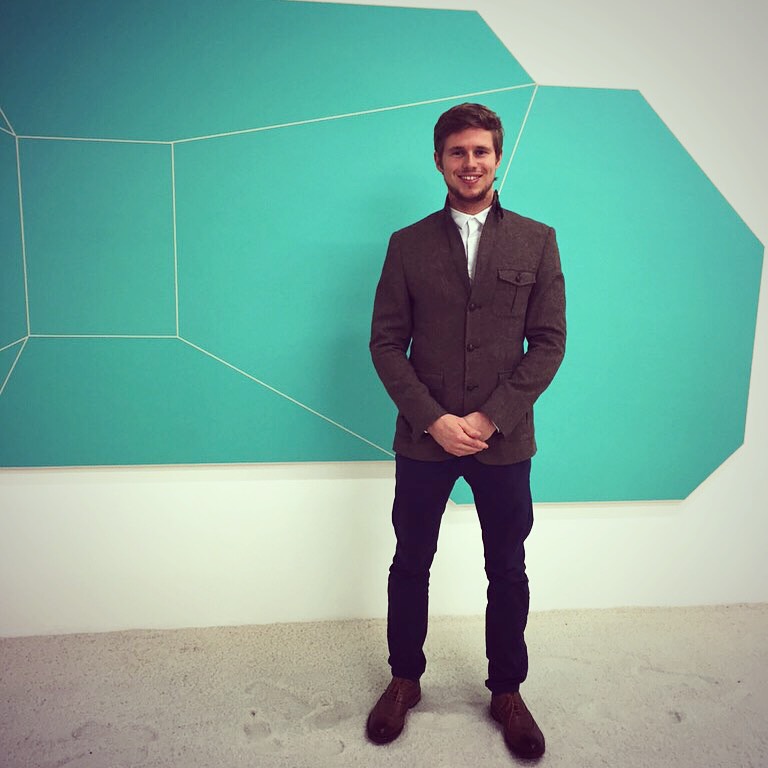 From this room, you could move through into a bar area with a dark underground vibe to it and glasses filled with Prosecco for you to freely take. And behind the bar, there was a selection of Isle of Skye ales for you to choose from (which nicely tied in with the homegrown focus of the evening).  Into the next room and you came to a dancefloor, with house music blaring (and I say that in a good way) out large speakers and coloured electric lights.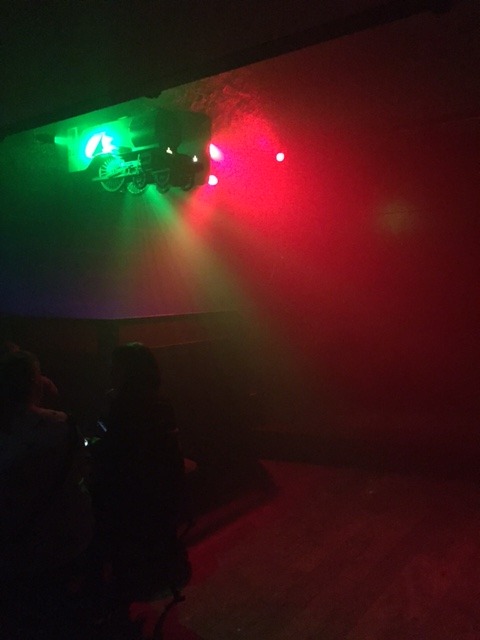 Back in the salt room, double doors opened to reveal the catwalk which was dark (again with an underground vibe to it)with blue UV lights which illuminated any white.
Lee and I made our way to find a seat when we came across two chairs with 'Laura Kerrigan' and 'Laura Kerrigan Guest' attached to them.  Me being a constantly paranoid worrier immediately drew to the conclusion that these could not be ours, as my name was now Maginess and the lovely PR girl I had RSVP'd to had only received communications with my new surname.  Lee however, convinced me to accept that these pretty spectacular front row seats were ours, so down we sat and house music echoed throughout the room.
Mairi McDonald
With models decked out in black, Mairi McDonald's designs must of taken inspiration from the era of the punk.  Dresses and jumpsuits were short, leather and see-through mesh were prominent and each of the models wore black sunglasses which heightened the rather 'I don't give a f*** attitude' the clothes very coolly emphasised.
Helen Ruth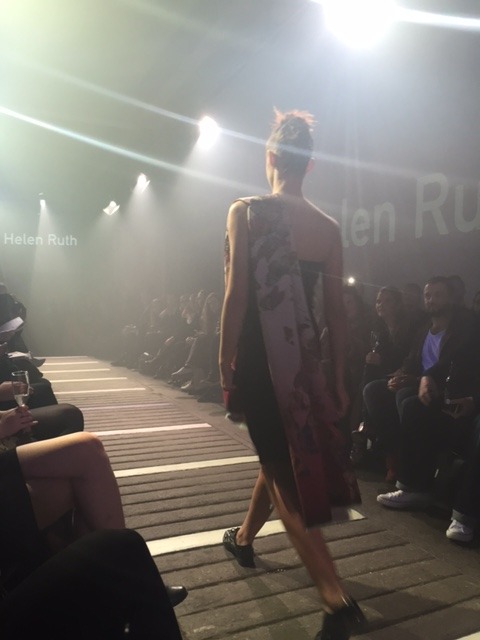 Next up was Helen Ruth and her display of beautifully designed silk scarves.  The pattern of each scarf was inspired by nature and I am sure if studied close enough you would see a story form in each, but on the catwalk you weren't really able to grasp each of their beauty in its totality, more see then in the context of how they could be worn on a day-to-day basis.
Ten30
Ten30 then took to the catwalk showcasing an array of contemporary yet classic tartan jackets.  From blazer style to bomber and waistcoats, all examples hinted at an exceptional level of craftsmanship.  Lee, it has to be said, was in awe of this collection and being a massive fan of tartan myself, this was my fave menswear showcase.
Strathberry
A beautiful collection of Strathberry bags were next to make their way down the catwalk.  Emanating a cool elegance, the bags were both quirky and chic – the one that had most stand out for me was the one-handled bright yellow satchel-style bag (later research has told me this is the MC Midi bag).  This is not a brand I have heard of previously and I could not help but draw parallels to Mulberry (one of my all-time favourite brands) – perhaps not such a bad thing for Strathberry as the designs certainly lived up to that of the English accessory giant.
CatsBrothers
The CatsBrothers designs (a brand conceived by two knitwear designers) were by far the most fun.  With their use of bright colours, funky accessories and with a sports luxe focus, this was the fashion collection which amped up the electricity in the room.  For me the stand out clothing item of the night, was their knee-length shirt which was covered in teeth – fun and unique, I would wear this out on the town with a pair of patforms.
Esk Cashmere
With male models displaying a range of cashmere jumpers and cardigans, each with a modern twist, this is the type of collection you could pick out an item suitable for everyone you know.  Cashmere for me screams luxury, but there are a few Scottish brands which use it to solely cater to the older markets, whereas Esk have a firm grasp on mixing the old with the new and all the while showcasing a masculine edge.  Check out their website for their female lookbook too..
Fiona Somerville
Fiona Somerville's floaty and feminine designs, had an element of the boho dreamer to them. Incorporating glittery materials, her collections were in contrast to the short and spunky designs seen earlier with Mairi McDonald.   Favouring pieces that were either ankle or floor length, Fiona's creations are a nod to the whimsical.  My fave items included her tartan coat and black and gold sparkly dress.
Euan McWhirter
My favourite accessory collection came from Euan McWhirter.  Similar to a magpie, anything that sparkles I tend to be exceptionally partial to, but when it came to the pieces from this designer I was completely entranced from the moment the first over-sized pearl necklace appeared.  Oversized was certainly an on-going theme as the designer moved from elegant crystal pendant earrings to a massive black doughnut-sized bracelet and then a black necklace (which echoed a kind of body armour design) made complete with an beautiful black eye mask.  COVET.
Common People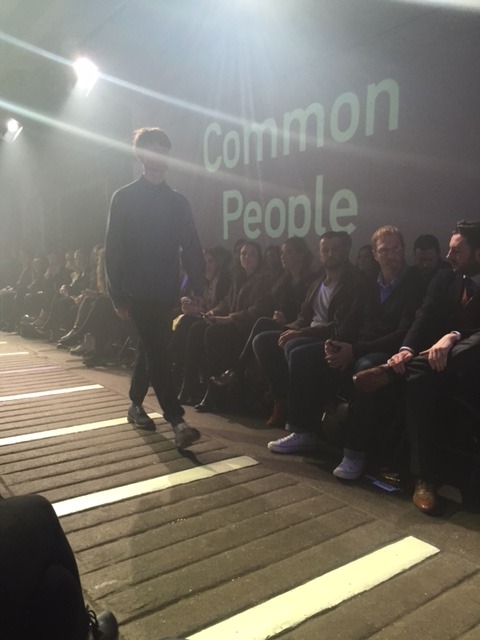 Closing the show was Common People.  A very British collection, with splashes of colour, the garments were premium with casual undertones and again had lee gripped.  Oozing a an edgy coolness, I couldn't helping thinking there was an influence of Britpop in Common People's designs.
With brand awareness being the overall objective of this event, achieve this it certainly did.  The only brand I knew of an arrival was Esk Cashmere, having previously spoken with them in relation to some VisitScotland activity.  The rest of the designers I had not heard of, and it really was truly fantastic to see such incredible homegrown talent in such a great 'weegie' location.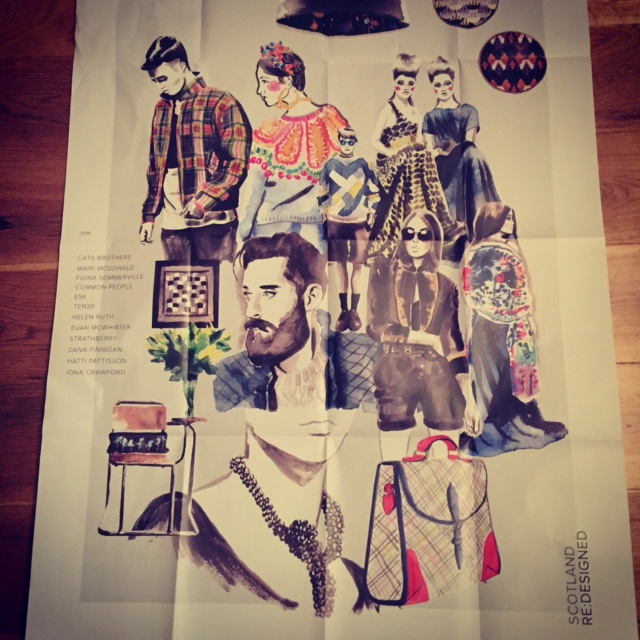 A very well done to Scotland Re:Designed and all the designers involved.  Thanks for the invite x