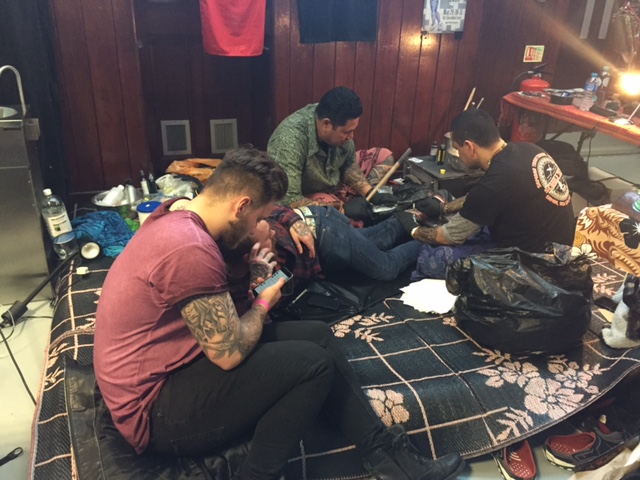 Today Lee and I went to Scottish Tattoo Convention at the Corn Exchange, Edinburgh, with Dreanie & Sean.  The place was jam-packed with the most eclectic of people and was literally buzzing.  I can't believe this is the 5th year of the annual exhibition and I had never even heard about it before, here's a wee bit of blurb from the show's website to give you a flavour of what it is about…
In 2011, the beautiful city of Edinburgh opened its doors, and its heart, to tattoo enthusiasts from far and wide, and the International Scottish Tattoo Convention was born. Every year since, it has returned bigger and better, attracting World renowned artists, and some of the most exiting names in entertainment. It is now the most anticipated and most talked about Scottish Tattoo event of the year.
Although the 4 of us collectively share about 20 tattoos, plus 1 full sleeve (aboard the bold Lee boy), we definitely stuck out as being the most abnormal or would it be normal looking amidst the crowd…?  I have never seen so many fully tattooed folks, with many sporting them on their face, heads, hands and necks.
In addition to the uber colourful, there were also some gorgeously vintage-looking ladies giving others makeovers, piercing pop-ups and alternative clothing stands, a tattoo pin up (who was wearing next to nothing and could not of looked more different from the pretty sexed up calendar – of her – that she was there to promote) and some stands retailing very cool bits and bobs for your house.
Dreanie and I left the convention with a lamp and wall decoration, albeit both were very unique pieces (the lamp base was an old original Jack Daniels bottle with the shade showcasing pictures of cartoon pin ups and my item being a rabbit head made up of all different bits of material mounted onto a shield), but I guess these would not really be deemed as the classic things to leave a tattoo convention with…
With tattoo artists from all over the world paying to be at the convention, it is incredibly interesting to see them all at work and truly appreciate the level of artistry that actually goes into a tattoo.  Each has a completely different style from the next, and collectively those present catered to every kind of tattoo taste out there.
It was also fascinating to watch people getting their 'ink done', none wanting to show an inch of pain on their face, with the exception of one man who looked incredibly hungover and close to tears as his tattooist drilled into his ribcage…ouch!  You've got to admire such an exhibition of strength from these exhibitionists.  Each time I have been getting a tattoo on the other hand, intense wincing and biting down on things was common place.  The worst was a three hour shift where I tried to read my book to pass the time.  Think I ended up reading the same word for three hours and that word coincidentally was 'fuck'.
After the significance of our honeymoon travels, Lee and I are both looking to honour this trip by adding to our tattoo repertoires with a compass each.  I am also inclined to get a few more butterflies and flowers (mum take no notice if you are reading this) and so watch this space for a post detailing these additions!
For now, I will leave you with our new rabbit head wall mount, we have called it 'Tattoo'…x