See the country you live in right now, have you explored it?  Have you travelled from North to South, East to West, stopping in a multitude of attractions and hidden gems as you go?
The likelihood is that you haven't. For it is super easy to overlook the place you live in favour of venturing off to a far off land to Christopher Columbus it's ass.
In recent years I have made a conscious effort to explore more of bonnie Scotland. Island hopping in the Hebrides being a massive highlight creating a new wonderment at the beaches in Scotland and further heightening an already strong love for the enchanting Isle of Skye.  Catch up on the Hebridean adventure posts here, here and here.
Tasting Scotland
As you may already know, I am a marketeer and this year I took the decision to go freelance (being your own boss makes for a smashing existing by the way, so if you are considering it, do it). I have been lucky enough to snag a completely ideal client who enables me to combine a few of my favourite life passions: travelling, eating, drinking and writing.
Tasting Scotland is an award-winning luxury food and drink tours agency that arranges top notch guided and self-guided day trips and tours for both an international and local client base.  It is owned and run by Brenda Anderson, an amazing lady with an intense and widespread general knowledge relating Scotland and Scottish fayre.  Not only that but Brenda is the Scottish Ambassador for the World Food Travel Association, so she knows all the top food and drink destinations in the country.
Supporting Brenda with the brand's marketing has led to my enjoyment of two indulgent days in Scotland (for research and content purposes of course), visiting outstanding locations I have never previously frequented in my 31 years living in country.
Seafood & Scotch
The 'Seafood and Scotch Tour' combines some of the world's finest seafood, magnificent scenery and the water of life (AKA Scotch Whisky).
Starting in Glasgow, you will enjoy executive transportation up to the bonnie banks of Loch Lomond where you get to savour the flavours from Luss Smokehouse at the Luss Seafood Bar.
Next a wander around Luss and then it is back to the car/ luxury bus to take the wonderful drive to Loch Fyne to enjoy a warm and cold seafood platter at the Loch Fyne Oyster Bar.  Idyllically nestled on the banks of the tranquil sea loch to which it shares its name, this is an internationally celebrated eatery and is not to be missed.
The trip ends at arguably one of Scotland's most picturesque distilleries, Glengoyne.  This is where I first learned that to make whisky, one must first make beer!  Who knew!?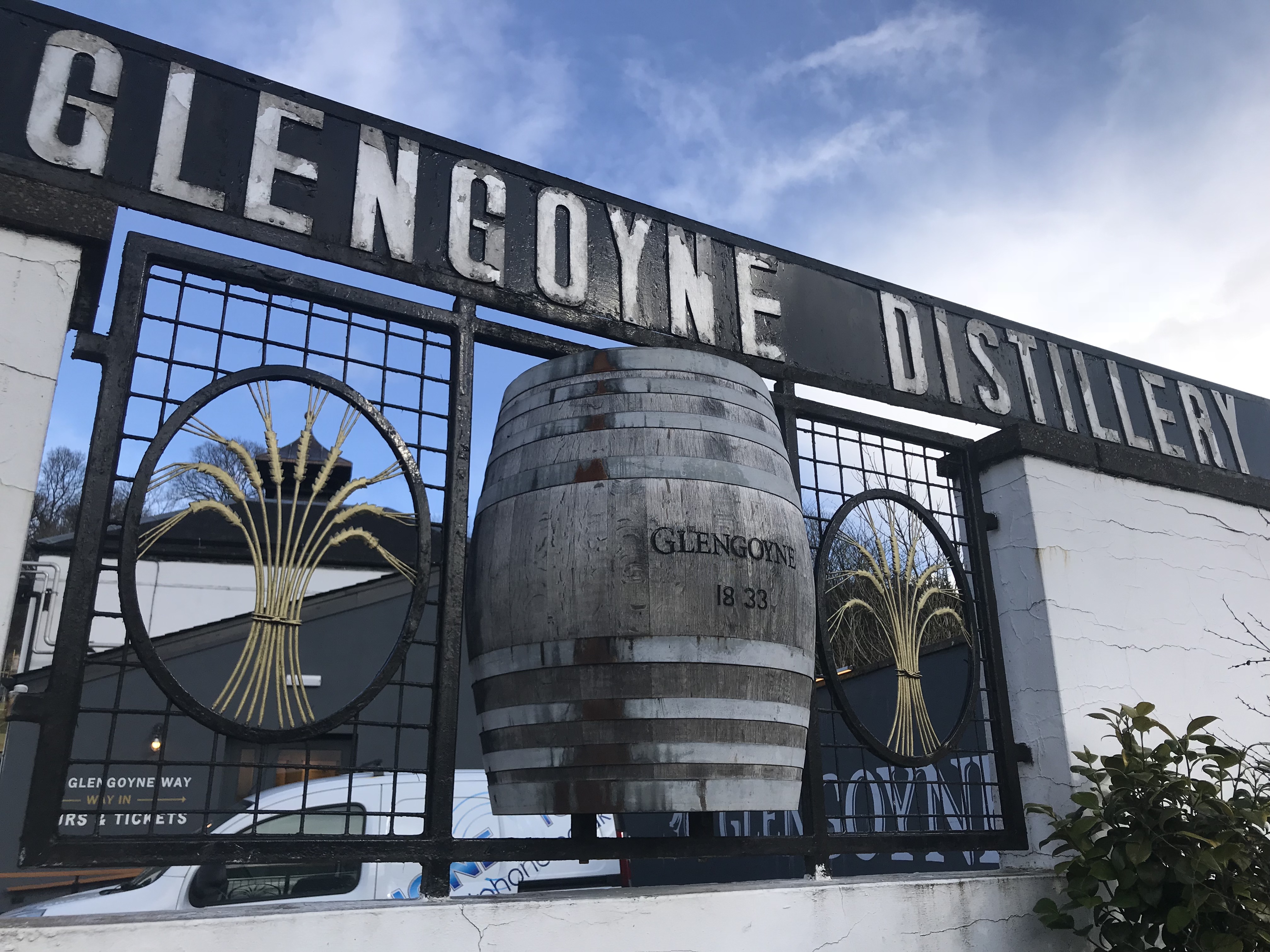 Do you like whisky?  As the national drink of Scotland (alongside the softer Isn Bru), I want to LOVE it.  I feel as though it is my duty to Scotland, but I am not quite there yet.  Nonetheless, this tour was great and is perfectly rounded off with a dram… or two.
From start to finish, Brenda imparts her wisdom and incredible knowledge of Scottish history and food, for it is her mantra that you do not truly get to grips with a country's history and culture without first understanding and enjoying its food and drink product.
Edinburgh Indulgence
The first stop on this handcrafted day of indulgence in Scotland's capital was a decadent afternoon tea at Colonnades at The Signet Library.  The Signet Library exudes a gatesby-esque glamour, with columns lining the gallery, balustrades and rows of elegant book shelves (housing an array of legal literature).  The tables are topped with mirrors, which reflects the crystal glasses and twinkling tea lights adding to the prettiness of the occasion.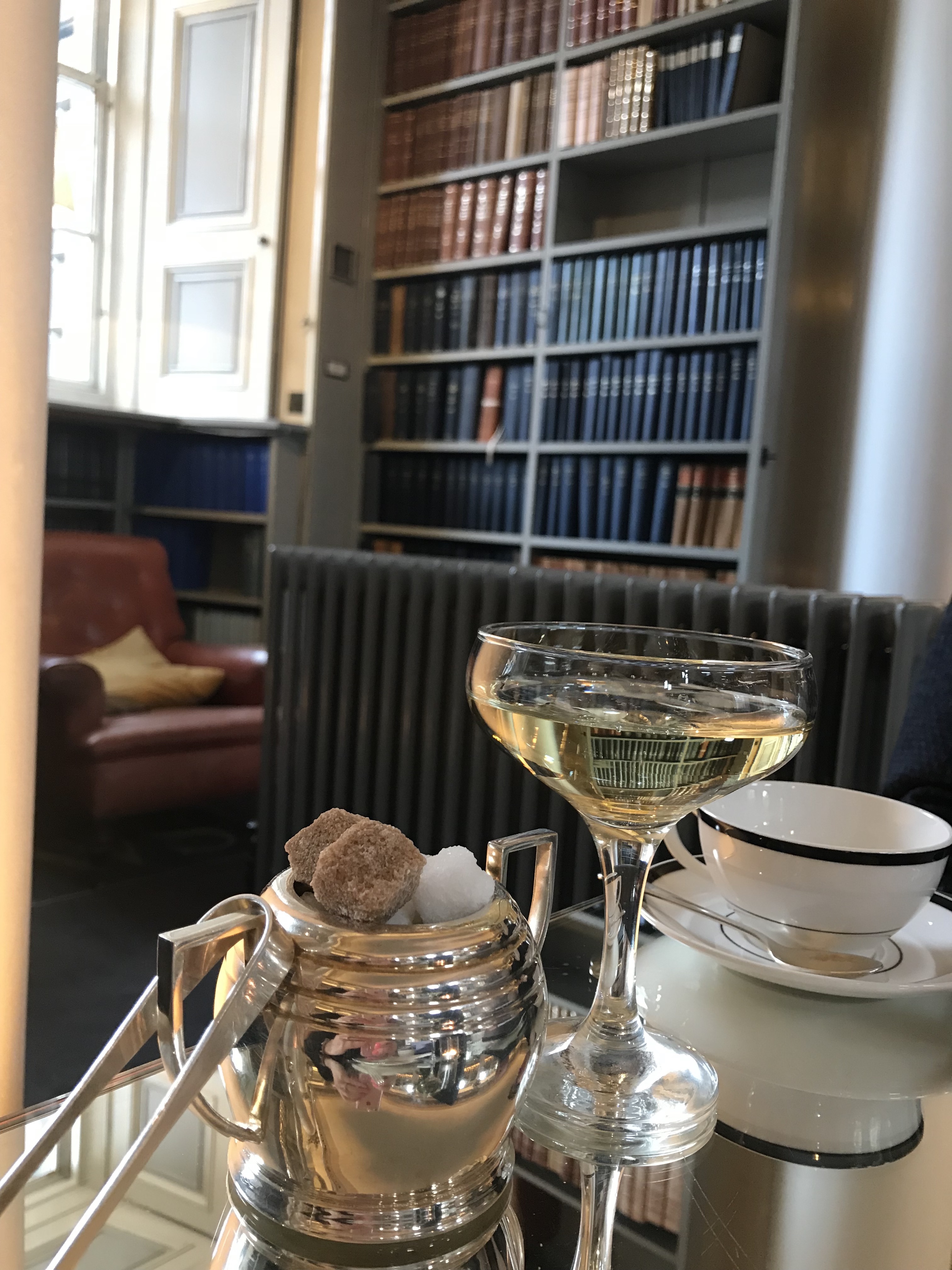 We met with Glenn, the manager of this opulent establishment who provided us with a history of the 19th century building along with some fantastic suggestions of pairing the teas on offer with the savoury and sweet afternoon tea stands.  A unique concept for me – gin and wine pairings I have enjoyed before, but never tea.
If you go, try the Russian Caravan (which could be likened to the tea version of a Laphroig Whisky) with the savoury stand and the Ginger Chai with the sweet.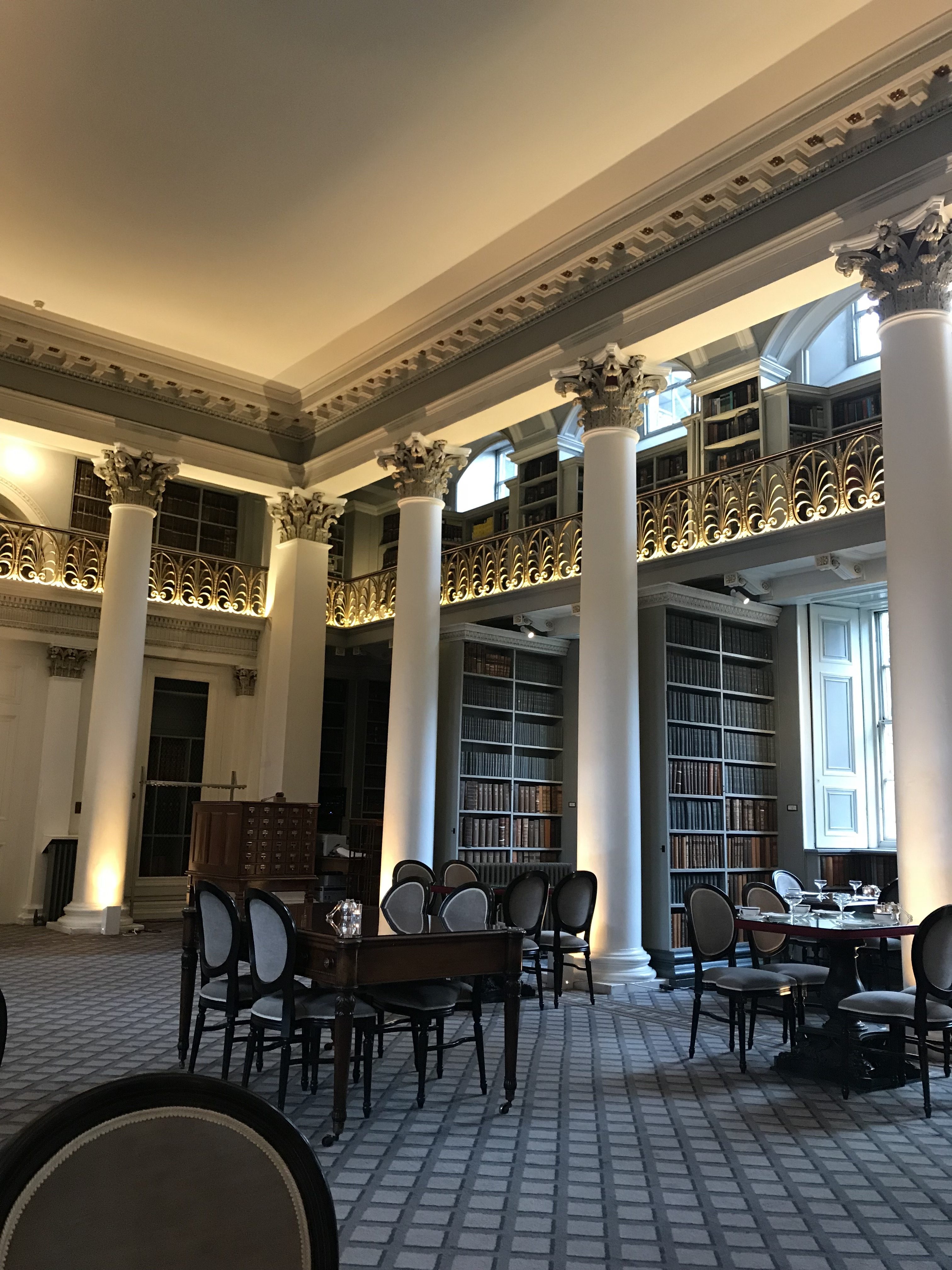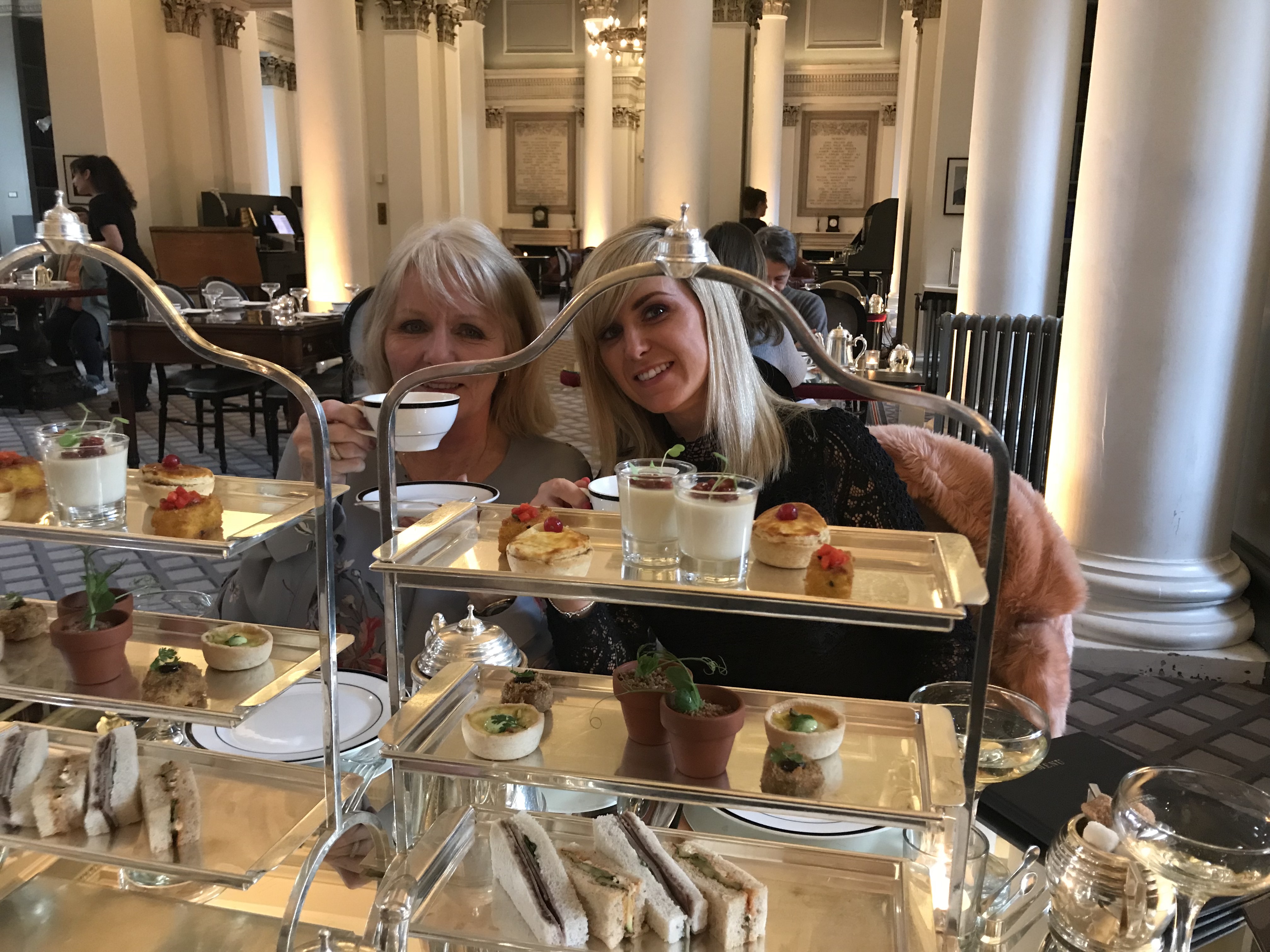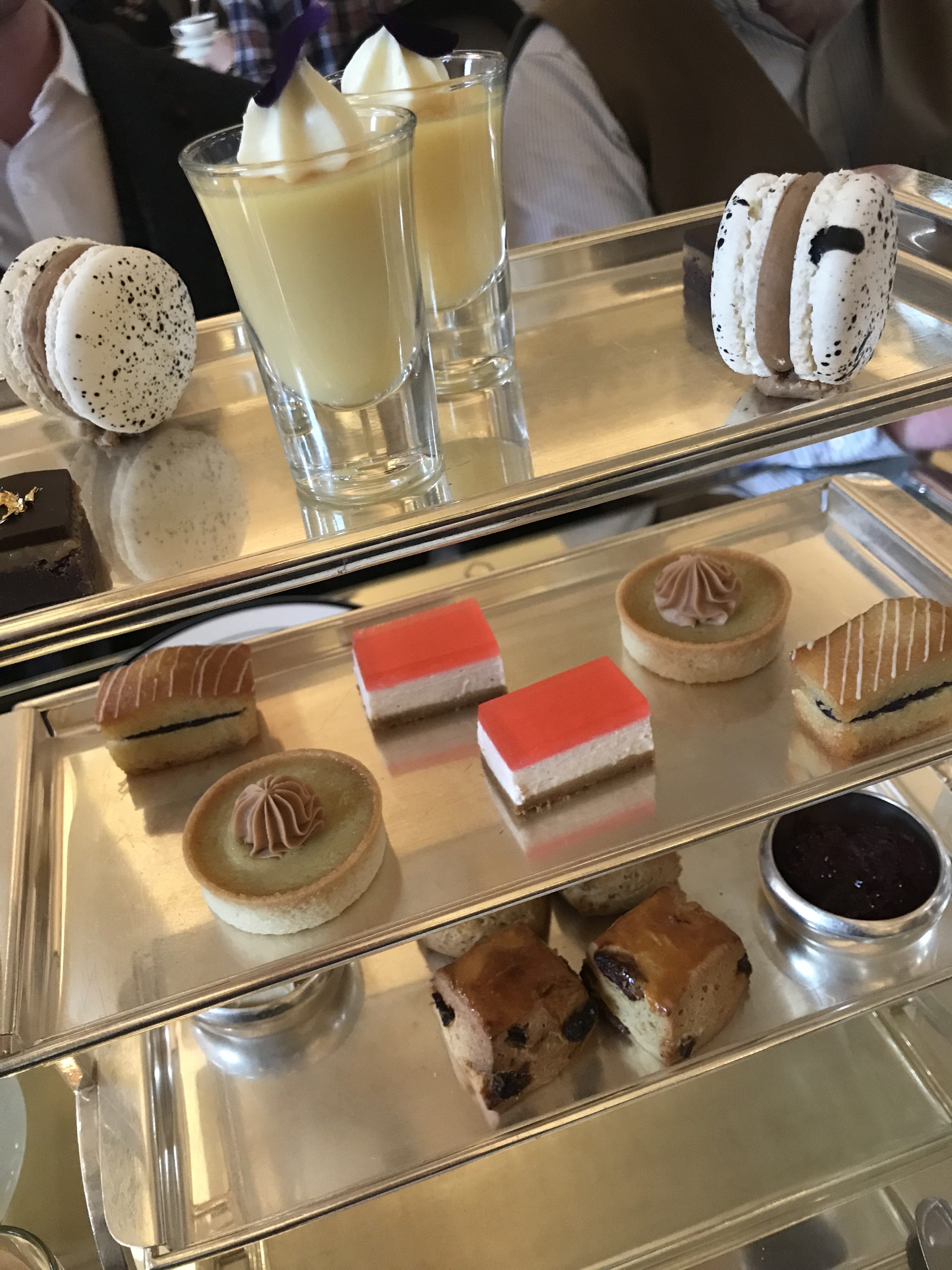 The next stop was a VIP Private 'Old & Rare' Whisky Tasting at Jeffrey Street Whisky & Tobacco.  Truly a blink and you miss it establishment (from the outside) you quickly realise that what is unassuming from the street, becomes a slice of whisky heaven as you step through the door.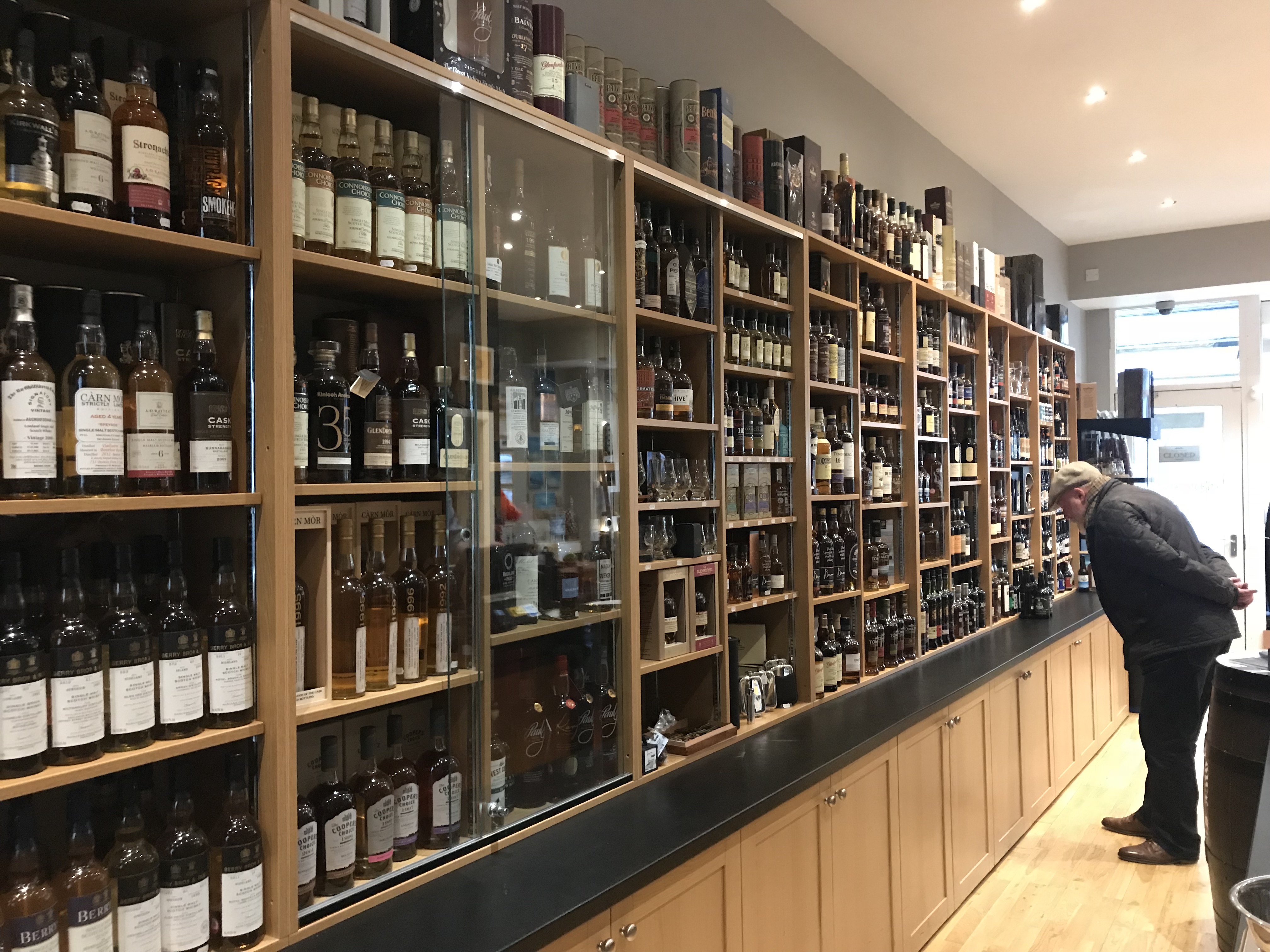 Hector, our tasting expert and I believe a proprietor of the business, took us through our tasting of 4 of the world's oldest and rarest whiskies – 4 drams taken from one of only 3 bottles left of the Caledonian Single Grain Scotch Whisky. Slainte!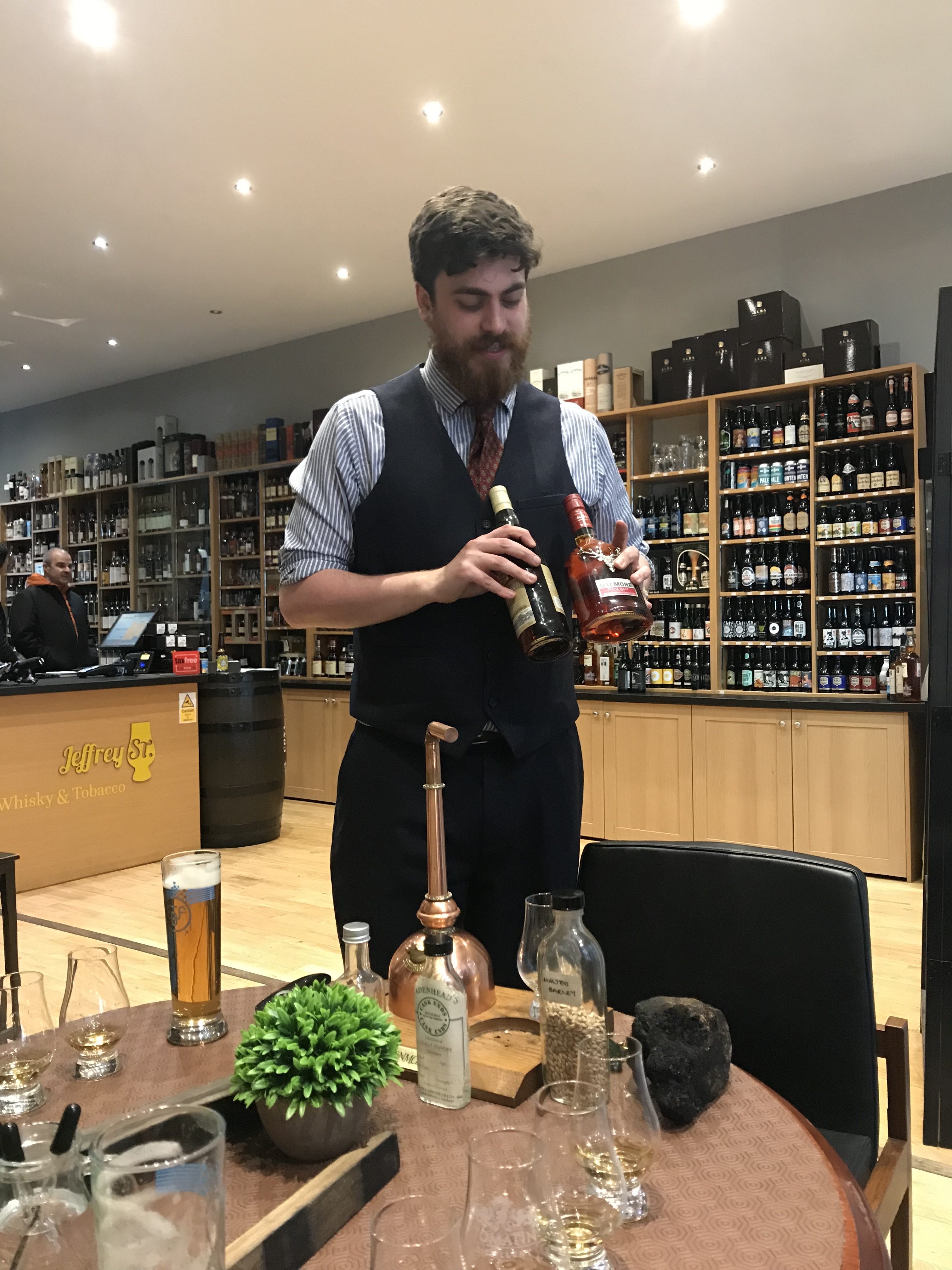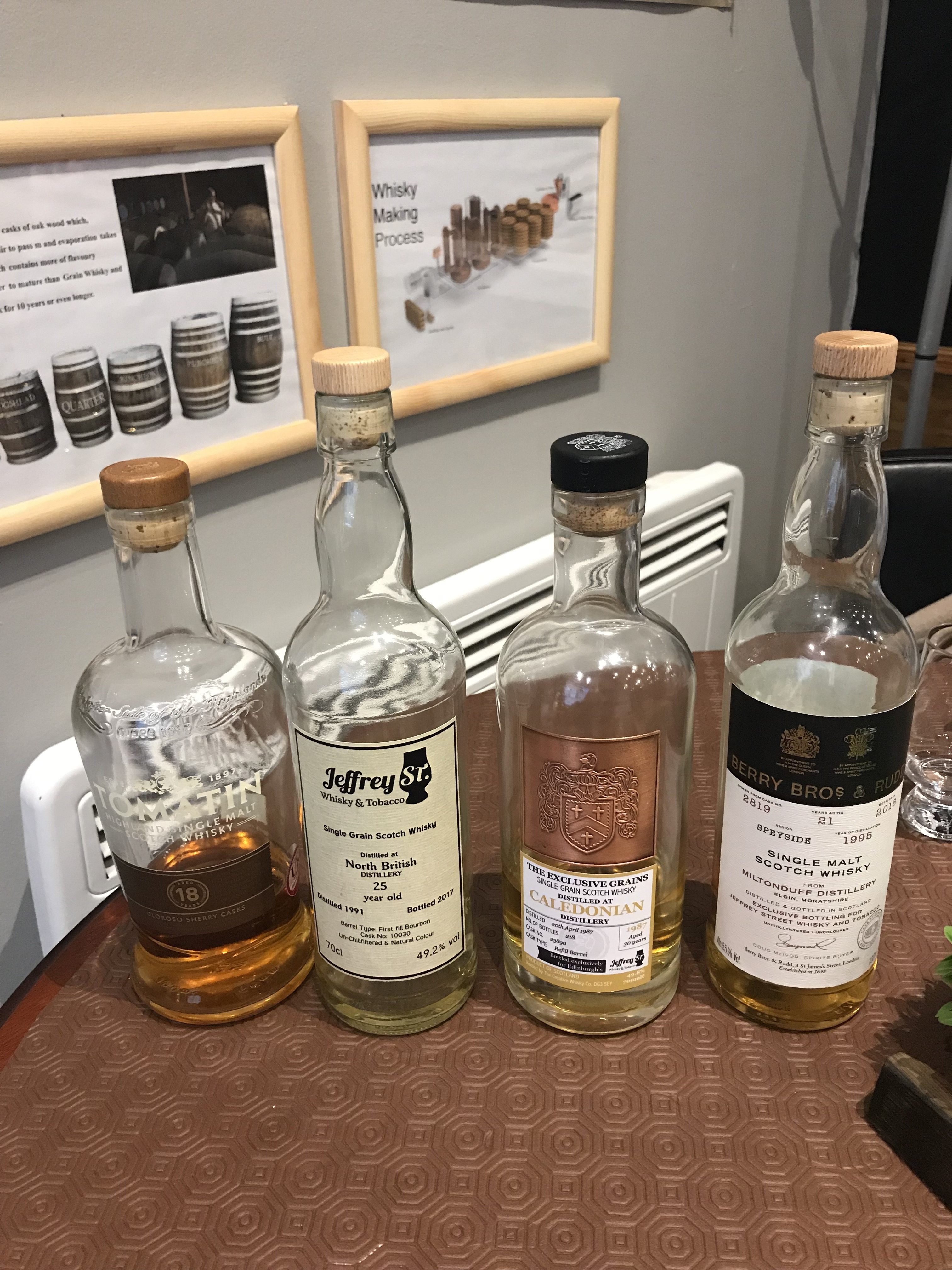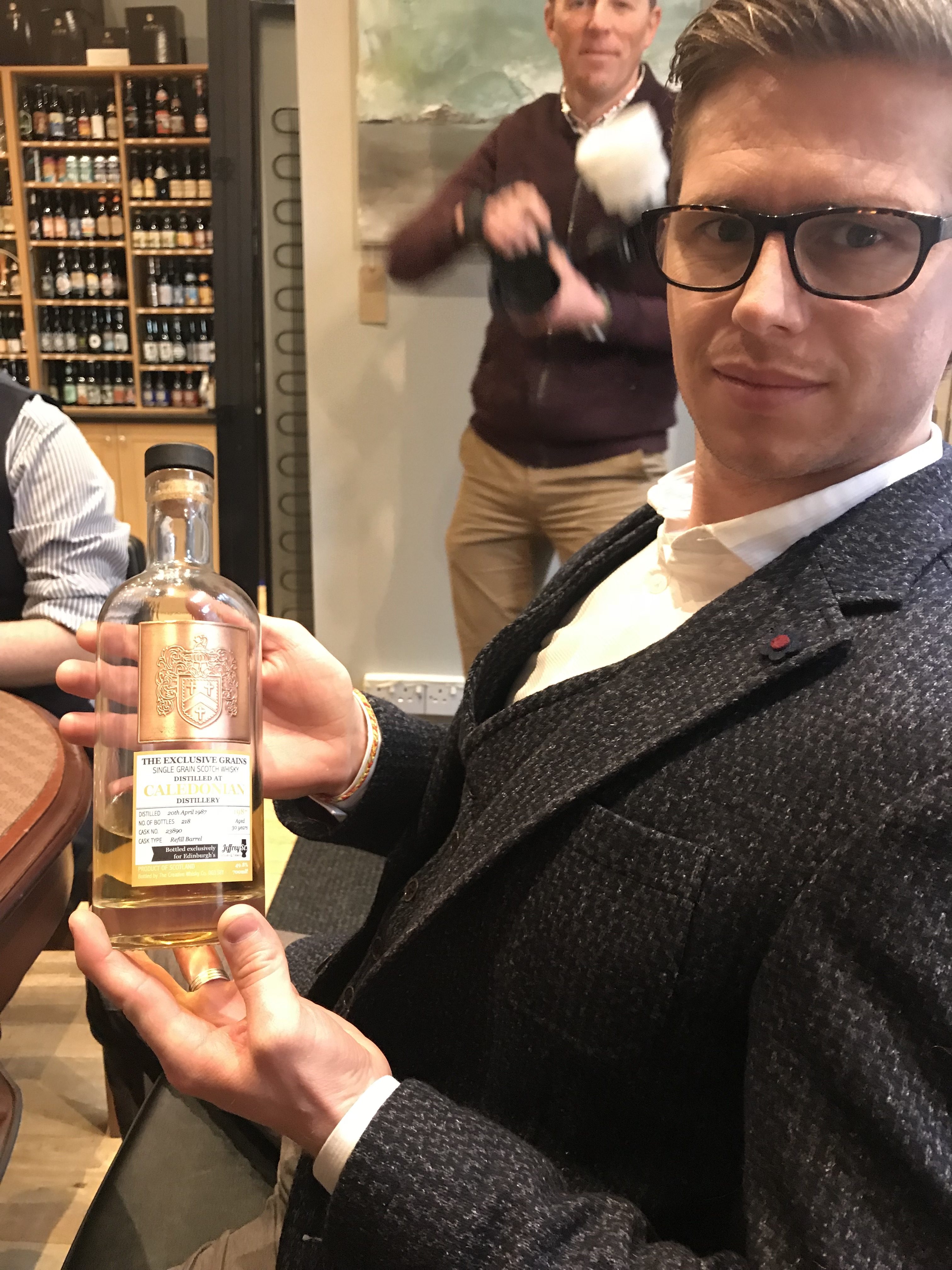 Hector's passion for the 'amber nectar' was infectious and his historical knowledge of alcohol in general was outstanding.  For example, did you know that back in yon day it was mainly women who distilled whisky?  The women wore cloaks and pointed hats and because they became so important, even more so than men, the catholic church did not like this and branded them witches. This unfortunately led to the execution of many.
Final foodie thoughts
I worked in Edinburgh for 6 years and never frequented the Signet Library nor did I pop into Jeffrey Street Whisky. I have lived on the west coast of Scotland all my life and never enjoyed the grub from either of the foodie locations included in the 'Seafood & Scotch Tour', nor had I toured the Glengoyne Distillery, which was a mere 20 mins from my home.
The beauty of the Tasting Scotland tours is that you are buying into the extensive knowledge of Brenda, whether she is on the guided tour or is creating for you a bespoke and self-guided foodie adventure.
As a traveller, I know the importance of not wanting to waste a single minute in a new country.  You want to explore the best parts and find your own hidden gems along the way.  I have done many a food tour including a couple in Vietnam and in Peru and it is on these tours that you tend to come away with an abundance of unexpected knowledge on both the country itself and on it's culture.
If you book a tour with Tasting Scotland, you will get to experience only the best of this magical country. Not only is this ideal for time-short travellers. but for folks who have lived in Scotland all their lives, I urge you to go out and explore the best bits of this country and Tasting Scotland can help you do just that!
Love,
PTD x
Links
The next 'Seafood & Scotch Tour' with Tasting Scotland will take place for Father's Day on the 17th June.  For more info, click here.
To catch up with Brenda on creating a bespoke tour of Scotland based on your food & drink faves then email [email protected]
To join the FREE Tasting Scotland Club and receive exclusive deals on trips and tours click here.
SaveSave