The beard boom has been growing momentum since 2013 and based on the average number of furry faces you see on the high street today, it shows no sign of being shaved out of fashion any time soon.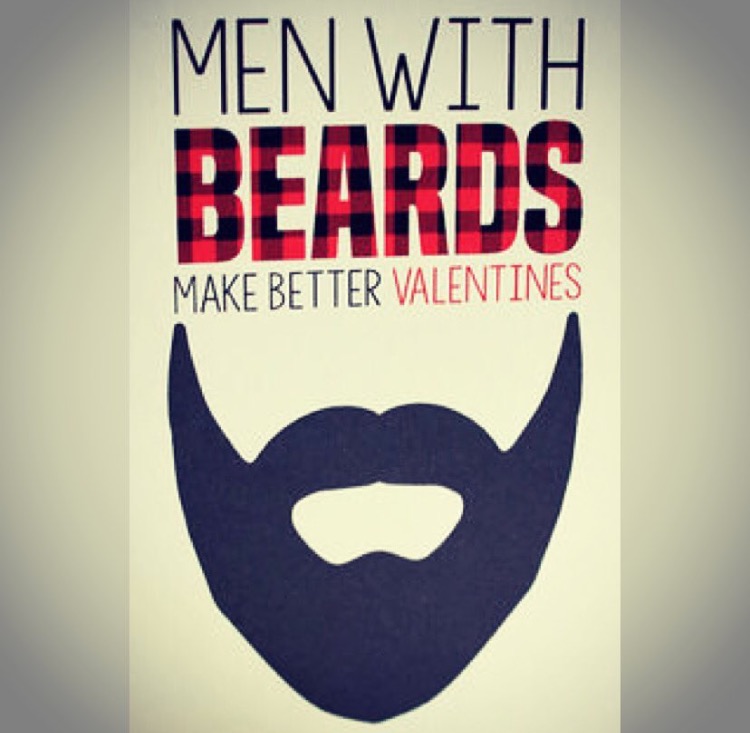 In fact, since this furry-chinned phenomenon came into play, there has been a decrease in popularity in skincare for men, largely blamed for the lack of face space to pamper (source, Telegraph.co.uk).
What in the past was seen as a sign for poor grooming, has now become the peak of chic, with beard care products rising through the ranks of popular toiletry products for men.  Here's a few stats from a Mintel Report, published back in January 2015, to highlight the consumer mindset behind keeping this facial facet fashionable:
In the UK, 59% of consumers think it looks unprofessional to have ungroomed facial hair in the workplace and 39% of men say that they feel under pressure to keep their facial hair neat and tidy.
Et voila, we see the rise of beard oils, sprays, combs, shampoos, conditioners… the products are abundant and so are the purchasers. Who knew beards were such big business?
The Beard Backstory
The Telegraph article linked above is also a good source of info on the history behind facial fur and its linking to a need in men to appear less metrosexual, more masculine:
"The beard has been used as a symbol for masculinity for centuries; from the verb 'to beard' being defined as 'to oppose boldly', to the British Sign Language gesture for 'male' or 'manly' being the gentle stroking of imaginary facial hair"
And in simpler, more grrrr speak from Shortlist.com:
"You can't spell 'beard' without 'bear'"
Or in slang, the word 'beard' separated becomes 'be ard', throw in a silence h and, well, enough said.
The Beard Bro – Review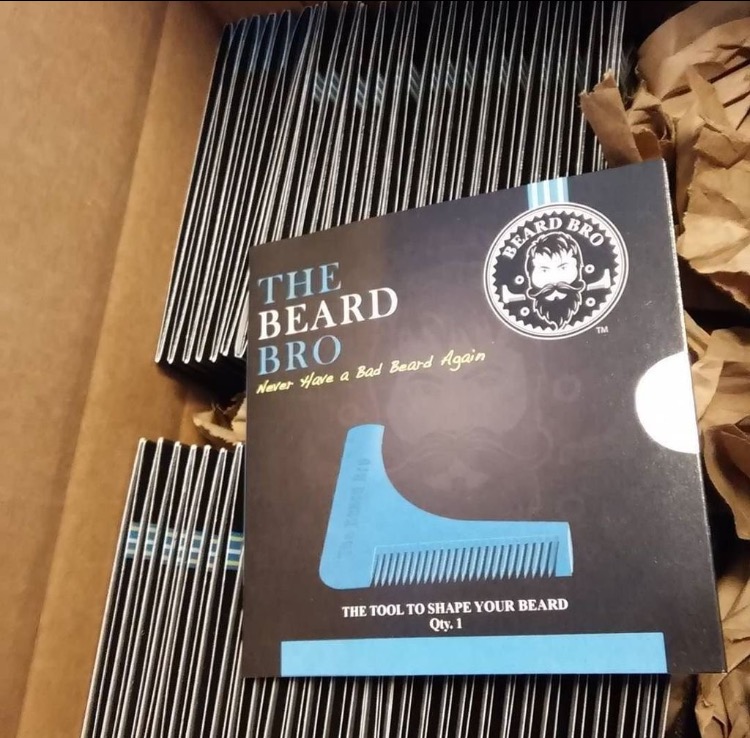 So why am I jumping on the beard bandwagon?
Well, as much as I do have a decent growth myself (FACIAL FUZZ KILLS MY BUZZ has been my mantra since the tender age of 11, when my brother persuaded me to get my first professional 'tache waxing), I was invited to review The Beard Bro by the European Distributor (with a furry friend of my choosing) in line with the product's UK release. Having initially launched in the US with great success, it has now been tipped to become the next 'manbag' essential this side of the pond and so out of sheer curiosity, I couldn't resist a review.
When it comes to a furry test subject, I could look no further than my cuz-in-law Sean, who has an exceptional beard.  Not only that, but he happily obliged when I asked that he let his facial fuzz grow in, to ensure a proper test of the product.
The Tool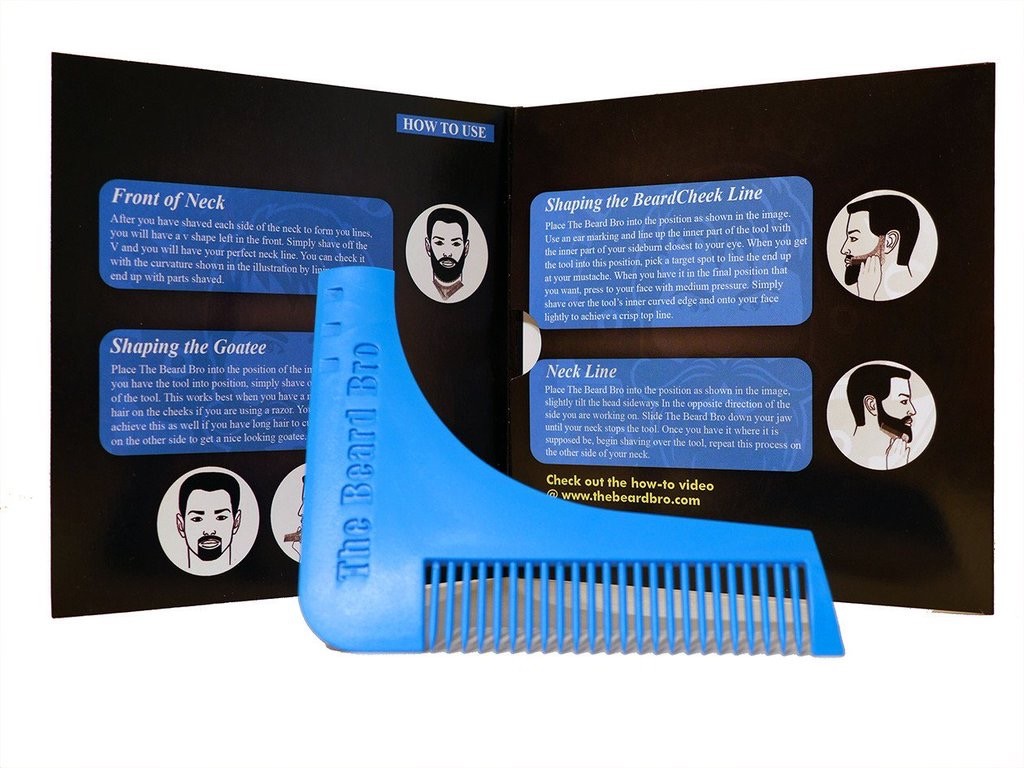 The Beard Bro is a plastic tool that allows you to shape your facial hair by shaving around it. Moreover, it has a comb along one edge, which Sean stated is the best he has ever used due to its sharp edges (the teeth of the other combs he owns are thicker with smoother edges, making brushing through tugs harder…ouch).
Adding to the user friendly appeal of the tool, the packaging contains a step-by-step guide on shaping hair on the front of the neck and for shaping it around the the goatee, cheek line and neck line.
The Results
Here's a few before, during and after pics of Sean…
If a video tutorial is more up your kinda thing, then check out The Beard Bro's YouTube Video below, for a super simple guide on how to make the most of this tool.
The Verdict
Sean tested the tool with an electric razor, a single panelled razor and a blade and the verdict was the same each time.  It enabled him to shape his beard as he wished and was super easy to use (which was evident in the speed in which he used it).  Going for a beard line that was more circular on the cheek, next time he says that he will use the flat edge of the tool to create a straighter and more severe look.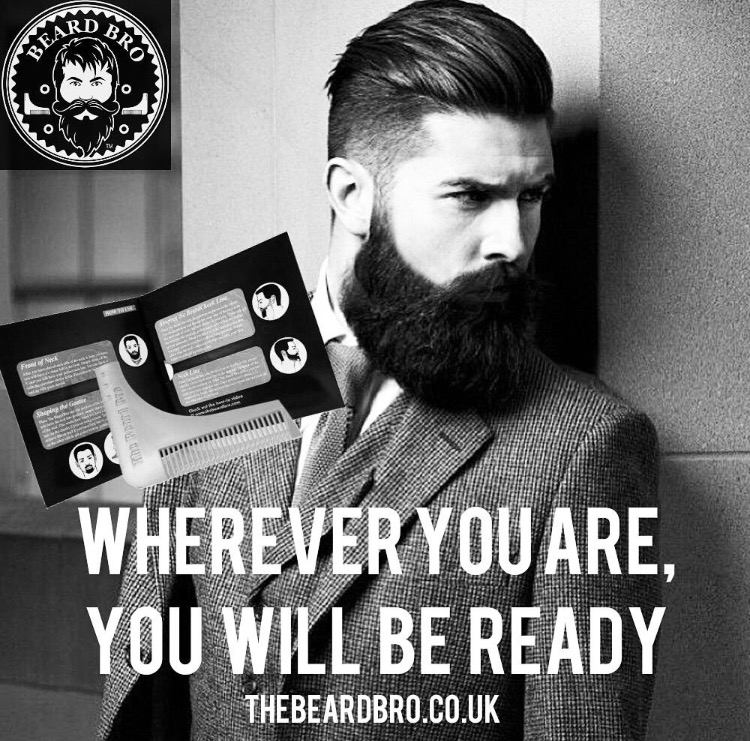 At only £17.99, this is a highly giftable item, so perfect for Father's Day, Birthday's, Valentines, or even Christmas as a quirky wee stocking filler.  And as Sean himself said, it is such a simple yet genius idea, it's hard to believe that it hasn't been introduced to the bearded blokes of the UK sooner.
Thank you To The Beard Bro UK for inviting me to review and for the brand images used in this post. Oh and of course Sean, for providing his face!
Shop The Beard Bro here and follow them on Instagram, Facebook and Twitter.