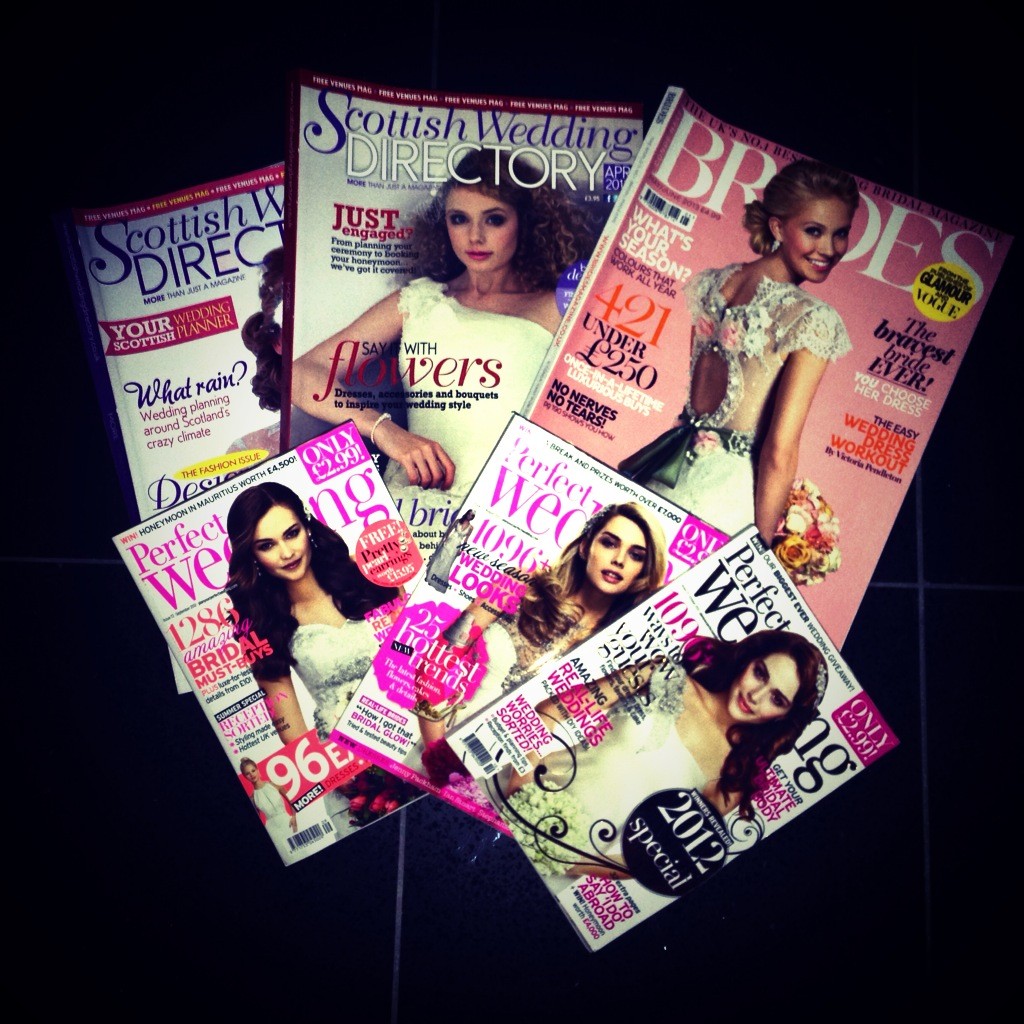 A few posts ago I started to discuss my ideas on how best to break down the decision-making process when planning a wedding. Tier one of the process covered: budget, venue, guestlist and date. Tier two comprises of booking your major suppliers, which will both add to your day and to the memory of it.
These are the suppliers who are in demand and so if you have a favoured supplier you'll need to book these pretty quickly after your venue, in order to avoid the disappointment if another bride gets in there first (be under no illusion, it really is a bride-eat-bride world out there).
Firstly, you have to decide who these big suppliers are for you, as these will differ based on your budget and what is included with your venue's package.
For Lee and I our list comprised of a caterer, photographer, band and videographer.
It is easy to get a bit lost researching suppliers, like a broken U2 record you can constantly find yourself saying I still haven't found what I am looking for (nod to my old Da there). My advice is to start with your venue's recommendations. Your wedding co-ordinator should be able to provide you with a list of recommended suppliers who have worked at the venue a number of times and so know the best locations for photos/ video; the quickest way to set up their equipment or already know their way about your venue's kitchen.
Lee and I absolutely followed Laura at Boturch's advice when it came to our major suppliers.  I am a big believer in the strength of positive word of mouth, which is an important facet of my marketing-focused world, and so when it comes to suppliers, if it is not your venue's recommendations you wish to follow, then definitely speak with friends and family who have hired or witnessed a great supplier.
The other sources which offer good assistance when shopping for suppliers are listed below…
Wedding shows
I went to both the wedding show at the SECC and at Loch Lomond and found both to be helpful.  The best thing about the shows is that if there is something specific you are looking for, be it stationery, accessories, cars, a photographer, videographer etc., they all tend to offer deals at the shows if you are prepared to book them on the day.
My advice, go with a plan. If you are just going for a look then you might find yourself overwhelmed with flyers and info buzzing about your head.  This is also an ideal opportunity for you to actually meet the people who could be part of your wedding day and of course browse their work.  You absolutely need to like both.
Lee and I had a discussion with a photographer at the Loch Lomond show and although his portfolio looked good, both he and his young assistant were hungover from the wedding they had been working at the day before and frequently mentioned that the best weddings they had worked at were the ones where they got drunk with the bride and groom…warning bells were ferociously ringing during our conversation with this photographer and needless to say Lee and I quickly moved on.  The worrying thing is that based on work alone, if we had looked at his portfolio online for example, he could have been a contender for our wedding and so I would definitely advise meeting with each of your major suppliers prior to booking.
Wedding focused websites
I found both Confetti and I Do Licious useful sources when looking at suppliers, the latter especially as some of the deals they offer are fab!  I would definitely recommend signing up for a variety of wedding websites' email databases for ideas and inspiration as you go.
Wedding magazines 
If you are anything like me, you'll have purchased ten wedding magazines in the space of two weeks of being engaged.  The cost of these really does add up and so the ideal is if you have someone else you can share magazines with.  Remember to try to keep yours to pass onto the next lucky girl you know to get engaged, although the dress styles may have changed the supplier, venue and hair and make-up inspiration will remain pretty constant.
Three further tips I have to remember when researching and booking your major suppliers would be:

 That many will provide costs excluding VAT.  Always be sure to ask for your quote including VAT so you are not stung financially with this.
Never accept the first price, try your hand at bartering the cost down somewhat, there is no harm in it and they can only say no.  For some good tips on the language to use, check out this short article I found that may help with the simple things to say when speaking with a supplier which could lead you to achieving a better deal, essentially your language should always encourage a positive response…
Be sure that you are happy with their aesthetical style and that it matches that of your venue.
Add them on Social Media for access to more images/ videos than they have on their website.
I have listed Lee and I' choice of major suppliers below, which may help provide you with some ideas for your wedding (particularly if you reside in the greater Glasgow area).
Photographer – Jillian Clark was recommended to us by my cousin who had seen her and her husband in action at a wedding. We liked the fact that Jillian and her husband are both on hand to capture the posed and natural photography of your big day.  They have also previously worked at Boturich and so we were able to see how they had captured the outstanding Loch Lomond scenery within their online client galleries and Facebook photos.
I had originally been keen to go for a photographer who used a romantic filter on each of her photos (this made the colours in her images more pastel in appearance than they truly were) but Lee and I decided that at a location such as Loch Lomond, the images should be as bold as the landscape and based on that, we chose Jillian's style.
Videographer – What is becoming more popular is a cinematic style of filming whereby videographers create a music video of your entire day. After viewing a few of these, I knew that Lee and I would be disappointed not being able to look back on our wedding in video format.  As the bride and groom you miss a lot of your day and so the videographer can capture the magic of the moments you miss.  We went for Astro Productions who had created some beautiful films at Boturich and in a style we liked.
Band – We picked a band who are a favourite of Laura at Boturich, Waterfront.  Before making this choice however we did ask around for names of bands who were faves amoungst our friends and searched for each on YouTube to hear them play.
You can even go to wedding band showcases which is something in hindsight I think we would have enjoyed.  Of course you may prefer to go for a DJ for the variety of musical genres they can cover. DJs are also considerably cheaper and so are the ideal option for tighter budgets.
Caterer – Potentially the most fun you will have selecting a supplier!  We went for Regis Banqueting who prepare top notch grub at a competitive rate, and offer large portions at that, which we all know is often not the case when fine-dining.  Lee and I were also invited to go along for a tasting session (always do this) where we wholeheartedly savoured both a selection of canapés and a 3-course meal…yum!
I know the immediate thought after getting engaged is the dress, and believe me this was mine too, so you must think I am a mad woman not having mentioned this yet. The reason for this, is the fact that although there is just one dress for you (two if you're exceptionally lucky to afford an outfit change), it's not the case that if one bride picks your ideal dress, you cannot then have it too.  Whereas, if the photographer you have searched high and low for and who matches the style you are looking to achieve is booked, this really would be heart breaking and so this is why you need to get these major suppliers out the way.
Finally, a very important thing I would advise you do when it comes to suppliers, which we never did, is to create a spreadsheet including a column listing the deposits paid to each of your suppliers (this will also incorporate the suppliers of your major wedding aesthetics which will be discussed in the next post), a column detailing the remainder of the balance and a column containing the dreaded dates the final balances are due.
Very often a good bit of time can pass from when you book your suppliers to when the full balance is due and so it is essential to keep a note of these dates and balances due. I for example have had a major panic this month on confirming the suppliers Lee and I are supposed to cover and the severe lack of funds we have in the bank to do so, which has nothing of course to do with my buying things like pretty brooches, the award-winning gourmet popcorn for the sweetie table along with real petal confetti cones etc., etc., etc.  It's a sad day when your fiancé feels he has to walk you to the front door every morning nervously instructing that 'there's to be no spending today'…
Speaking of sweetie tables and confetti, my next post will focus on the aesthetics of your wedding, including attire and theme.  These make your big day personal to you and your partner and is my fave phase of wedding planning.
I hope you have all had a good weekend?  Mine has comprised of puppies, babies, a Boudoir shoot (something I think all women should try once and I will refer back to) and a monumental Sunday night cheese platter – really hope this doesn't make the Sunday night fear any worse than it already is… x