Sunday a.g.a.i.n, why does it always have to roll around so quickly?  And yet again I find myself hungover…Hope you all had a good weekend?
Friday night for me comprised of great company and a 14 inch double decadence pizza from Asda.  If you've not had the pleasure of trying one of these yet, you must first appreciate that 'double decadence' means a pizza on top of another pizza, as in literally one pizza with a full topping with another pizza sitting on aboard showcasing yet another full topping.  I'd stupidly panic shopped 2 x 14 inchers for 4 people when preparing for Friday.  When the lady behind the counter asked me to come back in 15 mins, I underestimated the strength required to carry those two bad boy pizzas to the checkout, having already filled a basket full of sweets and juice and crisps and cake…
After all of this, I now of course suffer from Sunday night eater's remorse and have promised myself to get back on the Herbalife tomorrow…Diets always start on a Monday don't they, which is probably the very worst day to start after a weekend's indulgence and general depression that Monday's bring. Maybe it's best I continue to snack until my hearts content and start the diet on Thursday…
Saturday was all about the Edinburgh Festival.  Having stopped working in Edinburgh I have been feeling a bit out the loop with the festival this year and so it was great to get in about the atmosphere, outside drinking areas and culture of it all.  Edinburgh is electric during the festival but there are so many of us Scots who take it for granted, with many folks I know having never travelled through to enjoy it.  If you are one of those people, trust me you need to get yourselves through to the capital, book a few shows and just get lost amidst the atmosphere.  I guarantee you'll be back again every year.
Staying with Dreanie and Sean we kicked things off there, and then headed into the Voodoo Rooms in the city centre for a few drinks.  Lee and I were on the Caorunn Gin, which is distilled in the Scottish Highlands and has a a really lovely crisp taste to it.  Next we were off to the Assembly Hall at the top of the Mound to see Jason Byrne.  Racing up the stairs we spotted Jim Davidson at the bar having a beer before his own show kicked off.  It was a real struggle trying to get a picture with him, when I said we were going to see Jason and not him, he responded: 'well go get a f***ing picture with Jason then!' He then warned Dreanie that she better not get any make-up on him…old school charm right there…
Jason kicked off his show by flying through the air aboard a wrecking ball in his underpants and miming to Miley's 2nd big hit of the year.  I knew immediately this was going to be a good show!  Audience participation was a big part of Jason's act and his humour was just the right amount of dirty chat, teasing people and telling his own funny stories – would highly recommend.
After the show we headed to the Gilded Garden to stand under the outside heaters and drink wine.  Although the wine was rancid, the company was second to none (Sean had a few of his rugby pals to stay that weekend from Ireland and they had brought out masks of their friend who couldn't make it over, which everyone even Jim Davidson and some policemen were made to wear at various points throughout the evening) and we were all extremley well oiled when the time came for Lee to sprint to a taxi, physically racing another female up the street to make it to the car first…all in all, I'd say a very civilised evening.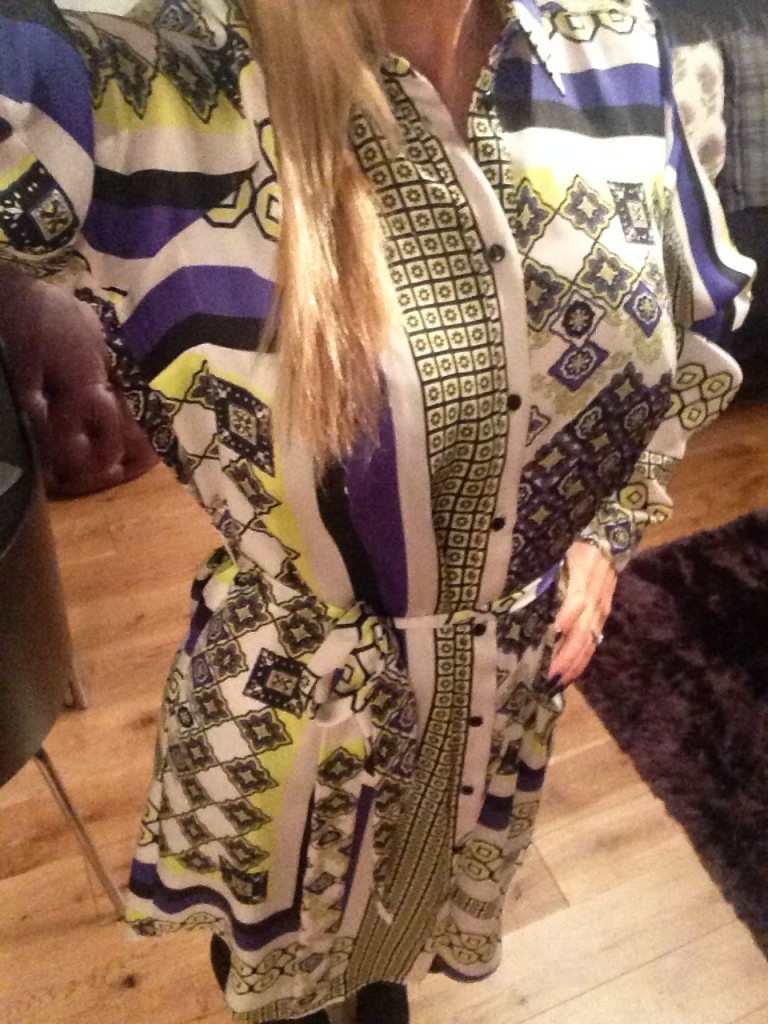 My OOTW is a shirt dress I recently purchased from River Island.  The great thing about this dress is that it could be worn as a chic outfit for the office or sophisticated night out attire.  Massively popular in the 70's and with a pattern reminiscent of some of the styles of DVF, this type of shirt dress should become a staple in your wardrobe this season.
As it was so cold yesterday (seriously where has the hot weather gone, I thought Scotland was a warm country now) I teamed the dress with tights, suede shoe boots I purchased last year from New Look, and my new leather Topshop jacket.  The leather jacket, another wardrobe must-have, has to be the most versatile when it comes to nights out, what it can be teamed with and when it can be worn.  And what I love about this one is that it is under £50 and can be worn with the collar down in a V or worn zipped up as a round neck.
Having looked at many other blogging sites, particularly fashion blogging sites, I very much so admire the cool photographs the writers include in each post.  They seem to pose with the easy attitude of a model, wear their clothes with ease and showcase pictures with inspirational backdrops.  I on the other hand, struggle to know what to do with my face (take for example the 3 pics below, I can't seem to find a happy medium between being utterly miserable or being cheesy happy) and moreover I cannot seem to find a decent backdrop, these are things I hope to rectify with future fashion-focused posts…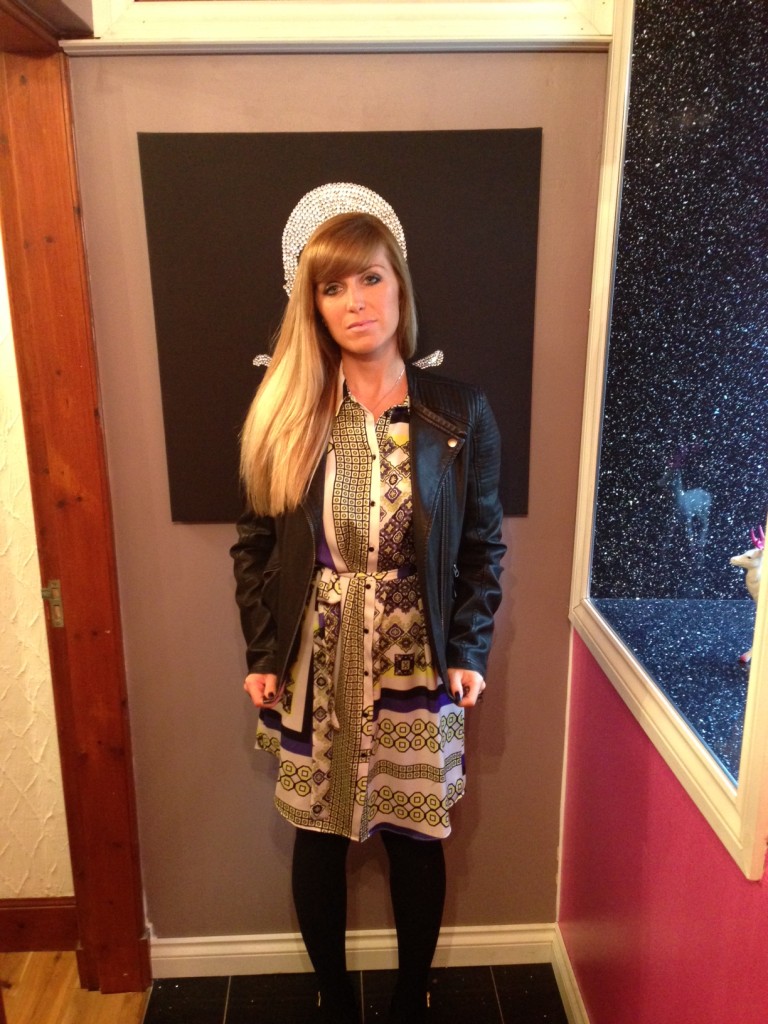 Logging off to watch Good Will Hunting, I can't help but feel gutted at what happened to Robin Williams this week.  It truly highlights that all the money and success in the world is not a guarantee of true happiness x