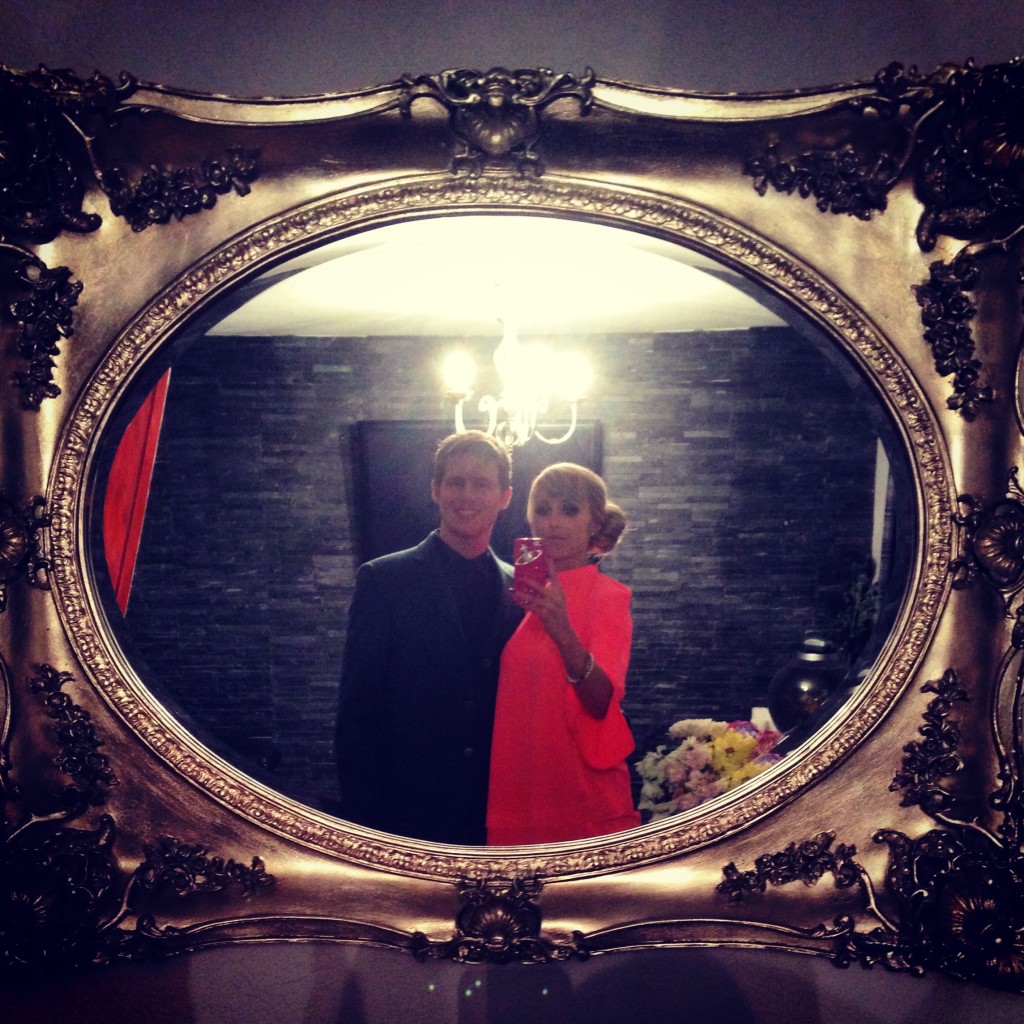 There's a point in every twenty-thirty something's life, when you realise all your peers are getting married or having babies.  It's like a moment of epiphany, you're getting old.
Lee and I have undoubtedly reached that point, with our weekend being made up of an engagement party, a visit to one of my best friends to see her gorgeous baby girl, followed by a baby shower on Saturday and then our own engagement shoot today (we took along wee Haggis who thoroughly enjoyed photobombing almost every shot!)
Engagement party inspo
Having been to a few engagement parties of late, including our own, it is interesting to see how different couples host them. Lee and I hired out the basement of a restaurant/ bar on Bath Street in Glasgow – we wanted the feeling to be more laid back than the norm and didn't have to pay for the hire of the room, always a bonus.
In order to carry on the informal feel, we put out trays of sweets on each table instead of having a buffet (if you choose to do this I would recommend getting your sweets from a cash and carry to bulk buy and save on costs).  The music was split between an iPod playlist for half the night and then a trance DJ from 12pm-3am to create a club-like atmosphere, which in hindsight was not the ideal music for the older generation, my mum kept pleading with me to ask the DJ to play music with words.
We also put disposable cameras on each table and posters around the room, however again on reflection I would not recommend disposable cameras, unless you have considered the costs to get them developed…ours are still in a sack in our loft.  The night came to a climax during the speech, when Lee had thanked all the necessary family members and I then thought it best to round it all off by shouting 'you're all beautiful' into the microphone.. my only input after a few too many drinks…so some further advice is to perhaps hold off on the celebratory shots until after your speeches.
In contrast, my brother and his fiancée Jac, hired a room at a gym and had a Mexican themed engagement do, tying in with their plan to actually get married in Mexico in 2015.  They put packs of stick on moustaches on each table, along with sombreros and ponchos and offered all their guests a shot of tequila to toast during the speech.  Much to my amusement Grant (the bro) had also had a few too many drinks during his speech and rounded  it off with a full blown and impromptu dance routine, which to me was genius, he was shocking and it was a proud moment for his little sis.
Grant and Jac had pizzas delivered to feed their guests which was a similar idea to the our friend's engagement party this weekend, who ordered pizzas and pakoras from the local takeout and this went down fantastically well.
If you are planning your engagement do, I would recommend either having a theme which you can get a lot of leverage from or simply host a party which hints at elements of your own personality and you're sure to be onto a winner.
Baby shower inspo
It is also the personal touches which have made the baby showers I have been to unique.  From 4D scans printed onto helium balloons (balloonmonkey.co.uk are great for personalising balloons), or having a party themed to the sex of your baby (the shower I was at this weekend followed a blue theme with everything tying into this from the organza favour bags containing blue sweets to the Prosecco coloured with blue curacao we were drinking all day) it is the small touches like this, which are likely to inspire for your own or a friend's shower in the future.
Engagement photography shoot
Lee and I rounded off the weekend on an engagement shoot with our wedding photographer, Jillian Clark.  This has given us the opportunity to get to know Jillian better and allowed us to explain what we are looking for with our wedding photos.
If you get the opportunity to do this, then you should as it also offers you an insight into the different poses your photographer will be requesting of you and your husband/ wife to be on your big day.  Admittedly at first, posing did not come naturally and we couldn't help but chuckle when one of the first questions Jillian asked was if we were happy to get dirty during the shoot…of course mud has never bothered either of us.
I was however relieved at a last minute decision to leave my heels in the car in place of Hunter wellies, especially when Jillian made a comment on not understanding why some girls choose to wear heels to a shoot in the park! Lee of course practically choked trying to keep his laughter to himself.  So to round things off, if you do get the chance to experience an engagement shoot ladies, wear flats! x